What to Eat at Royal Hawaiian Center's New Food Hall in Waikīkī
Waikīkī Food Hall boasts eight unique food and drink options you won't want to miss.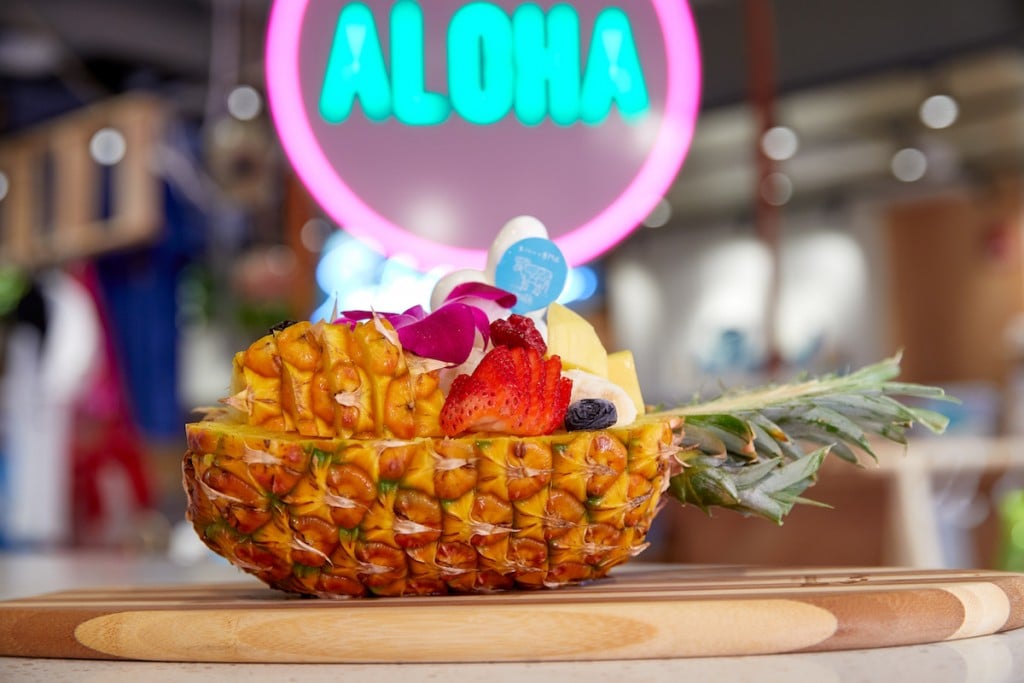 You can always count on finding new dining adventures in Waikīkī, and now, you can find eight more in Royal Hawaiian Center's new food hall opening on March 7. The Waikīkī Food Hall is located on the third floor in Building C, which is just past Wolfgang Steak House and above The Cheesecake Factory.
Wait—food hall? Don't you mean a food court?
Well, unlike traditional food courts that are comprised of fast food chains, food halls are a mix of smaller artisan restaurants and related boutiques. The Waikīkī Food Hall is the latest of these concepts that we've seen popping up in Honolulu malls.
We got a preview at a special event earlier this week, and we're already excited to go back. Whether you're planning to gather with friends or just need to grab and go, there are a lot of delicious options here for every kind of craving.
Honolulu Burger Co.
Honolulu Burger Co. is the veteran of the food industry here as owner Ken Takahashi said they're celebrating its 10th year in business., and this newest location will be serving the handcrafted burgers that the company is known for, using free-range, grass-fed beef and locally grown produce. Prices range from $8.89 to $15; no matter which sandwich you order, do not skip their addicting, light, crunchy fries.
JTRRD Café
While the smoothies here are delicious and made with fresh fruit and superfood ingredients, they're definitely created for the Instagram generation. Each drink is a work of art, so allot time for them to layer and "paint" your order. Simple smoothie juices are $6 to $8. But you'll pay for more the prettiest ones: The highly Instagrammable rosé smoothie, featuring rose petals cascading down the side of your glass, is $8; the super Instagrammable art smoothie is $12; and the ultra Instagrammable bonbon smoothie is $18.
POTAMA
Hawaiʻi residents love their Spam, so we expect long lines for the pork tamago onigiri, featuring Okinawa's famous Spam potama (a foldover Spam musubi sandwich using rice and nori). The standard potama is filled with a slice of spam, scrambled egg and a simple topping of tuna-corn salad, cheese and ketchup, miso, mentaiko (pollock or cod roe) mayonnaise, or katsuo konbu (dried bonito shavings and kelp) for $5 each. The more special potama—still a deal at $8 each—will include toppings like sukiyaki, bittermelon tempura, garlic shrimp, or even a full loco moco, which is not for the faint of heart. Every potama is made fresh to order.
Milk
Known for its fresh cream ice cream in Tokyo and Osaka in Japan, Milk offers its popular whipped soft serve in its purest form—in a cone—or with Hawaiʻi-exclusive tropical enhancements, like pineapple, mango, macadamia chocolate and banana, or mixed berry toppings. The cone is $4.99 and the bowls are $5.99 to $6.99. If you want something larger to share, it offers a pineapple boat filled with everything for $14.99.
Surfer's Café
If you're just grabbing a quick cup of coffee, this beach-themed café is a good option. Their coffee drinks start at $2.75 and go up to $5.25 for specialty drinks. You can also buy bags of the locally grown coffee beans to take home. As a one-stop shop, you may also want to browse the surf culture crafts by local artists that are available for sale.
Five Star Shrimp
Locals and visitors alike have enjoyed this food truck near Waikīkī Beach since 2013, known for its tasty shrimp plates that hit the spot after a day in the surf. Here, you can get their famous garlic, lemon or spicy shrimp plates for $13.99; steak plate for $14.95; or steak and shrimp for $15.99. Smaller appetites can order shrimp tacos at two for $8. Our favorite, which doesn't waste time with any carbs, is the shrimp-only plate, featuring all three shrimp flavors in one plate for $10.99.
Meataly Boys
If you're really hungry, you might want to get a plate at Meataly Boys, which serves a lot of … well, meat. Its most popular plate is the half chicken for $10.50, which comes with starch and salad. They also boast a juicy 8-ounce rib eye steak plate for $22 and pan-fried pork chop plate for $20. While these prices run a little higher than the other eateries in the food hall, the plates are huge, which actually ends up being a good value.
Tap Bar
With a local, casual island-style bar in the middle of the food hall, we suspect this will becomes a hotspot for Waikīkī pau hana and weekend outings. You'll find local craft beers from Kona Brewing Co., including its new seltzer, which (at this writing) isn't even in stores yet. Domestic beers are $2 to $5; the local craft beers are $6 to $7. Wines and cocktails are $8 to $10. Best of all, with all the food surrounding you, everyone can eat what they want with their libation.
The Waikīkī Food Hall is open from 8 a.m. to 11 p.m. daily. Guests can get validation for two hours free parking at the Royal Hawaiian Center with a purchase of $10 or more; the third and fourth hours with validation are $2 per hour, waikikifoodhall.