What's in a Hawaiian Plate, Anyway?
Here's your cheat sheet.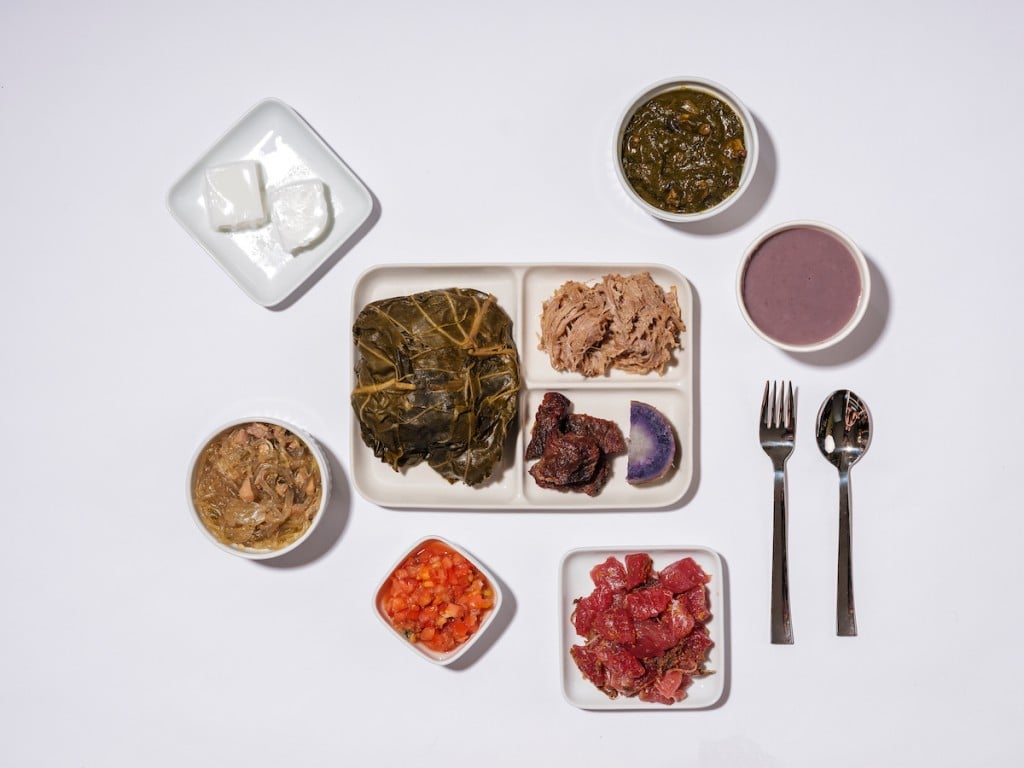 The best lū'au in Hawai'i will serve the authentic stuff: succulent kālua pig, creamy haupia and, of course, poi.  So if you are lucky enough to get handed that perfect plate, here's what you'll be eating:
Sweet potato: Originally from South America, the 'uala, or Hawaiian sweet potato, has been a staple food since ancient times in many parts of Polynesia. These potatoes are violet-purple and starchy, great steamed and slightly salted. 
Pipi kaula:  Hawaiian-style jerked beef.
Kālua pig: Basically pulled pork that's cooked in an underground oven, or imu. It's salty, tender and smoky.
Lau lau: This entrée is typically made of pork and butterfish wrapped in kalo (taro) and ti leaves and steamed.
Squid lū'au:  A classic lū'au dish made with taro leaves (aka lū'au or kalo leaves) simmered with octopus (tako) and coconut milk.
Poi: The staple starch of Native Hawaiians, poi is made from mashing the root of kalo. It's sticky, sweet and a little sour.
Chicken long rice: This dish features tender, bite-size chicken with al dente glass noodles.
Lomi salmon: This is a traditional Hawaiian side dish made from salted salmon, diced tomatoes and chopped onions.
Haupia: This Hawaiian dessert is akin to coconut pudding. Texture is everything. Haupia needs to be creamy but firm, though not overly so.
Poke: Cubed raw fish—usually 'ahi (tuna)—tossed with seaweed, sweet onions and 'inamona (roasted kukui, or candlenut).