What's really "essential" on iTunes' Hawaiian Music Essentials playlist?
We answer a reader question about which 25 tracks we'd spend our money on.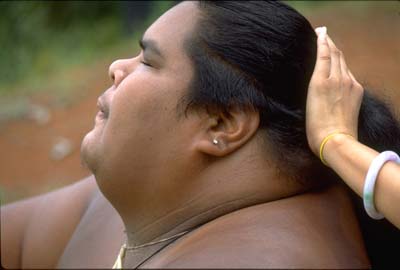 You ask. We answer.
Earlier this month, we answered a reader question about putting together a Hawaii-themed luau away from Hawaii. Another reader, Aimee Quinn, recently sent us a follow-up question:
In your story, you mention that Apple's iTunes store features a good selection of Hawaiian music you can download from its world music page. When I searched Apple's world music page, I found an iTunes-compiled playlist of "Essential" Hawaiian Music tracks.
It would cost me $75 to download all 75 tracks on the Hawaiian music playlist from iTunes. And my guess is, not all of the songs are actually "essential."
My question for you is: If you had just $25 to spend, what 25 songs on the "iTunes Essential Hawaiian Music" list would you buy?
First off, Aimee, your suspicion about just how "essential" the songs on the list are is justified. I found many of the songs on iTunes' Hawaiian Music Essentials playlist not really all that "essential" to a good Hawaiian music collection. A few selections were even questionable.
Ukulele master Jake Shimabukuro's cover of The Beatles' "While My Guitar Gently Weeps"? I like the song. I like Jake. But its place on an essential Hawaiian music list? Dubious. Ditto for the inclusion of The Ventures' "Hawaii Five-O" theme. Groovy? Definitely. Hawaiian? No.
The 25 I'd buy? I'd cut my losses and download this dozen from the list:
• "Hula Blues" – Sol Hoopii
• "Hula Medley" – Gabby Pahinui
• "Ka Eha Ke Aloha" – Sean Naauao
• "Ka Beauty Ao Manoa" – The Brothers Cazimero
• "Haleiwa Hula" – Amy Hanaialii
• "Henehene Kou Aka" – Israel Kamakawiwoole
• "Ke Aka O Ka Liula" – Kaumakaiwa Kanakaole
• "Ka Uluwehi O Ke Kai" – Hapa
• "Kawaipunahele" – Kealii Reichel
• "Kihoalu" – Gabby Pahinui
• "Ulili E" – Israel Kamakawiwoole
• "Somewhere Over The Rainbow/What A Wonderful World" – Israel Kamakawiwoole ("Rainbow" and "Wonderful World" aren't Hawaiian compositions, but Iz's take on them is unquestionably Hawaiian in spirit, tone and musicality.)
Next, I'd take the cash saved and select my final 13 from other Hawaiian music tracks iTunes offers. This takes some exploring. A section specifically cataloging Hawaiian music isn't offered on iTunes' world music page so it helps to have an artist or song title in mind before searching.
Still, if you enjoy discovering great classic and modern Hawaiian music tracks as much as I think you do, Aimee, you might find some real fun in the hunt.
For starters, I found these 13 tracks on iTunes I'd enthusiastically recommend:
• "Hiilawe" – Gabby Pahinui
• "Haleakala Ku Hanohano" – Hapa
• "Ka Nohona Pili Kai" – Kealii Reichel
• "Lei Halia" – Kealii Reichel
• "E Huli Makou" – Genoa Keawe
• "Pua Hone" – The Brothers Cazimero
• "Kuu Home O Kahaluu" – Olomana
• "Punahele" –Raymond Kane
• "Kuu Ipo I Ka Hee Pue One" – Nina Kealiiwahamana
• "Maile Swing" – Raiatea Helm
• "Poliahu" – Teresa Bright
• "Ke Ano O Waimea" – Na Palapalai
• "Kawika" – The Sunday Manoa
My advice? Set aside some time, grab your laptop—and maybe a pot of Hawaii-grown coffee—and really do some exploring. Ultimately, the best playlist of "essential" Hawaiian music is the one you compile on your own.
My apologies to Steve Jobs.