What's that phrase on the Hawaii state quarter mean?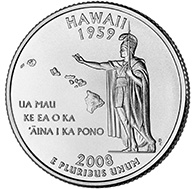 You ask. We answer.
Reader Ken Steller e-mailed: I just received your new state quarters and would love to know the meaning of the phrase UA MAU KE EA O KA AINA I KA PONO. Please help.
The phrase means, "The life of the land is perpetuated in righteousness." It was first uttered by King Kamehameha III in a speech celebrating the return of sovereignty to the Hawaiian monarchy after the monarchy was briefly seized by the British in 1843.
The phrase became part of the Hawaiian monarchy's official seal, then part of the seal of both the Republic and the Territory of Hawaii. It is now the official state motto: "Ua mau ke ea o ka aina i ka pono."
For more on Hawaii's state quarter, see our Nov. 10 post here.