What's the deal with Waikiki's Trump Hotel & Tower?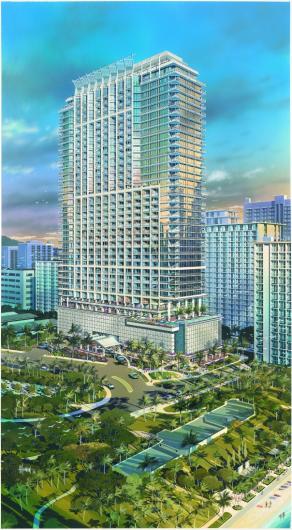 You ask. We answer.
Reader Faye Waltman writes:
When my husband and I last visited Oahu, construction had just started on the new Donald Trump property on Waikiki Beach. I haven't heard any more about the progress of the hotel. Is it open? Or did construction stop due to the economy?
The real estate market may be soft, Faye, but leave it to the Donald to get things done.
The Trump International Hotel & Tower Waikiki is on track for a September completion. As of March 1, the hotel reported finishing room interiors up to the 15th floor. High-end appliances were installed in rooms up to the 25th floor, and plumbing lines were being installed on the top floor of the 38-story tower.
Touted as Hawaii's first "ultra-luxury condotel"—that's biz slang for condo-hotel—Trump Tower Waikiki sits adjacent to Fort DeRussy Beach Park, and a block from the ocean. Since the tower is one of the most expensive residential condo properties in Waikiki, much is riding on the its completion and ultimate success.
But the bigger issue likely concerning the Trump Organization and development partner Irongate Capital Partners LLC isn't the completion of the tower itself, but whether or not the sales of its 464 units will close.
Nearly $700 million worth of units were snapped up when they went on sale in November 2006. Prices ranged from $460,000 for a 400-square-foot studio to $9 million for three-bedroom penthouse suites. Many buyers, however, still need to close their purchases prior to the tower's completion. For many, this means obtaining a loan in a difficult economy.
If buyers don't close the deals, they will forfeit deposits of as much as 20 percent of the condo's purchase price.
A completely sold-out tower would likely be a much-needed boost for Trump. He recently abandoned a condotel project in Baja. His 100 percent presold Las Vegas condotel opened with fewer than 30 percent of sales closed, and his Chicago condotel remains 30 percent unsold.
We will keep you posted as news on the Trump Waikiki property develops.