Where to buy Hawaii-grown papayas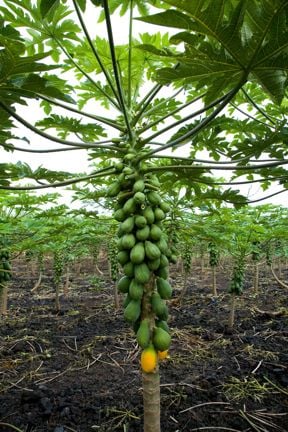 You ask. We answer.
HAWAII Magazine Reader Richard A. Watkins of Anaheim, Calif., writes:
I am looking for a source where I can purchase Hawaii-grown papayas. Do you know of one?
There's nothing quite like the taste of a fresh Hawaii-grown papaya. For those away from the Islands, however, getting their papaya fix can be a challenge. Fortunately, there are several online companies offering the fruit for delivery year round.
Hawaiian gift wholesalers HawaiianKineStuff.com and HawaiiVacationGifts sell an assortment of Island-themed merchandise including scented soaps and tiki torches—and Big Island papayas.
The sites sell 10-pound cases of 8-10 papayas for around $75, shipping included. Both sites ship throughout the continental US only.
Also check out the Volcano Isle Fruit Company, which seems largely focused on papaya. The Kapoho-based group has been committed to growing the fruit in the rich, volcanic soil of the Big Island for the past 30 years.
The company offers two types: the golden Rainbow papaya and the pink-fleshed Sunred variety. If you can't decide on just one you can order a mix of both. A 10-pound box goes for the more-than-reasonable price of $49.95. Shipping is free for anywhere within the US, including Alaska. However, take note: they ship just once a week, on Mondays.
Upon receiving your papayas it's best to let them sit for a couple days, as they are typically picked in a green stage to avoid spoilage during delivery. Skin color and feel are the best indicators of a fruit's ideal ripeness. At least 75 percent of the papaya's skin should be colored and the fruit will give slightly when squeezed.
Be patient. It's a small price to pay for Hawaiian papaya perfection.