Where to celebrate Oktoberfest in Hawaii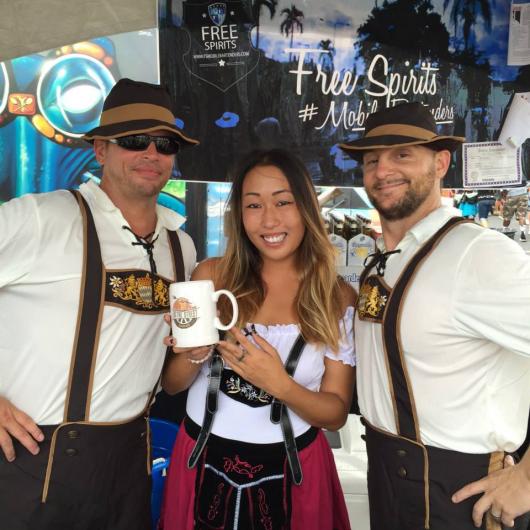 Just because it's approximately 7,590 miles from Munich to Honolulu that doesn't mean you can't celebrate Oktoberfest in the Islands. While this autumn festival traditionally goes for 16 days in Germany (Sept. 19-Oct. 4 this year), Oktoberfest events in Hawaii are scheduled through the end of October. Check out these Bavarian-themed bashes so you can eat, drink and be merry, like the Germans, in the 50th State.
Hawaii Island
2nd Annual Kona Rocktoberfest
Saturday, Oct. 24
This party at the King Kamehameha Beach Hotel will have live music by Maka, Green Machine, The Darkroom and Leche De Tigre with a guitar showdown called "Guitarmegheddon." In addition to the musical performances, there will be improv comedy by The Alohahas, two Halloween costume contests and a chicken dance off. $20 advance, $30 at the door. 2:30 to 8:30 p.m., King Kamehameha Kona Beach Hotel, 75-5660 Palani Road, Kailua-Kona, konarocktoberfest.com.
16th Annual Oktoberfest Hilo Bay presented by Rotary Club of Hilo
Friday, Oct. 2
The Rotary Club of Hilo honors Lucille Chang and Barry Taniguchi at this German-style celebration. $50, 5 to 8:30 p.m., Sangha Hall, 398 Kilauea Avenue, Hilo, hilobayrotary.co
Maui
6th Annual Oktoberfest for Pacific Cancer Foundation
Saturday, Oct. 17
This Oktoberfest event features German-inspired food and craft beer to benefit the Pacific Cancer Foundation, a nonprofit that is focused on providing access, knowledge and support to improve the quality of life for cancer patients, survivors and their families. $35 advance, $45 at the door, 3 to 10 p.m., Maui Brewing Co., 605 Lipoa Parkway, Kihei, purchase tickets here.
Black Rocktoberfest
Thursday, Oct. 1-31
Sheraton Maui Resort & Spa Chef de Cuisine Jeffrey Rayno created a special Oktoberfest menu for Black Rock Kitchen that features soft German pretzel sticks with beer cheese sauce, paired with a bright and hoppy Pinkus Pilsner; followed by bratwurst stewed in beer and sauerkraut with a spicy honey and pineapple mustard sauce, balanced by a malty and smoky Aecht Schlenkerla Rauchbier Marzen; next is an apple cider brined pork chop with mustard spätzle, red cabbage and mustard beer braised apples, paired with Maui Brewing Company's Kihei Kolsch; and a black forest cake with sour black cherry filling and cherry gastrique, accompanied by Big Island Brewhaus White Mountain Porter.$45 per person, and $15 for corresponding beers, 5:30-9 p.m., for reservations call (808) 662-8053.
Oahu
Hard Rock Café Samuel Adams Octoberfest Beer and Schnitzel Burger
Sept.22-Oct. 31
For a limited-time Hard Rock Café and Samuel Adams are celebrating the quintessential Bavarian festival with the Samuel Adams OctoberFest schnitzel burger and beer. Enjoy the German flavors of a lightly-breaded pork cutlet, sauerkraut, mustard on a pretzel bun and wash it down with a nicely-paired Samuel Adams OctoberFest beer. Sunday through Thursday 11 a.m. to 11p.m., Friday and Saturday 11 a.m. to 12 a.m., 280 Beach Walk, hardrock.com/cafes/honolulu/.
Eat the Street: Oktoberfest
Friday, Sept. 25
Enjoy German cuisine from local food trucks at the new Makers & Tasters space at Kewalo Basin with live entertainment and a happy hour from 5 to 7 p.m.. Free, 5 to 10 p.m., Makers & Tasters Kewalo, 1011 Ala Moana Boulevard,
eatthestreethawaii.com.
Hale Koa Oktoberfest
Sept. 30-Oct. 3
Transport yourself to Munich, Bavaria, Germany with Hale Koa's popular annual event that features a sit-down dinner, live band and plenty to drink.
$12 advance, $18 at the door, 5:30 p.m., Banyan Tree Showroom, Hale Koa Hotel, 2055 Kalia Rd, Honolulu, halekoa.com/current-specials.html.
Okakopa Hoolaulea (Fourth Annual Octoberfest in Hawaii)
Sunday, Oct. 4
"Okakopa" is "October" and "hoolaulea" is "celebration" in Hawaiian, and the main attraction for the aforementioned Oktoberfest is a car show with two judging classes as well as food, drinks and entertainment. The automobile show, produced by the Mercedes-Benz Club of America Hawaii, raises funds for Hawaii public school programs. Free, 11 a.m. to 5 p.m., Makers & Tasters Kewalo, 1011 Ala Moana Boulevard, Honolulu, okakopafest.org.
Hawaii Prince Hotel Waikiki presents Oktoberfest
Friday, Oct. 9
Special guest, Chef Fuido Ulmann, headlines a night of Bavarian flavors with the Edelweiss Trio provding the music. There will also be three contests that evening: bratwurst eating, chicken dance-off and stein-hoisting. $10 pre-sale by Oct.8, $15 at the door, children 5 and under are free, 5:30-10:30 p.m., Mauna Kea Ballroom, 100 Holomoana Street, Honolulu, for tickets click here.
Kauai
Oct. 5-10
Kauai Beer Company is hosting a week of Oktoberfest festivities on the Garden Island with a special menu launching on Monday, Oct. 5, a food truck throwdown on Thursday, Oct. 8 and trivia night on Saturday, Oct. 10. They're also serving their annual Oktoberfest Marzen, a malty, seasonal lager brewed especially for the season. 4265 Rice Street, Lihue, kauaibeer.com.