Where to eat a loco moco in Hilo, the town that invented it
The beloved, calorie-laden Hawaii comfort food dish began in Hilo, on the Big Island, in the 1940s.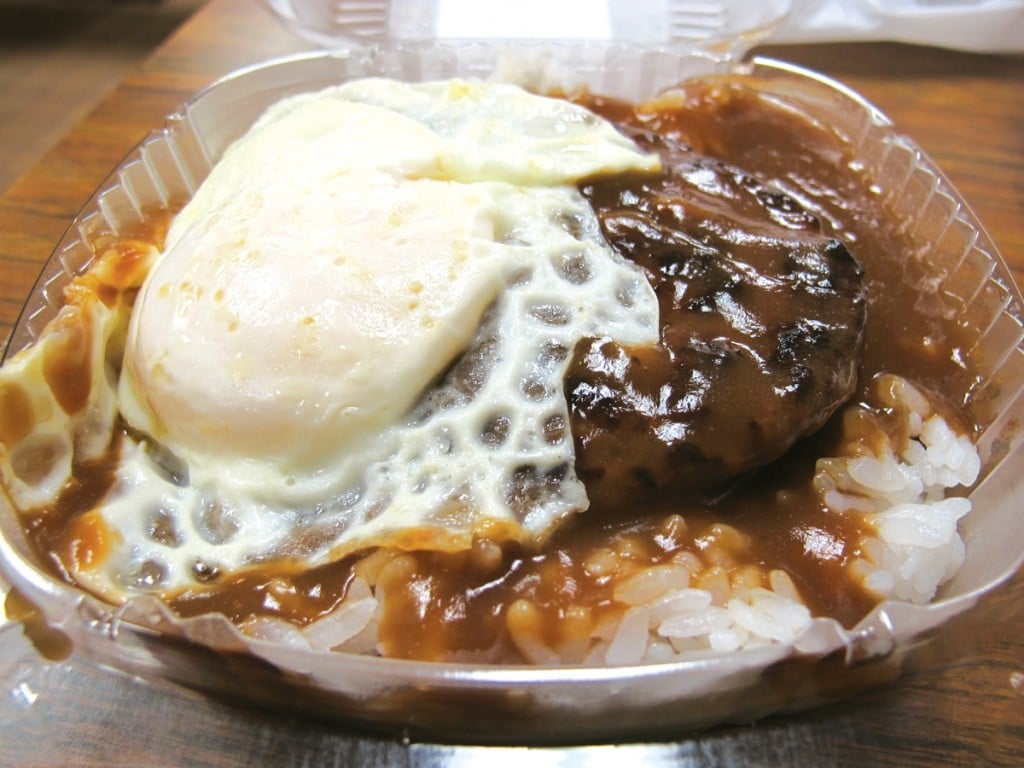 The least-disputed story of the creation of the loco moco—Hilo town's legendary, high-calorie contribution to the Hawaii cuisine vernacular—begins in the late 1940s with a gang of hungry teenagers, who called themselves the Lincoln Wreckers.
As perennially hungry as they were low on spending money, the Wrecker boys compelled the owner of one of their hangouts, the long-gone Lincoln Grill, to drop some steamed rice into a saimin bowl, top it with a hamburger patty and egg, and smother it all with brown gravy. The cheap—some say as low as 25 cents—and filling dish quickly became a hometown hit, with other Hilo eateries later adding the signature finishing touch of a fried egg to the already heart-palpitating list of ingredients.
Later given the catchy moniker "loco moco"—no one knows definitively why, but "Loco" may have been the nickname of one of the Wrecker boys—the dish soon gained a following outside of the Big Island.
These days, you can find loco moco on menus statewide—from small-town drive-ins offering the basic version, to high-end Oahu restaurants such as Alan Wong's Pineapple Room, which serves it with locally raised beef and eggs over fried rice, all of it smothered with veal jus. Loco moco can also be found on menus in Japan and along the U.S. West Coast.
Hawaii chefs raised on the dish have even been inspired enough by the original recipe to craft their own takes on it. Prime rib or ahi instead of hamburger. A fried quail egg in place of a chicken egg. Mushroom risotto instead of white rice.
A fan of loco moco, born and raised in Hilo, I appreciate the effort. Still, the best locos, in my opinion, rarely stray from the basic, original recipe of meat, egg, rice and gravy—handmade, with as many high-quality ingredients as possible.
"The ingredients can be changed around, but it always comes back to those basics," agrees Hawaii food historian and Hilo native Arnold Hiura, author of "Kau Kau: Cuisine & Culture in the Hawaiian Islands". "Loco moco is a dish that grew out of a real-life scenario—a bunch of hungry, young guys with little money to spend. It wasn't a gimmick. There's a purity and authenticity in that basic recipe."
Hoping to find out if my hometown still does the dish justice, I visited Hilo recently with a mission of sampling as many loco mocos as my doctor and cholesterol level would allow. My only rule? Though most eateries offer a variety of loco mocos, I would order only their basic loco, judging the dish by the quality and taste of each basic component: rice, hamburger patty, over-easy or sunny-side-up egg, and brown gravy.
When all was said and consumed, no one Hilo loco moco received a perfect score for every component. Still, there wasn't a truly awful one in the bunch.
If you're headed to Hilo soon, take this list with you. No one should miss the opportunity to have a loco moco in the town that invented it.
Ken's House of Pancakes
The basic loco moco at this Hilo breakfast haven has the advantage of being on the menu 24 hours a day should you crave it. The burger here had a great, broiler-charred taste. But I most appreciated the crisped edges and buttery flavor of the loco's two large eggs, with enough peppery brown gravy to combine it all. 1730 Kamehameha Ave., (808) 935-8711, www.kenshouseofpancakes.com.
Must-try loco moco: Prime-rib loco (when available), otherwise try the corned-beef hash loco.
Koji's Bento Korner
The best thing about this downtown Hilo lunch spot's loco mocos were their availability in various combinations: 1 burger + 2 eggs, 2 burgers + 2 eggs, etc. Sadly, except for my loco's near-perfect rice, just about every other ingredient was criminally short on flavor. Sort-of solution? Order a "supreme" with Portuguese sausage slices and kim chee. 52 Ponahawai St., (808) 935-1417
Must-try loco moco: Chop-steak loco
Nori's Saimin & Snacks
The basic loco at this popular Hilo noodle shop offers a flavorful, handmade hamburger grill-fried to a textured crisp, almost-flawless rice and a piquant, if somewhat thin, gravy. The problem? A woeful lack of that gravy—I had to ask for more—and inconsistent service—I had to walk up to the counter in the empty post-lunch restaurant to ask for more. 688 Kinoole St., (808) 935-9133, norishilo.com.
Must-try loco moco: Any of Nori's teri beef locos—served with its sweet-and-tangy, garlic-infused house-made teriyaki sauce.
Café 100
Venerable Hilo drive-in Café 100 has long billed itself as "the home of the loco moco," serving a basic version since 1949. At $3.95, that basic is still among the most inexpensive in Hilo. Tastewise, however, it is only so-so, with a thin, bland, pre-formed hamburger patty and too-salty gravy. My advice? Choose from almost two dozen other varieties of loco on Café 100's ever-growing "Loco Moco Family" menu board. 969 Kilauea Ave., (808) 935-8683, www.cafe100.com.
Must-try loco moco: Portuguese-sausage loco
Kuhio Grille
It should be law that the loco moco at this Hilo diner is served with its excellent house fried rice. The loco's handmade Japanese-style hamburger patty—breadcrumb-filled and producing a flavorful crisp when fried—certainly deserves it. And the somewhat bland gravy here could've used the added flavor punch of the popular fried rice—with its toothsome bits of Spam, Portuguese sausage, bacon, scrambled egg and green onion. Good thing I ordered a side of fried rice to go. Prince Kuhio Plaza, 111 E. Puainako St., (808) 959-2336, www.kuhiogrill.com.
Must-try loco moco: Original Kuhio Grille fried-rice loco