Where to Eat on Oahu's North Shore
Food finds located around every sand-covered country corner.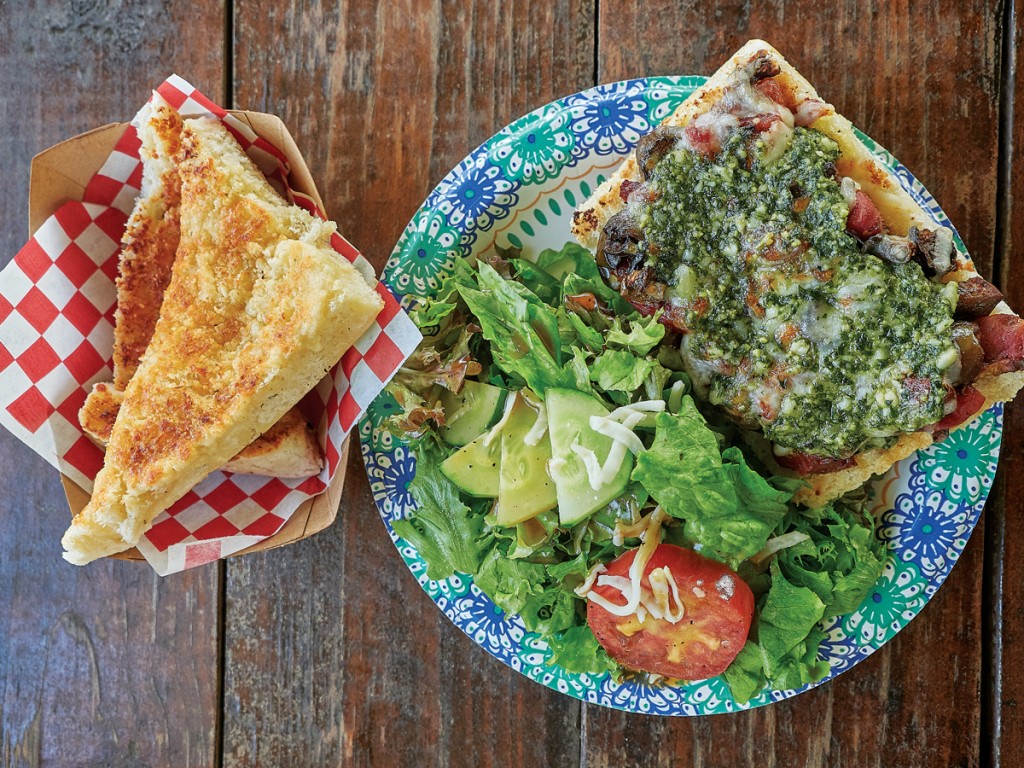 For breakfast, a visit to Café Haleiwa is a must. The North Shore staple has been serving generous portions of American cuisine to salt-crusted early morning surfers since it first opened in 1982. And though its traditional breakfast platters are good, the real winner here is the café's dessert Belgian waffles. 66-456 Kamehameha Hwy., Haleiwa, (808) 637-5516, cafehaleiwahawaiianislands.com.
Another breakfast option, Kono's Haleiwa turns out packed, juicy breakfast burritos at a breakneck pace. Its succulent kalua pig is also what keeps customers returning again and again, and after one bite, you'll understand why. Various locations, (808) 637-9211, konosnorthshore.com.
For lunch or dinner, Haleiwa Beach House, formerly Jameson's by the Sea, blends its country, open-air aesthetic with fine dining. The Australian rack of lamb, served with butter poached potatoes, roasted carrots and red pepper chimichurri, is a standout on the dinner menu. 62-540 Kamehameha Hwy., Haleiwa, (808) 637-3435, haleiwabeachhouse.com.
Pizza fans will want to check out the colorful food truck of Impossibles Pizza, selling some of the best slices of gooey, cheesy, garlicky pizza on the North Shore. Be warned: It will take two to three hungry eaters to finish one pie. 59-776 Kamehameha Hwy., Pupukea, (808) 462-8290 or visit here.
Just up the road, Pupukea Grill is a casual sit-down restaurant popular with the residents. Here you'll find all the local favorites, such as its ahi loco moco plate lunch or spicy tuna bowl. 59-680 Kamehameha Hwy., Haleiwa, (808) 779-7943, pupukeagrill.com.
One town over, Kahuku Farms has an outdoor bistro with menu items such as mango iced tea and the farm pizza, tomato-eggplant bruschetta topped with mozzarella and basil mac nut pesto that are fresher than fresh. 56-800 Kamehameha Hwy., Kahuku, (808) 293-8159, kahukufarms.com.
For dessert, pick up a pie from Ted's Bakery near Sunset Beach, but know that there's more to find here than just sweet, doughy treats. For the uninitiated, try the breakfast, burgers and plate lunches on the menu. 59-024 Kamehameha Hwy., Pupukea, (808) 638-8207, tedsbakery.com.
An end-your-day-here kind of spot, Lei Lei's Bar and Grill is one of the few restaurant-bars on the North Shore. Before hitting up the extensive wine and drink list, fill up on a hearty meal, such as the prime rib or crunchy coconut shrimp. 57-049 Kuilima Dr., Kahuku, (808) 293-2662, turtlebayresort.com/Oahu-Restaurants/Lei-Leis-Bar.