Where to Find Cheap Eats in Waikiki
Even the bustling hub of Hawaii tourism has some great meals under $15.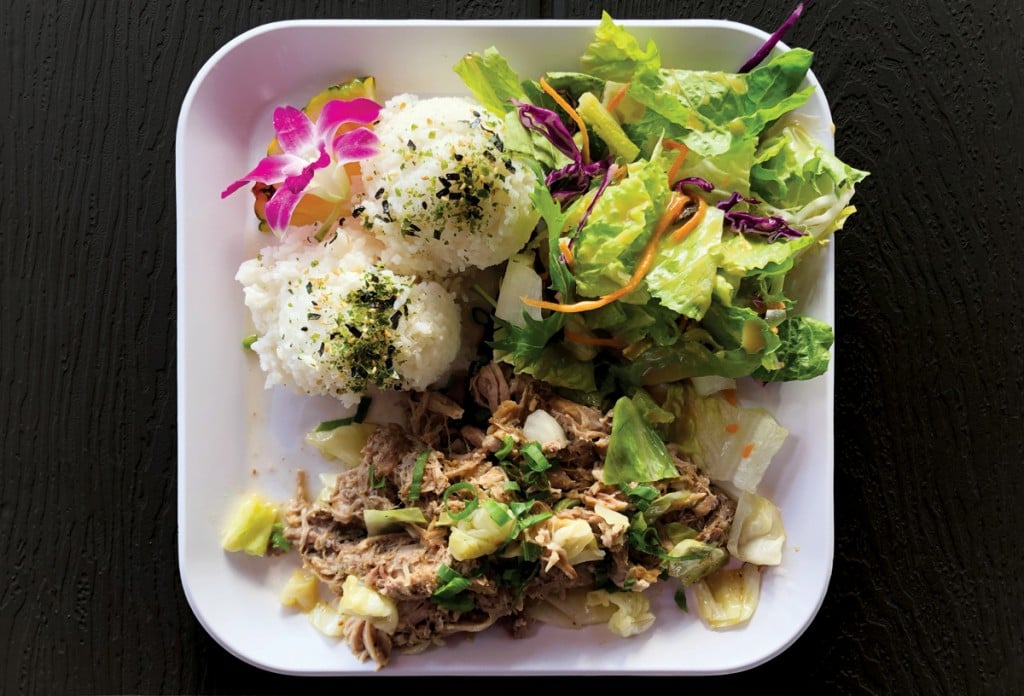 Waikiki can be notoriously expensive when it comes to food. But for those of you looking for a deal, there are a number of delicious options. From musubis to burgers, we found these reasonably priced meals coming in at $15 or less. Here are the spots that should be on your radar.
Under $15
The Pine Boat Luau from the Ala Moana Bowls Grill food truck (234 Beach Walk) packs a scoop of rice, macaroni salad and your choice of barbecue beef, teriyaki, garlic or ginger chicken into a juicy pineapple boat for $12.
The $12 kalua pork and cabbage plate with salad and rice is a salty and delicious find on Queen's Surf Beach at Barefoot Beach Café (2699 Kalakaua Ave.). The Friday and Saturday night buffet for $15 is even better.
Under $10
The teriyaki burger at Mahaloha Burger (Royal Hawaiian Center, 2233 Kalakaua Ave.) is one of our favorite burgers on the island, but you could also try the loco moco or avocado Swiss burgers for less than $8 a piece.
There's a wide selection of sushi and bentos at Mitsuwa Marketplace (International Market Place, second floor, 2330 Kalakaua Ave.), ranging from $11 for an eight-piece nigiri set, to $9 for a beef bowl.
For just $8, Steak Shack (2161 Kalia Rd.) will serve you a filling 6-ounce steak plate—two scoops of white rice topped with strips of meat next to a side of mixed greens.The best grab-and-go spot for breakfast and lunch, Tucker & Bevvy has two locations, at the Park Shore (2586 Kalakaua Ave.) and Hyatt Regency Waikiki (2424 Kalakaua Ave.).
We recommend the island-style barbecue chicken sandwich with pineapple-barbecue sauce, Swiss cheese and slaw on a ciabatta bun for $9.50.
Under $6
A $5.25 regular bowl of curry udon at Marukame Udon (2310 Kuhio Ave.) is topped with shredded onion and beef mixed with mild Japanese curry. The udon options don't end there, with plenty more on the menu at prices that are hard to beat.
Located in the lower level of the Waikiki Shopping Plaza, Shichimusubi (2250 Kalakaua Ave.) has a wide range of organic musubis at an average price of $2.50 each.