Where to snorkel on Kauai during winter
Four Garden Isle beaches where you can explore the underwater world during the winter months.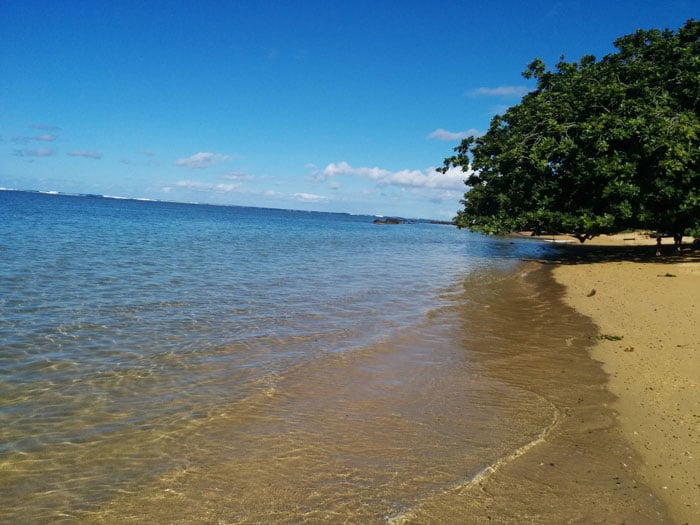 Winter is big wave season in Hawaii, especially on north-facing shores. And while towering, 20-foot wave faces make for terrible snorkeling conditions, don't rule out the possibility of exploring the underwater world if you plan to visit this time of year.
On the island of Kauai, there are several reef-protected beaches where the water is typically placid enough to don a mask and snorkel—even during the biggest of swells. Here are a handful of the Garden Isle's safest places to snorkel during the high surf season that stretches from November to March.
Anini Beach
Hawaii's longest stretch of coral reef guards this north shore coastline from the open ocean, making it a year-round snorkeler's sanctuary. Anini's wide, lake-like waters are flush with tropical reef fish such as moorish idols, butterflyfish and humuhumunukunukuapuaa, the rectangular triggerfish that's famous for its tongue twister of a name and special designation as Hawaii's state fish. Anini is also a popular hangout for honu, Hawaiian for green sea turtles.
The reef fronting the boat ramp at the main beach park has some of the best snorkeling this two-mile beach has to offer. Here beginner snorkelers will enjoy the shallow, near-shore waters, while more advanced swimmers can venture up to a half mile out to sea, where white-tipped reef sharks sometimes gather. If you go, beware of strong currents and waves breaking along the reef's outer edges.
Poipu Beach Park
Clear, gentle waters make this popular south shore destination a prime spot for beginner snorkeling almost every day of the year. The mixed reef and sand bottom is home to green sea turtles, electric blue parrotfish and sea cucumbers, just to name a few of the marine species commonly spotted here. Hawaiian monk seals can also regularly be found napping on the sandbar that connects the beach to a tiny spit of sand and lava rock a few yards offshore. If you go, keep watch for the fins and spouts of humpback whales rollicking farther out at sea.
Lydgate Beach Park
The lagoons at the northern end of this crescent, tree-lined beach on Kauai's Coconut Coast are protected from the open ocean by a man-made rock barrier. The deeper of two pools is optimal for beginner snorkeling. Lydgate's waters are abundant with small reef fish, such as pufferfish and Yellowtail Coris Wrasse. If you go, keep in mind that the calmest conditions tend to be during morning hours.
Koloa Landing
Gigantic green sea turtles, dozens of species of tropical fish and gorgeous full heads of coral greet snorkelers who venture off the old boat ramp at Koloa Landing. The horseshoe-shaped reef at this prime south shore snorkeling spot is one of the island's healthiest, making for diverse and exciting marine life encounters. Koloa Landing is ideal for the seasoned snorkeler, as the waters are deep and offer little protection from the swells and currents of the open ocean. (Don't forget your fins!) Unlike the majority of Kauai's beaches, Koloa Landing's waters tend to be gentlest during the winter season. If you go, be careful when making your way down the boat ramp. It's slippery!