Spring into the Season by Stringing a Fresh Flower Lei
Celebrate the start of spring at one of these lei making classes.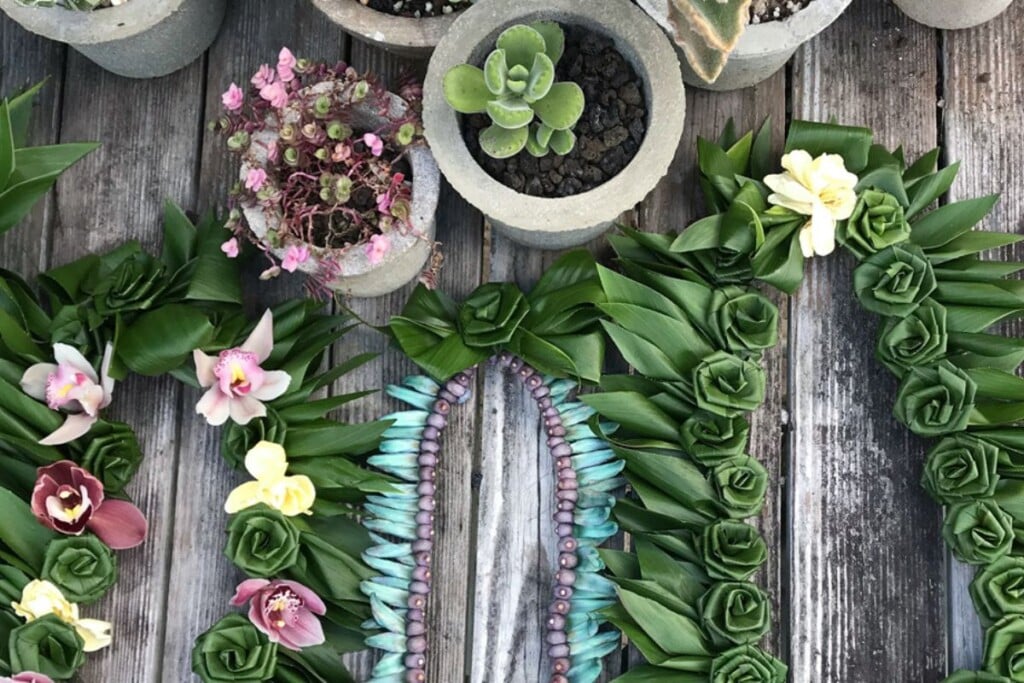 From birthdays and graduations to weddings and momentous achievements, lei is a ubiquitous gift commemorating celebrations and life transitions. The gift is considered a symbol of gratitude, love and honor in Hawaiʻi.  
For many long-time residents, it's a ritual to visit the neighborhood lei stand to pick a gift made from fresh pua (flower) such as pīkake, pua kenikeni or plumeria. And at some of these shops, the art of lei making has been passed down for generations.  
Creating lei is an artform with deep roots in Hawaiʻi and is woven into the fabric of the Islands' culture. Today, contemporary lei makers are creating pieces of botanical art all while working to preserve the craft and ensure the tradition flourishes. Across the Islands, you can find artisans leading engaging workshops, sharing their personal stories connected with lei and helping residents and visitors to make their very own. As spring begins, stringing lei with nature's new blooms is a beautiful way to celebrate the season. Here's where to find lei making classes in Hawaiʻi—and some are even free. 
Lei Making Classes on Oʻahu
Lei by Dillyn 
Lei by Dillyn offers both community and private lei making workshops. The community workshops, which are held in Honolulu, bring together people who share a love and interest in this traditional craft. For a more intimate experience, you can also book a private workshop for events like birthday parties, bridal showers or simply just for fun. All lei making materials are provided at these workshops, including locally foraged flora.  
For more information, visit leibydillyn.com. 
Lulu's Lei + Boutique 
Lovely flower arrangements and fresh lei adorn Lulu's Lei + Boutique, which is in the heart of Haleʻiwa. For a serene afternoon, surround yourself with pretty pua and book a workshop creating lei poʻo. You'll learn from the skilled artisans that often create the lei poʻo used to crown champion surfers at competitions held on the North Shore.  
For more information, visit lulusleiandbouquets.com. 
Royal Hawaiian Center  
Every Friday at noon, Royal Hawaiian Center hosts free lei making classes. Students can learn basic techniques of stringing a fresh orchid lei right in Waikīkī. Classes are limited to the first 24 guests and reservations not accepted.  
For more information, visit royalhawaiiancenter.com. 
Lei Making Classes on Maui
Haku Maui  
Tucked in the paniolo town of Makawao, Haku Maui specializes in traditional Hawaiian lei. The boutique, surrounded by lush flora, holds both private and community workshops, where students can learn how to make lei wili, a style of lei.  
For more information, visit hakumaui.com. 
The Shops at Wailea  
Students can learn to weave ti leaves with flowers and ferns to create their own lei at the Shops at Wailea. Every Monday and Wednesday, the shopping center hosts free classes.  
For more information, visit theshopsatwailea.com. 
Lei Making Classes on Kauaʻi
The Coconut Marketplace in Kapaʻa is another retail center hosting lei making classes. There, classes are held Monday through Friday. These are $25 and need to be booked in advance. 
For more information, visit coconutmarketplace.com. 
Lei Making Classes on Hawaiʻi Island
Mōhalu Hawaiʻi  
Mōhalu Hawaiʻi only offers private classes, from groups and couples to just solo experiences. In the workshop, students learn about different lei styles, the types of foliage often used and the significance of lei in Hawaiʻi.  
For more information, visit mohaluhawaii.com.