Which Hawaii beach is this? How can I stay there?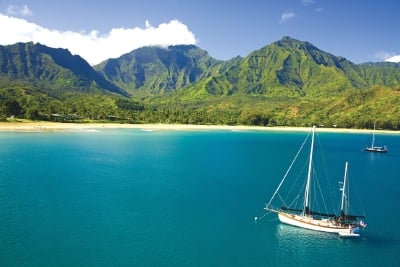 HAWAII Magazine reader Alan Bingenheimer wrote to us with a question about a mystery beach on Kauai:
On page 31 of your September/October 2009 issue there is a large photo of a wonderful looking beach with the caption "Hanalei, Kauai." What is the name of that beach? And could you give any information about accommodations there? We are looking for a reasonable place to stay while we visit Kauai on our return trip from the Philippines.
You ask. We answer.
That beach in the picture is Hanalei Beach on Kauai's north shore. It's one of the largest beaches on Hanalei Bay, the two-mile crescent of white sand where Kauai's lush mountains meet the sea. We have to agree—it's stunning.
We're not alone in our praise for Hanalei Beach. Dr. Steven P. Leatherman—a.k.a. "Dr. Beach"—named Hanalei No. 1 in his 2009 list of best beaches in the world.
Most of the accommodations available along Kauai's north shore are in the nearby resort community of Princeville, part of which overlooks Hanalei Bay. There is of course the new St. Regis Princeville, and a number of condos as well.
There is a trio of lodgings closer to Hanalei Bay.
Once the summer home of an influential sugar family, the Hanalei Faye Estate (pictured right) sits on three acres of beachfront property right beside the water, with full kitchen, washer/dryer, bedrooms with baths, outdoor shower and patio.

For more information click here, or call (808) 338-1625.
Note: Despite being listed on the Aston-owned Waimea Plantation Cottages Web site, the Faye Estate is indeed located along Hanalei Bay, not in the west Kauai town of Waimea.
The Hanalei Inn sits a block from Hanalei Bay, not technically beachside, but it's only a short walk to the water. There's also a beach house that can accommodate 12 guests. The digs here are no-frills.
For more information click here, or call (877) HI-Kauai.
If you don't mind staying a couple miles from Hanalei Bay consider the 48-unit Hanalei Colony Resort—an escape-from-it-all spot along the equally gorgeous Wainiha Bay, just west of Hanalei. Trust us, you will escape. There are no TVs or telephones in any of the resort's two-bedroom and two-bath condos—the only floor plan throughout the resort.
For more information, click here or call (800) 628-3004.