Why Alii Coffee is the Only Hawaii Coffee Shop to Make Yelp's Top 100 Places to Eat in the U.S. 2019
And it definitely has something to do with the coffee.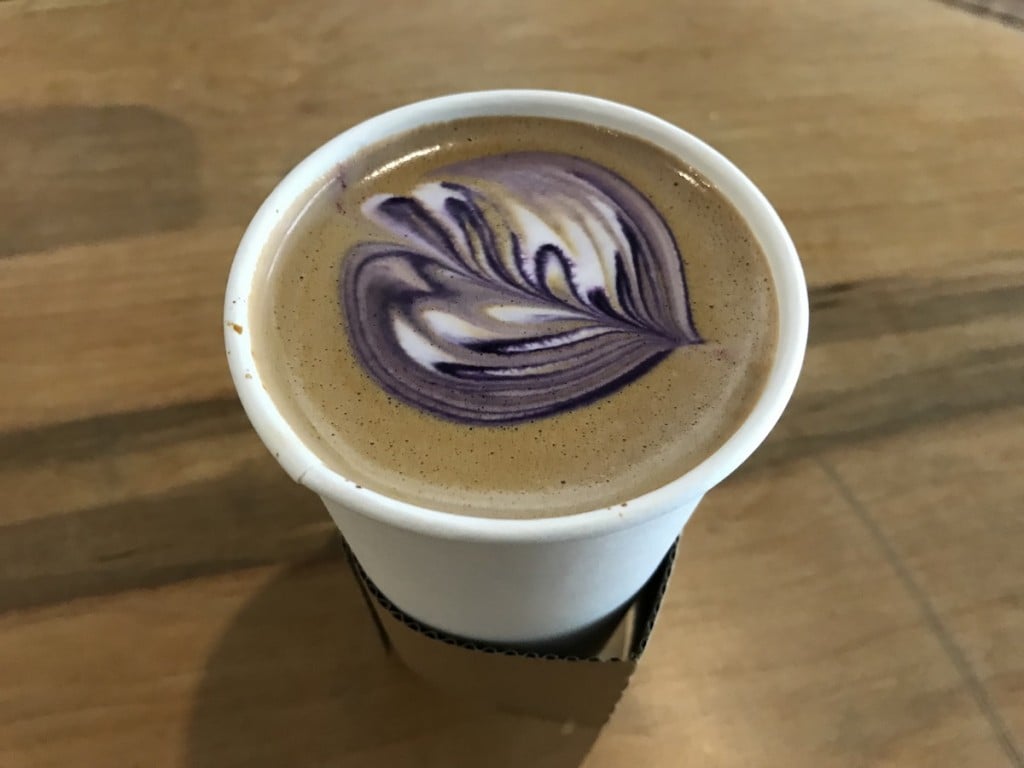 There are only three Hawaii restaurants on Yelp's Top 100 Places to Eat in the U.S. list in 2019—and Alii Coffee is the only Island-based coffee shop.
(The other two: Porky's Kauai, a food truck, at No. 11 and Kahuku Farms, a roadside stand, at No. 63.)
So we had to find out why.
One late morning, we headed to the little shop, just outside of Downtown Honolulu—and it's easy to miss if you're not looking for it. There's no dedicated parking, hardly any foot traffic outside its doors, and no gimmicks.
And yet, it current boasts five stars after 124 reviews on Yelp and debuts on the annual Top 100 list at No. 45.
James Webb and Will Gold partnered on this venture. Webb was already roasting and wholesaling coffee in Honolulu; Gold's father owned a coffee shop in San Francisco. A mutual friend introduced them and the two bonded over their love for coffee. They started Alii Coffee Co. and served their freshly roasted local brews at farmers markets and events on O'ahu, then opened a brick-and-mortar space here in May 2018.
For Webb, who grew up on Oahu, the business is a childhood dream come to fruition.
"When I was 12, I used to save my pennies to go and sip espresso at a little coffee shop in Ala Moana Center and I would dream of opening a coffee shop," Webb says.
Alii Coffee serves a variety of cold brews, including the popular nitro version infused with nitrogen gas, and handcrafted "coff-tails," the shop's unique coffee concoctions (sans alcohol). There's one that combines cold-brew coffee and lavender (Kula Cold Brew) and another with honey and ginger (The Red Head). One of the most popular coff-tails is the Ono Coconut, a mix of cold-brew coffee, coconut milk, muddled pineapple and a hint of macadamia nut syrup. It's like a pina colada but with coffee.
The taro ube latte ($4.60/$5.20) is another must-try. This drink is a blend of espresso, taro cream and ube, a purple yam that gives this drink a violet hue.
The shop serves food, too. There are about half a dozen sandwiches—the turkey-avocado with pickled onion ($9) is great—a few salads and the necessary avocado toast ($7.50). We loved the shop's flatbreads, particularly the prosciutto and pear ($10) with onions, mixed greens and a balsamic vinegar drizzle. Whenever possible, Webb and Gold, who concocted the menu, use local ingredients.
The friends built their shop with a lot of intention. There are no plastic straws, the tables and stools are all made with reclaimed or upcycled wood, and the revolving artwork that's showcased on the walls—today, resin art by local artist Sarah Caudle—supports the local art scene.
"And when we decided on what food and drinks to serve, we thought of our customers," Webb says. "We really think of our shop as a place of community."
It's an amazing feat considering Webb's past. Growing up in the Islands, he had been molested by two different men for years. In order to cope with the trauma, he self-medicated, as he puts it, abusing alcohol and drugs. After 13 years of addiction, he landed in jail, which ended up being a godsend. He learned how to forgive the men who abused him and, in turn, started to forgive himself. He's been clean—no drugs or alcohol—since 2001 and has worked with the homeless and at-risk youth in Honolulu for years.
He became a coffee roaster six years ago and now supplies Hale Lani Terrace in Japan, Alan Wong's Honolulu and Square Barrels in Downtown Honolulu.
"I'm very blessed," he says.
35 S. Beretania St., Honolulu, (808) 532-7928, aliicoffee.com