Why Keoneoio Bay is Maui's diamond in the rough
Also called La Perouse Bay, it's the site of Maui's most recent volcanic activity and a haven for those seeking some solitude in Wailea.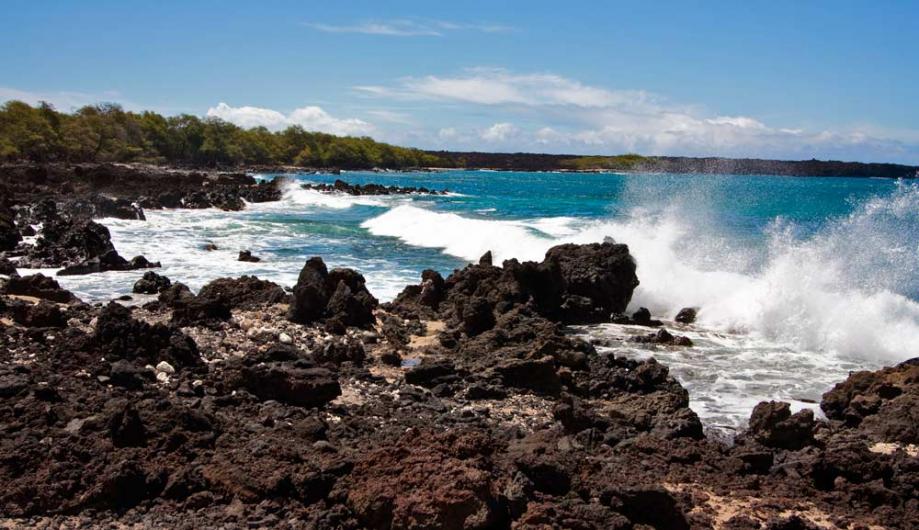 Maui's appeal lies partially in its ability to provide places that one can still enjoy quiet solitude. The 7-mile stretch of lava fields that make up Keoneoio Bay (also called La Perouse Bay after a European explorer) is one of those places. In Hawaiian, keoneoio literally means "the bonefish sand," and refers to the popular fish that forages in the sand here. The area attracts hikers, sunbathers, dolphin-lovers, and nature-enthusiasts who want to avoid the crowds in some of the more popular areas on Maui.
Keoneoio Bay is accessed through a narrow and winding but scenic road after Makena Beach State Park on the southern part of the island, and begins to look like Mars because of its large lava fields as one takes Highway 31 to its end. The drive on the single-lane road is a highlight, with views of the island of Kahoolawe, the rolling green hills of upcountry Kula, the tiny islet of Molokini and the backside of Haleakala volcano.
The bay's charm is its rugged beauty and barren volcanic landscape. The main hiking trail is a 3-mile trek through uneven volcanic rock to a lighthouse. Along the way are small coves with tidal pools, twisted trees, and a mix of beaches with both fine, white sand and coral rubble. The area is home to Sleepy Orange butterflies, pods of spinner dolphins and wild goats.
Keoneoio is an area of extremes. There is no shelter from the elements. It's often windy, sunny, or rainy—sometimes all three. Proper footwear, snacks, water, and sun protection are essential. There is limited to no cell phone reception. The rocky terrain is too uncomfortable for most dogs, although they are allowed on leash. A short walk through the dirt path near the parking lot is a nice alternative for animals.
The bay invites experienced snorkelers and divers into its sometimes turbulent waters, especially during the dawn and early morning hours. The adjacent Ahihi Kinau Natural Area Reserve on the north border, also locally known as Dumps, is a worthy detour for the experienced swimmer, snorkeler, or surfer, but strong currents are common.
The well-marked closed areas that you'll see in the vicinity protect cultural and historical parts of Keoneoio, including the historic King's Trail. Built over 500 years ago by Maui chief, Piilani, the 220-mile trail once circumnavigated the island and connected Keoneoio Bay to Hana, but has since been destroyed by paved roads, lava flow and time.
---
Keoneoio Bay is open 5:30 a.m. to 7:30 p.m. daily and is easily accessible without four-wheel drive. Drive south of Wailea to the end of Makena Alanui Road (Highway 31) at mile marker 7 to park.