Why We Eat Mochi on New Year's in Hawaii
The soft, chewy traditional Japanese rice cake is a tasty way to celebrate the new year.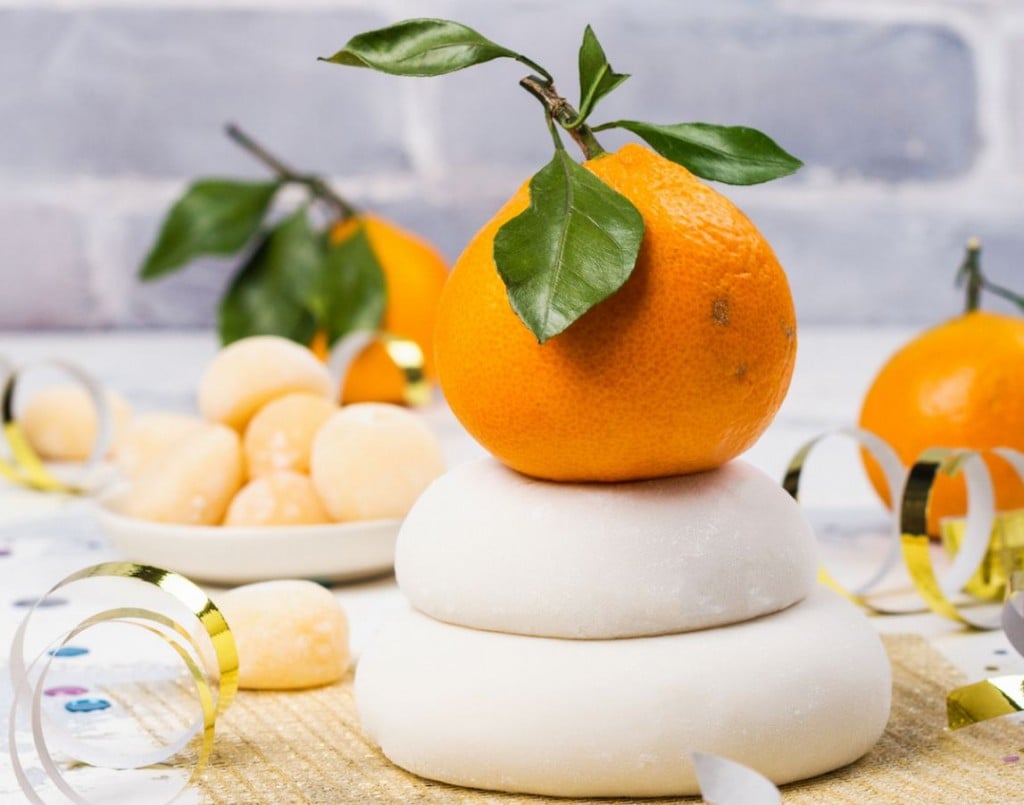 As this year comes to a close, people worldwide will soon welcome the new year with spectacular firework shows and glasses of Champagne.
In Hawaiʻi, we celebrate with popping firecrackers (to ward off evil spirits), eating noodles (which symbolize longevity), cleaning our homes (so you don't carry your old life into the new year) and, for some local families, pounding mochi.
Mochi is a Japanese rice cake made of mochigome, glutinous rice, pounded into a paste. Originally used as an offering during religious ceremonies in centuries past, mochi has been enjoyed as a New Year's treat since Japan's Heian Period (794-1185).
The pocket-sized treat came to Hawaiʻi in the mid-1800's through Japanese plantation workers, who carried on the traditional mochi-making ceremony, called mochitsuki, during New Year's. In mochitsuki, mochigome is cooked and pounded in a wooden or stone mortar called usu, until it is smooth and chewy, and then molded into various shapes by hand. Mochitsuki is a laborious undertaking, requiring the help of friends and family to make the process run smoothly. Many families and Japanese confectioneries in Hawaiʻi continue the tradition of mochitsuki in their homes and businesses, although many opt to use a microwave recipe to save on time and clean up.
SEE ALSO: The Story Behind Hawaii's Mochi-Pounding Tradition
Once the mochi is done, it can be prepared in a myriad of ways: for instance, plain, sprinkled with kinako (soybean flour), pan-fried with soy sauce and sugar, or in ozoni, New Year's soup. The ingredients in ozoni, which mainly consist of mochi, dashi (soup stock) and vegetables, represent well wishes for the New Year: good fortune, peace, happiness and last but not least, a long life, represented by the stretchiness of the mochi.
The mochi that's made for New Year's celebrations is always white and shaped into disks. Kagami mochi (mirror mochi) is an offering to the gods comprised of two mochi cakes stacked on top of each other with a Japanese orange—its leaf still attached—on top. This stack is typically placed on the family altar in Japanese homes or somewhere in the house to bring good fortune in the coming year.
Fortunately, you don't have to wait until Jan. 1 to enjoy mochi, since it's available year-round in Hawaiʻi and available in supermarkets, convenience stores and even at shave ice shops.
SEE ALSO: Where To Get Hawaii's Multicultural Mochi on Oahu
If you're searching for traditional, Hawaiʻi-style mochi—during New Year's or not—visit Nisshodo Candy Store (1095 Dillingham Blvd., Suite I-5, nisshodomochicandy.com).
SEE ALSO: Oahu's Nisshodo Candy Story is the Spot for Handcrafted Japanese Sweets
Nisshodo's home for nearly 100 years has been an unassuming warehouse in Honolulu's commercial district in Kalihi. Step into the hole-in-the-wall, family-run shop and you'll be greeted by a small glass showcase displaying colorful mochi and manju, a baked rice-flour confection that resembles a pastry, neatly stacked on parchment paper-lined trays. The three employees packed behind the counter take orders from the seemingly endless line of customers, answer the phone and fluidly switch off at the single cash register. Be prepared: the style here is pick-up and go, with no chairs or tables for waiting. If you want to ensure the mochi you want is available, we recommend arriving at the store early in the day or placing your order ahead of time through phone or email.
Although Nisshodo uses traditional fillings of azuki (red bean paste) and lima bean paste in many of its confections, you won't find flavors like lilikoʻi (passionfruit) or peanut butter outside of Hawaiʻi. Indisputably, the shop's most popular seller is chichi dango, a white or vibrant pink sweet milk mochi that is not well known in Japan.
Third-generation owner Mike Hirao's grandfather, Asataro Hirao, learned how to make chichi dango from a local candy maker in Hiroshima after World War II, who utilized the donations of powdered milk pouring into the war-ravished country to make a treat that all could enjoy. Hirao perfected his own recipe after returning to Hawaii, incorporating local ingredients in the process. Powdered milk continues to be a vital ingredient in the 6,000 pieces of chichi dango prepared in-house daily. Peak seasons for chichi dango are Christmas and New Year's, as well as in the days leading up to March 3, when production triples. March 3 is Hinamatsuri, or Girls' Day, originally a Japanese celebration of women of all ages.
Mochi is an inexpensive delicacy with a rich history that has stood the test of time in the Islands. If you haven't made your New Year's resolution yet, "Eating mochi" isn't a bad choice.