Will the summit of Kilauea erupt?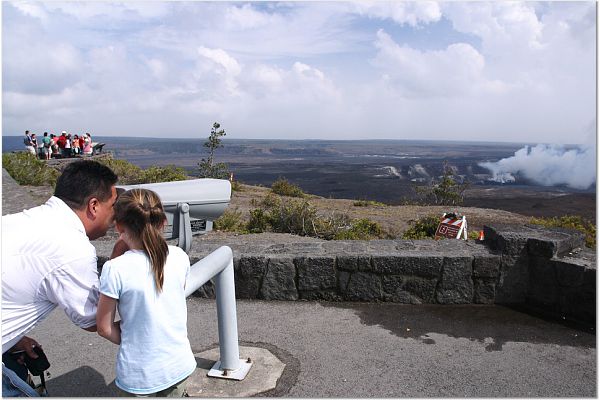 I've stood at the edge of the huge crater at the summit of Kilauea Volcano on the Big Island many times over the last 28 years, but I've never seen anything like what I saw yesterday and last night.
Halemaumau Crater has long been rather placid, with only various small vents of steam and gas lazily wafting out. The last Kilauea summit eruption fired up the crater in 1982. The current eruption—which been going on since 1983—has all occurred several miles down-slope.
But now the summit itself is showing off. The excitement began sometime between March 10 and 11. A new vent—spewing a voluptuous plume of thick white steam and gas (mostly sulfur dioxide)—had opened in Halemaumau. Now, a week later, the vent is still going strong, drawing excited crowds to the Thomas A. Jagger Museum overlooking Kilauea Caldera and Halemaumau Crater.
Yesterday afternoon, the sharp tang of sulfur in the air had one woman using her t-shirt as a gas mask, but most folks seemed unaffected. Nevertheless, the road downwind of the crater is already closed, and Hawaii Volacanoes National Park officials have drawn up evacuation plans if sulfur dioxide levels continue to rise.
None of this concerned a little girl peering through a 25-cent viewscope at the Jagger Museum. She had other worries. "I think I heard some rumbling," she said to her dad. "The volcano's erupting!"
Well, yes and no. Technically, if super-hot steam and gas are gushing from a vent and creating an incandescent nighttime glow, some would say that qualifies as an eruption. But that glow is not molten lava, so …
Is a full-blown Kilauea summit eruption likely? Not at the moment. The Kilauea Caldera is not inflating and the number of mini-tremors in the area is small.
But a summit eruption is possible. When you're talking about fire goddess Pele, anything is possible.
UPDATE, 3/19/08, from Web Editor Derek Paiva: Scientists at Hawaii Volcano Observatory announced this afternoon that an early morning eruption at Kilauea Volcano today was the mountain's first explosive event since 1924. More details here. We expect a post from our Kilauea Volcano correspondent Bill Harby—who resides a couple of miles from the summit—momentarily.