Will Waikiki's International Market Place be razed, renovated or left as is?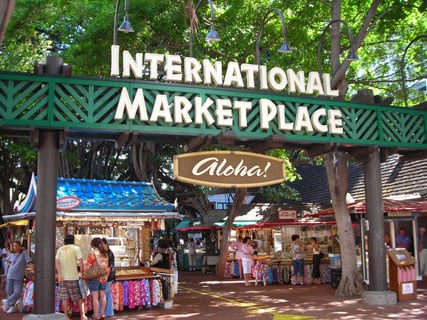 You ask. We answer.
HAWAII Magazine reader Patricia Renze from New York, NY, writes:
What's the status of the International Market Place renovations in Waikiki? I have spent many a happy day walking around and talking with all of the vendors. I hope the project has been shelved, as I love the Market Place just the way it is.
Well, Patricia, you'll be happy to know that Waikiki's International Market Place is staying the same. For now at least.
A $150 million overhaul of the 4.5 acre banyan-tree-shaded property in the heart of Waikiki has been postponed indefinitely, say Market Place officials. Development plans will be revisited sometime after 2010, but there's no certainty of what will become of the open-air bazaar.
The planned redevelopment of the property has sparked protest from residents and visitors. A revitalized market place would come at the expense of the dozens of small retail booths that sell all manner of mostly foreign-made Hawaii tchotchkes—from plastic tiki statues and discount aloha wear to writhing hula girl lamps and wood carvings.
The International Market Place has been a Waikiki attraction for decades. Restaurateur Donn Beach—owner of the now long-gone Don the Beachcomber restaurant chain—once famously perched his office in the sturdy branches of the market place's massive banyan tree.
Since the International Market Place's 1957 opening, there have been no major renovations to the property. The newest building on the property was erected in 1970. But property developers have coveted the shopping district's central Waikiki location for almost as many years as the Market Place has been open.

Landowner Queen Emma Foundation's latest plan for site—originally slated for a 2005 start—called for razing most of Market Place's familiar tropical facade, making way for more upscale shops and restaurants, a storytelling center and an entertainment pavilion. Construction delays and the souring economy have stalled the project.
We'll keep you posted on what happens next here on HawaiiMagazine.com.