World's best tandem surfers compete at Waikiki beach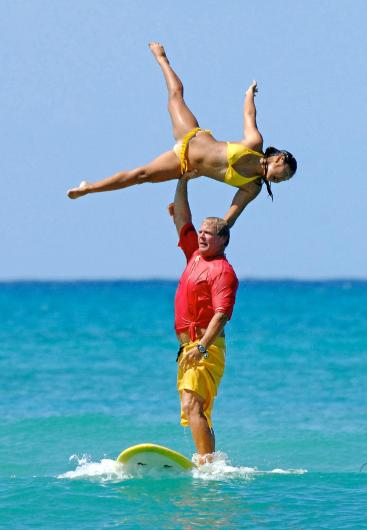 Over the last century, tandem surfing has evolved from leisure activity to competitive sport, practiced and respected the world over.
It takes two surfers, one very large board and can trace its roots to Waikiki's very own Kuhio Beach. And starting Wednesday, Waikiki will again play host to one of the sport's premier events—The 2008 International Surfing Association/International Tandem Surfing Association's 3rd Annual World Title of Tandem Surfing.
A mouthful of words, we know. But trust us when we say you're in for a treat if you go.
Tandem surfing is an awe-inspiring synergy of surfing, gymnastics and figure skating where two people—typically a male surfer and a much smaller female partner—perform acrobatic stunts and poses.
This, of course, happens while they stand on a floating piece of fiberglass and barrel down a wave at full speed. The world title contest is part of the ongoing Duke Kahanamoku OceanFest, an annual celebration of the pioneering Hawaii surfer's many accomplishments.
Tandem surfing's origins can actually be traced back to the legendary waterman. Back in the early 20th century, Waikiki beach boys like Duke would take tourist women out on their boards, letting the ladies sit or stand on their shoulders for a more exciting ride.
But don't think tandem surfing is just for show. There are serious physics at work behind the sport.
It is difficult for surfers to turn and control the large board with someone else on the deck. This is why surfers place their partner on their shoulder. The move is referred to as the "lift." As soon as the female is hoisted up, the surfer can ride and turn the board as though he was surfing alone.
Who'd a thunk it?
The last few days of OceanFest have featured tandem-related events—including a "boot camp" for beginners and a team competition for "most official tandem lifts." But the real tandem deal is set to begin Wednesday morning. Quarterfinal and semifinal action takes place on Friday, the finals on Saturday.
For a complete World Title of Tandem Surfing schedule, click here.
See you on the beach!