You Need to Try this Shave Ice on Oʻahu's North Shore
No, not Matsumoto Shave Ice or Aoki's Shave Ice. Kaimana Shave Ice is the real deal with real fruit syrups.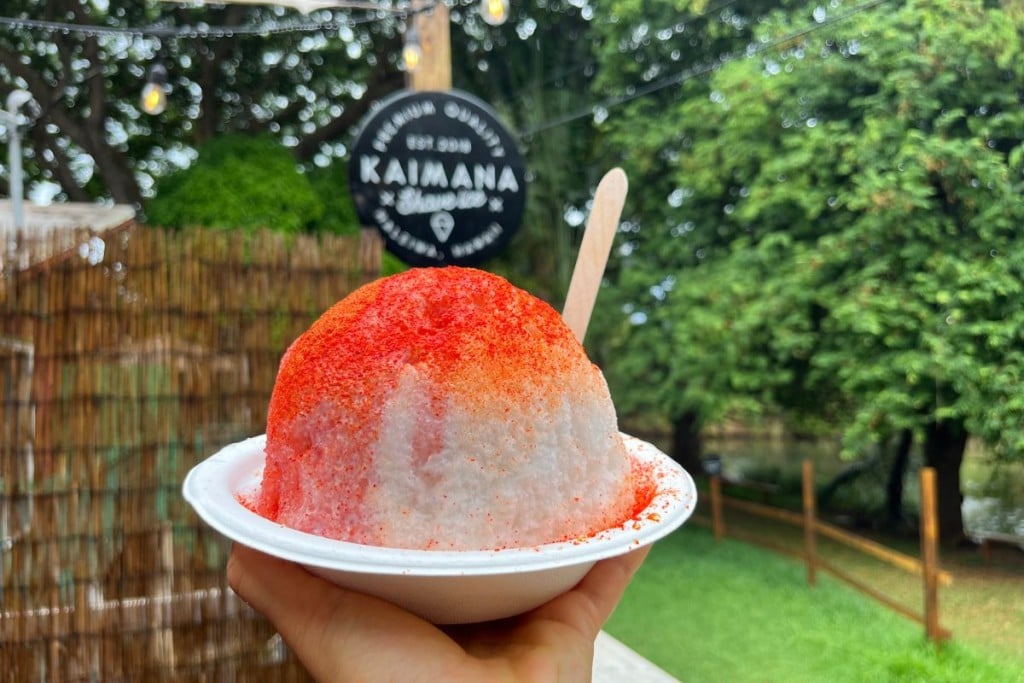 In a barn-red building along Haleʻiwa's main road, Kaimana Shave Ice is a bit of a hidden-gem. But the family-run business serves some of the finest shave ice on the island—a contentious subject, especially with Matsumoto Shave Ice and Aoki's Shave Ice just down the street.
"Matsumoto Shave Ice and Aoki's Shave Ice helped create the image of what shave ice is, especially for people from the mainland," credits Max Nowicki, who owns and operates Kaimana Shave Ice with his brother, Jake Nowicki. It was Jake Nowicki that started the shop back in 2018 with a new, healthier vision for Hawaiʻi's iconic frozen treat. "We're not really competing because it's just an entirely different product," Jake Nowicki says.
At the family-run shop, the ice is ultra-fine with a melt-in-your-mouth texture, a standard for top-notch shave ice. But Kaimana Shave Ice raises the bar with homemade, natural syrups.
Real fruit goes into the flavorings for a light and refreshing taste that is difficult to find at other shave ice stands. Jake Nowicki explains his process for creating the syrups actually preserves the fiber in the fruit and requires significantly less sugar, making it a healthier option. And Nowicki says the syrups at Kaimana Shave Ice contain about half as much sugar as conventional flavorings. With less sugar, the real flavor of the fruit shines.
Kaimana Shave Ice doesn't offer an extensive menu with artificial flavors like bubble gum or tiger's blood. Instead, there are about a dozen refined and refreshing choices. For a tropical treat, mango, lychee and lilikoʻi (passion fruit) are bright yet not-overly sweet, while coconut creates a creamy finish. For latte lovers, fresh cold brew goes into the coffee syrup and the matcha flavoring is made with green tea powder sourced from Japan.
While the best shave ice flavors are heavily debated in the Islands, too, most people can agree that the foundation for any good shave ice is ice cream, which Nowicki also makes from scratch. He churns out vanilla, macadamia nut, banana and vegan ice cream that is rich with a consistency akin to gelato. It's so decadent that Nowicki's ice cream has garnered a small fan base of its own, with customers asking if they can buy pints of it. For now, he says it's exclusively served with his shave ice.
Of course, all the essential toppings are available at Kaimana Shave Ice. The shop puts a natural twist on the classic flavors, but you'll find all the local favorites like sweet cream, li hing mui powder and mochi balls.
To order, customers can take creative liberty and craft their own icy concoctions. Or customers can choose specialty combinations like the sunrise with a base of banana ice cream, topped with lychee and strawberry shave ice, then finished with balls of mochi. For a richer treat, the heavenly includes macadamia nut ice cream paired with matcha and cacao shave ice, then drizzled with sweet cream and garnished with mochi balls.
Although Kaimana Shave Ice opened in 2018, the young business exudes a warm, old-school charm. After all, the business is a local family affair.
Jake and Max Nowicki grew up in Haleʻiwa, describing themselves like the Kōlea, a migratory bird that spends winters in Hawaiʻi and warmer months in Alaska. During the summer, their father was a salmon fisher in the 49th state. But when school started, they flocked back to Oʻahu. Like most kids growing up in Hawaiʻi, they ate shave ice constantly, even in the winter. But Jake Nowicki recalls, "My one gripe growing up was that shave ice was too sweet."
When an opportunity opened to fill a vacant spot in a building his family owned for decades, Nowicki took it. He bought a shave ice machine and taught himself how to craft Hawaiʻi's iconic treat in his garage. Nowicki also experimented with creating his own artificial flavors but noted how saturated the market is. Instead, he focused on perfecting recipes for natural syrups, preserving the real fruit flavors. Nowicki also honed his shave ice technique, finding the best tools like a rice paddle to compact the ice. "It's very utilitarian," he jokes.
With help from his father, Nowicki remodeled the shop, installing a commercial kitchen and building a patio with a path leading to the peaceful river behind the store. It wasn't too long before Max Nowicki joined the family operations. The brothers joke they keep it real old-school by living in the house in the back like old shopkeepers. But beyond living on the property, they hope to help preserve the nostalgic charm of Haleʻiwa with their family-run business. This includes keeping prices as affordable as possible. A standard bowl at Kaimana Shave is only $5, while other shave ice stands raise the prices for natural flavorings.
If you're hanging around Kaimana Shave Ice, it's inevitable that you'll hear praise from the shop's customers. On a rainy afternoon, one man tells his family, "This shave ice is so good, I need to get a sticker for my skateboard."
"We owe it to Matsumoto's and Aoki's for establishing shave ice as an institution on the North Shore," Jake Nowicki says. But Kaimana Shave Ice is becoming the reason people make the trip back to Haleʻiwa.
66519 Kamehameha Highway, Haleʻiwa, www.facebook.com/kaimanashaveice.