Your Guide to Big Island's Hilo district
There's a little bit of everything for visitors and locals to enjoy in Hilo town.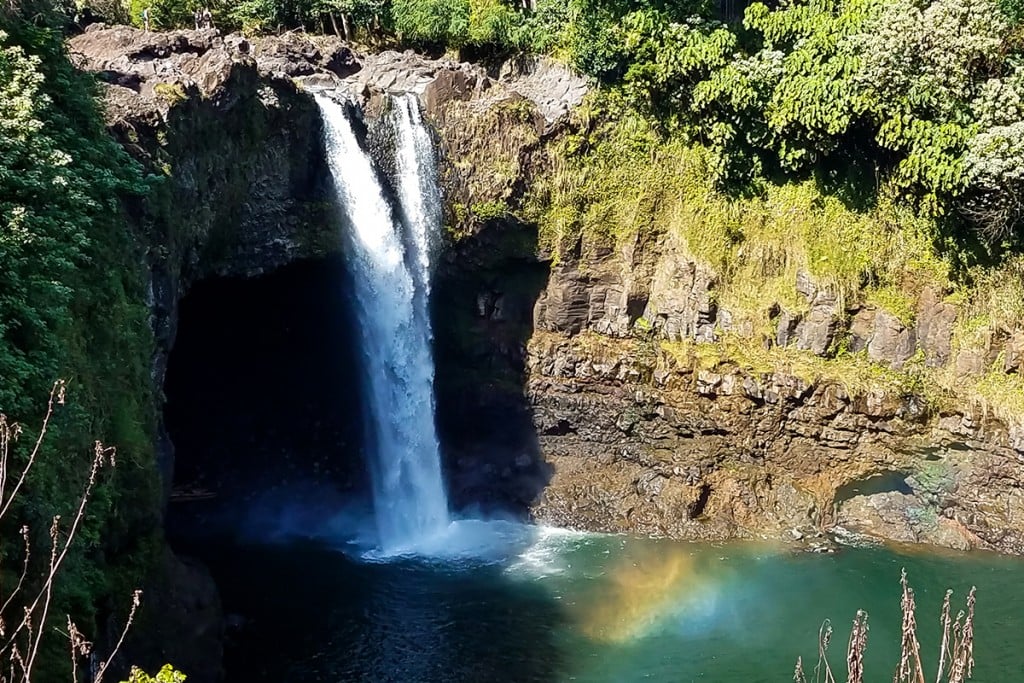 It seems like everything grows on Hawaii Island, from coffee beans to sweet potatoes, and nowhere is that more apparent than in the district of Hilo. Gorgeously lush, the area features a distinctly overgrown aesthetic with small businesses, shops and natural wonders around every corner. The next time you find yourself in Hilo, be sure to check out some of these sites, stores and resorts.
Enjoy the freshest ahi at Suisan Fish Market
View this post on Instagram
Hawaii locals and residents often debate about who's got the best poke bowl. Well, Suisan Fish Market makes a strong contender. Known for its fresh ahi, which is on display in the shop, the hardworking staff behind the counter serves tasty poke bowls that showcase cubes of fresh fish flavored with a variety of sauces and seasonings. If you can't decide on one, Suisan Fish Market will let you pick two choices for one bowl. Just beware: Suisan doesn't slack on the portions, so come hungry. 93 Lihiwai St., Hilo, (808) 935-9349, www.suisan.com. 
Save room for Two Ladies Kitchen
View this post on Instagram

Trust us: Get the strawberry mochi. One bite into this gooey, sweet rice-cake confection and you'll be wishing you bought a dozen more. This treat is one of the many mochi variants sold at Two Ladies Kitchen, a tiny storefront in Hilo that is almost always full of customers. If the shop is sold out of its strawberry mochi, which happens regularly, try a peanut butter-filled mochi or one stuffed with sweet azuki (Japanese red bean paste). 274 Kilauea Ave., Hilo, (808) 961-4766.
Walk it off at Liliuokalani Park and Gardens
Built in 1979 on land donated by Queen Liliuokalani, this Edo-style park and garden right on Hilo Bay is the perfect place to jog or walk. The park, which is one of the largest Edo-style parks outside of Japan, has ponds and tiny bridges and numerous banyan and bamboo trees to find shade under. Small torii (traditional Japanese gates), pagodas and a Japanese teahouse are just some of the other attractions. 189 Lihiwai St., Hilo.
Treat yo' self at Naupaka Island Designs
View this post on Instagram
If you're looking for some high Hawaii fashion, Naupaka Island Designs in downtown Hilo sells locally crafted handmade clothing. Its intricate patterns and designs, inspired by the Islands' natural flora, translate seamlessly onto the shop's modern-cut aloha shirts, blouses, dresses and clutches. Finding the perfect accessories is also easy: The shop sells everything from black pearl rings, flower hairpieces (called hairlooms) and koa wood earrings. 308 Kamehameha Ave., Suite 108, Hilo, (808) 933-8666.
Fall in love with Rainbow Falls
In case you forgot that you're in a tropical paradise, just outside of Hilo town is Rainbow Falls, an easily accessible natural waterfall. Impressive in size and water flow, the 80-foot waterfall is a sight to see, especially after it rains. The waterfall got its name from the  rainbows that frequently appear where the water crashes into the pond below. And it's all free. Off Waianuenue Avenue.
Take it all in at the Grand Naniloa Hotel Hilo—a DoubleTree by Hilton
Situated on the edge of Hilo Bay, the Grand Naniloa Hotel Hilo—a DoubleTree by Hilton is a wonderful place to call home during your stay in Hilo. Everything about the hotel, from the lobby to the guest rooms to open-air restaurant Hula Hulas, has been given a contemporary face-lift, with that classic Hawaii charm carefully preserved. Encompassing three towers, the rooms and suites of the Grand Naniloa Hotel Hilo also feature stunning views of Hilo Bay and the surrounding area, only made better through floor-to-ceiling windows. 93 Banyan Drive, Hilo, (808) 969-3333, grandnaniloahilo.com.