Your guide to Friday town parties on Maui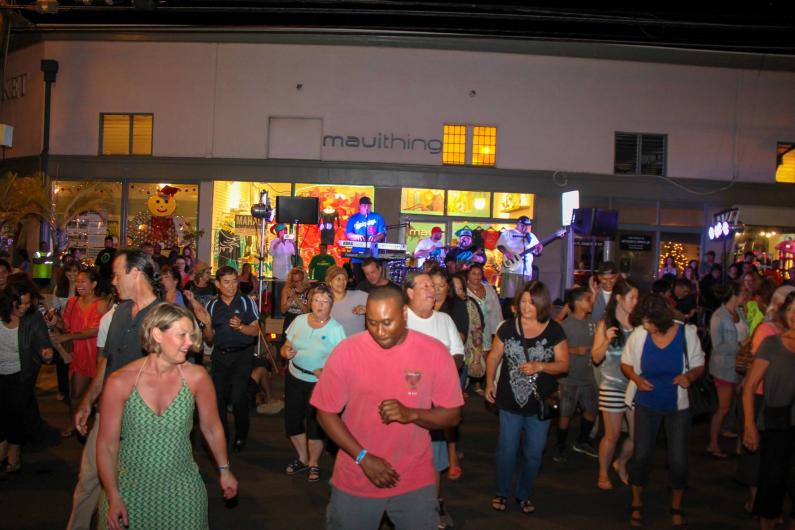 Every Friday, a different town in Maui County hosts a block party. Each town has a different personality, but the parties are made up of three things: local food, local music and local vendors. Kids are more than welcome to join the party—it's a family atmosphere. Dogs too! Here's a guide to all the festivities:
1st Friday: Market Street in Wailuku
This week we checked out Wailuku, the local town in Central Maui where the town parties originated. Local food is an important part of the town party experience here. Over 20 local restaurants set up to feed the fun and Wailuku is the only town to offer a beer garden right in the heart of the event.
From 6-9 p.m.
2nd Friday: Front Street in Lahaina
The art here steals the spotlight at this First Friday where 18 galleries fill up with a colorful audience. Local boutiues offer specialty pricing and discounts on many of their signature products, from hammocks and quilts to Hawaiian jewelry and graphic tees.
From 5:30-8 p.m.
3rd Friday: Baldwin Avenue in Makawao
The smell of hot food and baked goods permeates the streets, too tempting to pass up. A funky jazz band or local orchestra can typically be found in this charming historic town too unique to pass up on a Friday.
From 5:30 to 8:30 p.m.
4th Friday: Azeka Shopping Center in Kihei
Many Maui restaurants tour the town parties each Friday with their food trucks and booths and Kihei has one of the largest food courts to dine on local favorites. The keiki (children) will love the Keiki Zone here—face painting, crafts, taiko drumming, laser tag and balloon animals.
From 6 to 9 p.m.
5th Friday: Dole Park in Lanai City
Local artisans, live music, food vendors and movies in the park gather in a celebration of the island's community. Round trip ferry rides from Lahaina Harbor to Manele Harbor run throughout the day (9:15 a.m., 12:45 p.m., 3:15 p.m.), in addition to a late night ferry at 9:45 p.m. to Lahaina so Maui people can come party too. One of the newer attractions: watching films at the renovated Hale Keaka (previously the Lanai Theater) and a visit to the Lanai Culture and Heritage Center.
From 5:30 to 8:30 p.m
Get your Aloha Friday on, and get to know a different town on Maui this week or come out to support your own. For more information, visit mauifridays.com.