Your Guide to Kakaʻako, Oʻahu
In case you didn't think Honolulu was hip, direct your attention to the district of Kakaʻako, where artists and creatives thrive.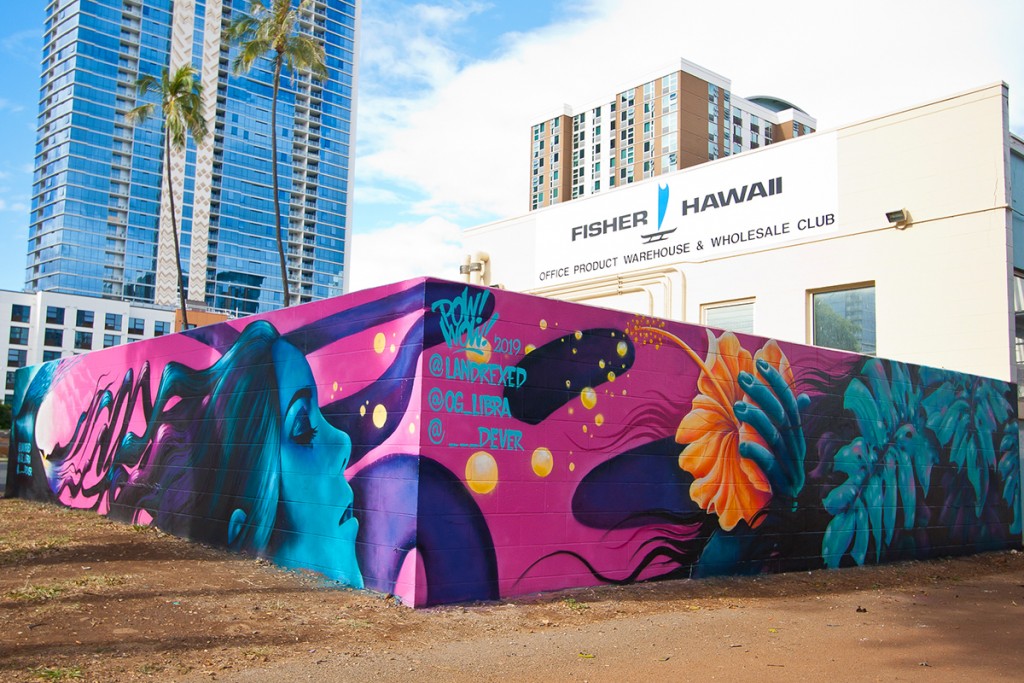 Seemingly overnight—but really over the course of a few years—Kakaʻako has become one of Honolulu's most thriving, vividly creative communities. The district, which was once made up of a smattering of mom and pops, auto body shops and a movie theater, is now inhabited by too-cool-for-school bars, extravagant restaurants, less extravagant but still really good eateries and boutique shopping centers. If you're curious to see what's popping in Kakaʻako, here are a few places to get you started.
SALT at our Kakaako
Everything about the boutique shopping center SALT at our Kakaʻako, from its unique and sometimes perplexing layout to its impressive range of niche merchants, eateries and services, carefully straddles the line between cool and too cool. So if you're looking to get a tattoo at 1 Point Tattoo, drink an artisanal latte at ARVO, find a sweet record at Hungry Ear Records, or do all three in one day, then SALT at our Kakaʻako is where you'll want to be. 691 Auahi St., Honolulu, saltatkakaako.com.
Art Murals from Pow! Wow! Hawaiʻi
If you're ever looking to get your creative juices flowing, or just want a killer selfie, the larger-than-life murals that span multiple blocks of Kakaʻako will do the trick. Created by select artists who attend the annual Pow! Wow! Hawaiʻi event, these colorful, thought-provoking masterpieces stay up until next year's Pow! Wow! Hawaiʻi. There are dozens of these murals to see, but fortunately for you, we've written about some of our favorite pieces from Pow! Wow! Hawaii 2019, as well as directions on how to find them.
Kakaʻako Farmers Market
[video:https://www.instagram.com/p/BykOitmD5qZ/]
The hustle and bustle of a farmers market never gets old, and the Kakaʻako Farmers Market loves the attention, operating two separate markets, one on Wednesdays from 3 to 7 p.m. and another on Saturdays from 8 a.m. to noon. Here you can pick up local produce and products grown and made by local farmers and businesses, whether you're looking for organic bee balm moisturizer or just some fresh greens to stock the fridge. Of course, the market also serves as a great place to grab some lunch or a refreshing drink, like one of Wow Wow Hawaiian Lemonade's thirst quenching lemonades.
1050 Ala Moana Blvd., Honolulu, farmloversmarkets.com/portfolio-item/kakaako/.
Piggy Smalls
If you want to visualize the general in-restaurant attitude of Piggy Smalls, the restaurant was named after 1990s rapper Biggie Smalls and features playful and bright decor. There's also a pink neon light display that proudly states, "It's All Good," which makes the restaurant feel that much more casual and fun. The Vietnamese food itself is also fun for the eyes and—most importantly—the mouth, and its loaded baked potato beignets ($8) and hurricane-style creamed corn ($9) will keep you coming back for more. 1200 Ala Moana Blvd., Honolulu, (808) 777-3588, thepigandthelady.com/piggysmalls.
The Brewseum
If you are a fan of World War II memorabilia, local brews and secret speak-easies, you'll be happy to know that The Brewseum manages to somehow fill all of your very specific needs. Located next door to a surfboard repair business and across the street from numerous auto repair and body shops, this bar/museum sits in what can still be considered "old Kakaako," and is known for its military-themed microbrews, like the 442 Go for Broke IPA, which is named after the famous infantry regiment that consisted almost entirely of Japanese American soldiers from Hawaii. 901 Waimanu St., Honolulu, (808) 396-8112, homeofthebravehawaii.com.