Your guide to Kakaako's Pow! Wow! Hawaii 2018 street art
Where to go to see the stunning murals from this year's Honolulu street art festival.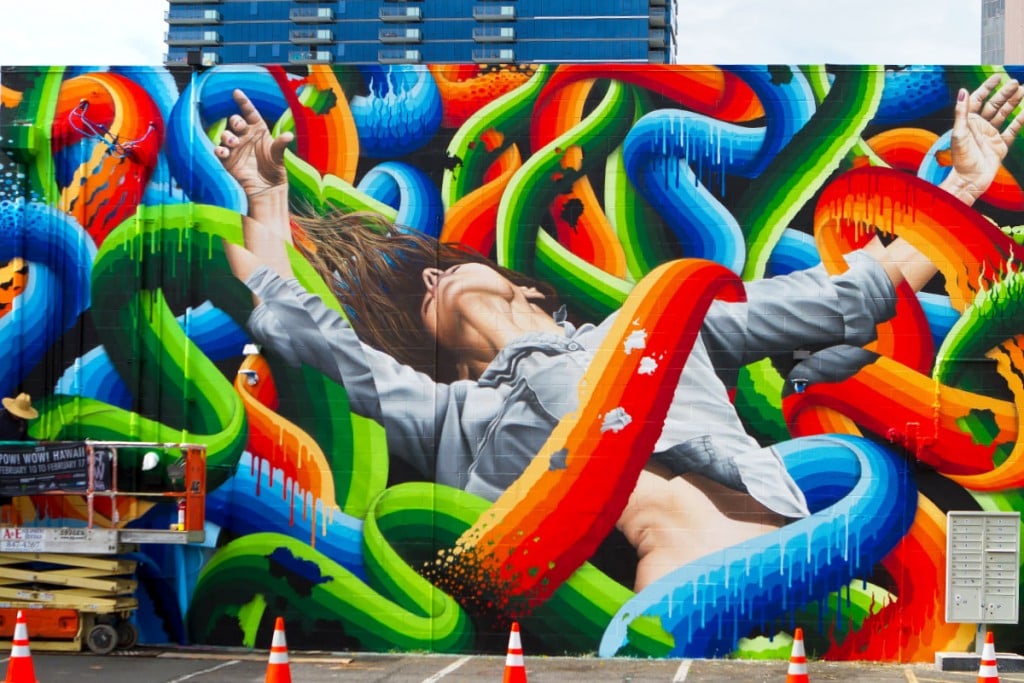 During the third week of February, artists from all over the world hit the streets of Honolulu for the annual Pow! Wow! street art festival that leaves the Kakaako district a colorful walk-through gallery of urban art each year.
Although the event was scaled down in 2018 it still brought some 50 artists to participate, including serious creative heavyweights such as Toki Doki brand artist and co-founder Simone Legno, renowned New York-based artist Daniel Arsham and some of Hawaii's highest-caliber muralists. Be aware though, that at next year's event, many of these murals may be painted over. Here's where to find some of the best, most striking pieces from 2018.
Cooke Street and Pohukaina Street
The main road through Kakaako, Cooke Street is your entrance to a district bursting with diverse, vibrant murals around every corner.
Mother Waldron Park
Bordered by Cooke Street, Pohukaina Street, and Halekawila Street, Mother Waldron Park is a can't-miss riot of colorful paintings.
Coral Street
In the heart of Kakaako's old industrial district, vibrant modern art gives the buildings new life.
Auahi Street and Lana Lane
The central hub of Kakaako's trendy new up-and-coming urban condo community, Auahi Street is rapidly changing, yet retains its artistic vibe.
Lana Lane, off Auahi Street, is the location of Pow! Wow! Hawaii headquarters.
Like what you see here? There are plenty more murals to discover. Pow! Wow! Hawaii happens every spring in Honolulu's Kakaako district on Oahu. For more information about the artists and the Pow! Wow! movement, visit powwowhawaii.com.