Your Guide to Kāneʻohe, Oʻahu
This sleepy town nestled amongst the Koʻolau Mountains has got it all.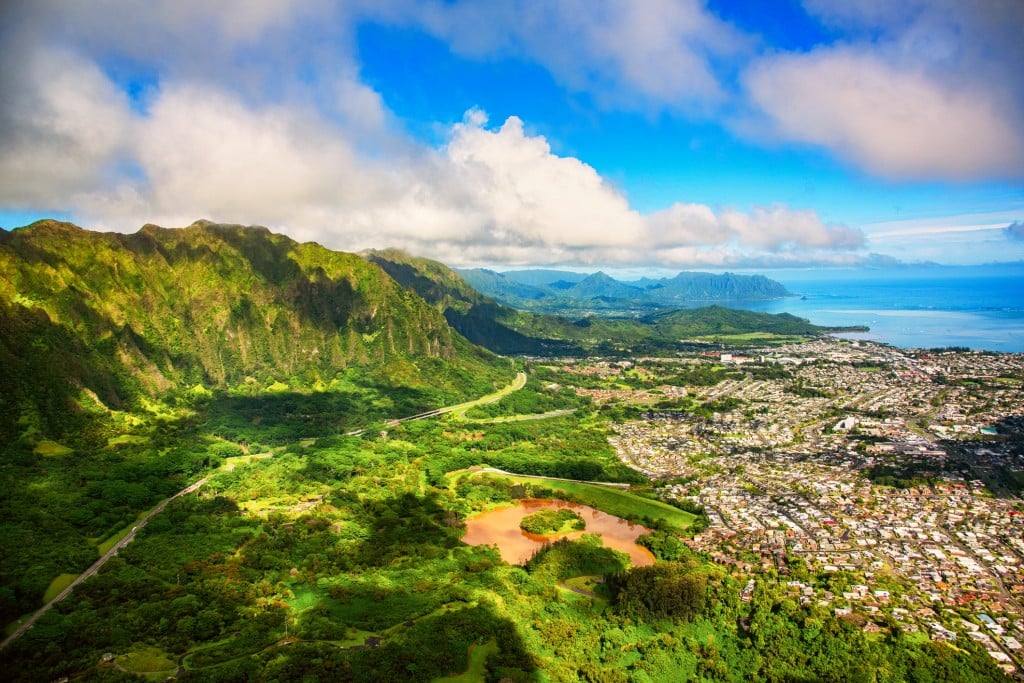 If you're looking for a more down-to-earth, humble alternative to the sand-dusted, Instagram influencer-laden streets of Kailua, Kāneʻohe is your best bet. Located on Oʻahu's windward side—it'll be the first town you see as you exit through the Koʻolau Mountains on the H-3 or Likelike Highway—this residential district is surrounded by lush foliage and an incredible view of the majestic Koʻolaus. If you decide to make the drive—which has panoramic views that are already worth the effort—check out these attractions and eateries during your visit.
1. Times Coffee Shop
Opening its doors in 1959—the same year Hawaiʻi became a state!—Times Coffee Shop got its name as its patrons from the community discussed the current events, or the "times," in its cozy setting. And the coffee shop is still the perfect place to get a hearty breakfast, talk story with friends and sip away at a cup of Kona coffee. Vintage prints and photos of old Hawaiʻi hang on the walls of the diner, you'll overhear kamaʻāina (residents) chatting to one another as soft-Hawaiian tunes strum slowly in the background.
Open from 8 a.m. to 2 p.m. daily for takeout and dine-in, 47-388 Hui Iwa St. #9, Kāneʻohe, (808) 239-2027.
2. Hoʻomaluhia Botanical Garden
Ho'omaluhia Botanical Garden is the youngest—and largest—botanical garden owned and operated by the city and county of Honolulu. There are four others: Foster Botanical Garden, Wahiawā Botanical Garden, Koko Crater Botanical Garden and Lili'uokalani Botanical Garden. The garden's lush property extends all the way to Interstate H-3 and makes an impressive first impression as you enter through its verdant driveway. It feels like you're driving into a new world, as tropical flora of unknown origin and exaggerated size come into view. This is an actual, living, breathing rainforest. It smells like one, looks like one and even sounds like one.
Open from 9 a.m. to 4 p.m. daily; admission is free. Camping reservations can be made at camping.honolulu.gov, and more information on the garden can be found at honolulubotanicalgardens.com.
3. Adela's Country Eatery
If you've never had handmade ʻulu (breadfruit) pasta noodles before, you'll want to stop at Adela's Country Eatery. Serving delectable pasta plate with a variety of noodles made using locally sourced produce—like avocado, kalo (taro), moringa and ube—you can even make your own perfect pasta plate by choosing your own sauce—pro tip, the Original Moringa Pasta Sauce is an Adela's secret recipe, and you won't find it anywhere else!—as well as mix-ins ranging from chicken breast to eggplant and shrimp scampi.
Open Monday through Saturday from 10:30 a.m. to 8 p.m., closed on Sundays, 45-1151 Kamehameha Highway #2, Kāneʻohe, (808) 236-2366, adelascountryeatery.com.
4. Haleʻiwa Joes Haʻikū Gardens
Sure, it's a little confusing that there's a Haleʻiwa Joes not in Haleʻiwa, but the Kāneʻohe-based location is known for its stunning view as well as its ʻono (delicious) entrées and appetizers. You can't go wrong with the seafood here, from the plump coconut shrimp plate which comes with a green papaya coleslaw and plum and honey mustard dipping sauces to the grilled salmon, plated with Asian pesto, garlic mashed potatoes, bok choy, shimeji mushrooms and Okinawan sweet potato crisps. Oh, and the sticky ribs are also delectable.
And if you've got the time, you can walk on down through Haʻikū Gardens—which is located right below the restaurant—as long as there is no wedding going on. Like a miniature Ho'omaluhia Botanical Garden, this quiet overgrown pathway will have you passing hundreds of different types of plant life in under 10 minutes, and kids will love running around the large open field at its center.
Open 4:30 to 9 p.m. daily, 46-336 Haʻikū Road, Kāneʻohe, (808) 247-6671, haleiwajoes.com.
5. Byodo-In Temple
Located in the foothills of the mystic and often cloud-covered Koʻolau Mountains, the Byodo-In Temple is literally a piece of Japan in Hawaiʻi. The nondenominational temple is actually a replica of a 900-year-old temple located in the Kyoto Prefecture of Japan. Just walking around this east side sanctuary calms the mind, as peacocks and cats wander the grounds and koi (carp) swim lackadaisically in the temple's flowing pond. Don't forget to ring the large bon-sho, or sacred bell, which creates a tone that is said to cleanse the mind of evil and temptation.
47-200 Kahekili Highway, Kāneʻohe, byodo-in.com.