Your Guide to North Kohala
On the Island of Hawaii's northern coast lies Kohala, home to laid-back country towns, cultural landmarks and ruggedly handsome hikes.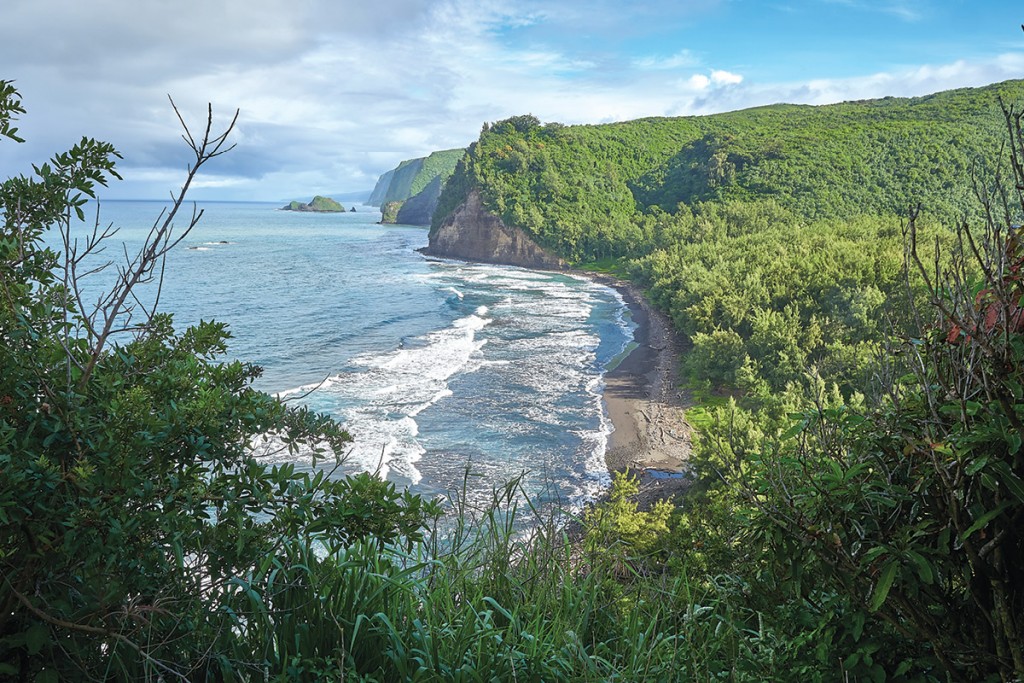 It's early on a Thursday morning, the sun is just beginning to rise over North Kohala and I'm staring up at the king himself.
Standing regally with his right arm outstretched, the King Kamehameha statue looks out over the small town of Kapaau, where he was born. The area itself is full of personality and color, and I spot storefronts and mom and pop shops littered down its not-so-busy street painted in colors ranging from pastel red to neon yellow. As I make my way down the grassy knoll where the statue is located, I can't think of a better way to start my daylong adventure up, down and around Kohala.
Heading over to Hawi, a nearby community, I park my car outside of Kohala Coffee Mill (55-3412 Akoni Pule Hwy.), a vibrant coffee shop on the town's main drag, with merchandise ranging from run-of-the-mill Hydro Flasks to biodegradable reusable coffee filters. I'm already digging its interior decor, especially the clashing hand-painted tables and wildly decorated walls. Looking up at the chalkboard menu, I ask the bubbly cashier for coffee and an "everything" bagel, topped with hummus. I've got a long day ahead of me.
Arriving at the Pololu Valley Overlook 8 miles up the coast from Hawi, I can't help but admire the natural form of this coastal valley. A small stretch of walkable land at its floor is sandwiched between a freshwater stream and the sea itself. Before Western contact, this area was used primarily for kalo (taro) farming—it produced a special variant of kalo known as kalo Pololu, which had crimson stems. After nearly 20 minutes of trudging my way down into the valley, I take my first steps on the coarse black sand beach. Staring up at the imposing sea cliffs looming above me, I feel small. The Big Island has a way of doing that to you. A massive stream occupies much of the valley floor, and I'd probably get an even better view from the Honokane Nui Lookout, which is accessible from a hike at the other end of the valley, but I decide to save that for my next visit.
Driving back down the Kohala coast, I'm yearning to wash off my mud-caked feet and hands. Pulling into a spacious parking lot, I exit my rental car and jaunt down the paved path toward Hapuna Beach, along one of South Kohala's finest bays. My toes digging into the white sands, I look down the shore one way, then the other, and marvel at the length of the beach, which stretches nearly half a mile. The vog (volcanic fog) that had muddied the island's skies during the Kīlauea eruption has all but disappeared, and the sun shines down heavily. The water, blue and perfect, calls my name and I leap in.
I reluctantly leave Hapuna Beach, only to head farther south. I have to make a quick stop at the Fairmont Orchid (1 N Kaniku Dr., fairmont.com/orchid-hawaii), which has been my base of operation. As I walk to my room, I stop to admire a few blooming melia (plumeria) trees and the Fairmont Orchid's beachfront view. Looking out at Kohala's turquoise sea, I'm reminded of my lunch at the hotel's signature restaurant, Brown's Beach House. There, the day before, I had possibly the best fried rice of my life, mixed with a variety of spices and chunks of lobster, all the while staring longingly at the resort's on-property white-sand lagoon. Resisting the urge to snack before dinner, I continue down the outdoor hallway that leads me to the north wing, where I reside, and after a quick shower, I'm out the door once again.
With much of the day gone at this point, I've worked up a hearty appetite and drive back to Hawi for probably the most important item on my itinerary: dinner at Bamboo Restaurant & Gallery (55-3415 Akoni Pule Hwy., bamboorestauranthawaii.com). The interior of this country diner has a tropical theme, with floral wallpaper, tablecloths and softly illuminated lighting. On the second floor is an entire art and furniture gallery, its items crafted by local artists. Skipping an appetizer, I go straight for an entrée, the meatloaf plate, and am delighted as it reaches my table not long after ordering. Caramelized onions top my gravy-drenched meatloaf, and each bite is a mix of savory and sweet. The surprise winner here, however, is the mashed potatoes mixed with goat cheese, which is so good I wonder if I can order more as a side.
Stepping out, I decide to walk the town as the sun begins to set. Taking in the country air, which reminds me faintly of my childhood in Haleiwa, on Oahu's North Shore, I observe snippets of life that can only be found in small towns such as this. A sign in front of one house reads "Free Avocados!"; nearby, an elderly couple walks their dog down the road. I pass countless single-family homes that have only grown more beautiful with age­—within their walls, no doubt, generations have been raised. Later, while sitting on a bench, I realize I've found the best thing you can find on a trip—a place that reminds you of where you come from but is different around every corner. A home away from home.