Your Guide to Oahu's North Shore Town of Laie
There's plenty to do in this often overlooked coastal community. Just don't come on a Sunday.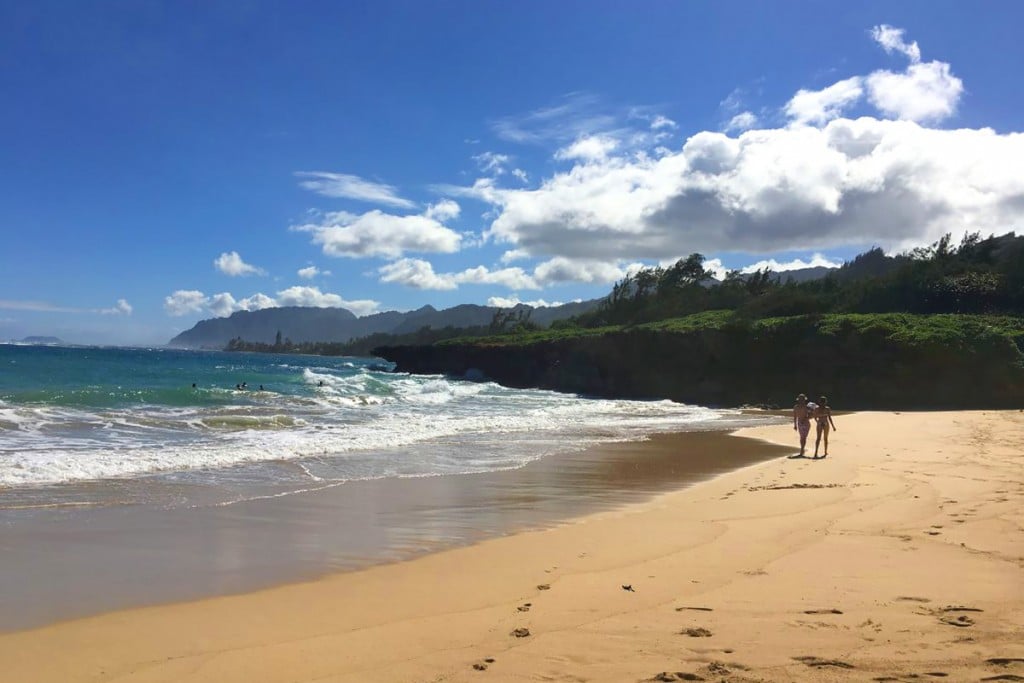 Laie, situated neatly on Oahu's northeast coastline, has everything that makes a small town in Hawaii so great: small hole-in-the wall restaurants, family-owned businesses and world-class beaches just steps away from the main thoroughfare. Just don't expect much open on Sundays, as the town has a large Mormon community. So if you've already checked out the big attractions in the area, such as the Polynesian Cultural Center and The Church of Jesus Christ of Latter-day Saints temple, check out these five low-key locales.
It's burger time at Seven Brothers
Much of the action can be found at Laie Village Center, which is home to many of the town's small shops, and the best burger is at Seven Brothers, located in the middle of the shopping center. Sporting a warmly lit interior, wooden tables, handcrafted signs and furnishings that promote a coastal lifestyle, this burger joint fits in perfectly with Laie's overall mood.
Seven Brothers burgers come in a variety of flavors, from the hearty, meaty Max Burger, which is filled with mushrooms, cheese and meat, to the more tropical tastes of the Paniolo Burger, which sports grilled pineapple. Don't overlook the fries because, like Laie, they are a gem. Coming in large, filling slices, fries can be ordered drenched in cheese and covered in the restaurant's special house sauce, which is so good you may want to grab an extra cup for your burger. 55-510 Kamehameha Hwy., Laie, (808) 744-6440, sevenbrothersburgers.com.
Laie Palms
For the North Shore moviegoer who doesn't want to sit through traffic to catch the latest blockbuster at the Consolidated Theatres in Mililani, Laie Palms is a blessing. The only movie theater on the northern coast of Oahu, this tiny two-screen cinema shut down in 2008, but was bought, renovated and refurbished by Don and Alicen Nielsen, residents of Laie. Visitors shouldn't pass up the chance to see one of the two movies playing nightly, in one of the last independent family-run movie theaters in Hawaii. 55-510 Kamehameha Hwy., Laie, (808) 232-0006, laiepalmscinemas.com.
See it all at Laie Point State Wayside
At the end of a quiet neighborhood lies Laie Point, an easily accessible scenic lookout that yields unreal views of the Koolau Range. As you arrive, you'll immediately see an epic offshore sea arch, which in Hawaiian moolelo (legend) was created from the remains of a slain moo (lizard) that had been killed by the legendary warrior, Kana. The lookout is also used as a spot for cliff jumping, and if you stick around long enough, you may just see someone brave enough take the plunge. 55-001 Naupaka St., Laie.
Relax, or get pounded, at Pounders Beach
Covered in powdery white sand, the occasional piece of driftwood and relaxed beachgoers, Pounders Beach is one of Laie's best spots for picnicking and bodysurfing. Located near the highway and a 5-minute drive from Laie Village Center, visitors can grab snacks and drinks at the nearby grocery store before heading to the beach. Those looking to get, well, pounded, may want to head down the coast, to your right if you're staring at the ocean, where the shore break picks up and gets stronger. You'll almost always find a small crew of bodysurfers here getting barreled in some gnarly waves. 55-201 Kamehameha Hwy., Laie.
Top it all off at Penny's Malasadas
The malasadas that come out of Penny's Malasadas, a colorful food truck and stand located in the Hukilau Marketplace, are hot. Not just mildly warm, but hot to the point that you know they're freshly made. You can get them plain, with just white sugar on top, or, if you're feeling adventurous, go for the filled malasadas. These flavor-packed pastries come in myriad choices, which change weekly, but you can expect flavors such as Nutella, coconut or even Key lime. 55-370 Kamehameha Hwy., Laie, (808) 688-8729, pennysmalasadas.com.