Your Guide to Olowalu, Maui
Make a pitstop in this old plantation town between Lahaina and Māʻalaea.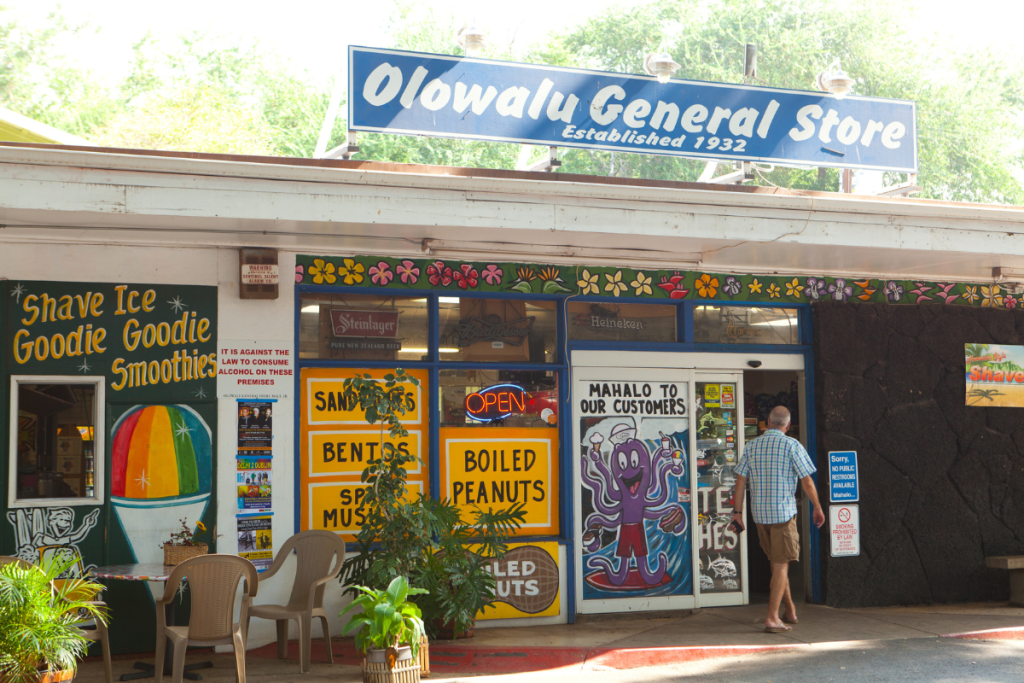 On Maui's west side, the tiny town of Olowalu is steeped in rich history. And it's also one that's often driven right through on the way to Lahaina's bustling Front Street and the golden beaches of Kāʻanapali.
From being a thriving agricultural region and a puʻu honua (place of refuge), to being marked by an unfortunate massacre and eventually experiencing the demise of the sugar industry, Olowalu is a resilient and charming community. While you can make a quick stop at the Olowalu General Store for essentials, you can also spend an entire morning or afternoon exploring local businesses and the incredible reef. And if you really enjoy your time in Olowalu, you can spend the night camping right along the beach. Here is how you can make Olowalu more than just a quick detour.
Leoda's Kitchen and Pie Shop
View this post on Instagram
In a green plantation-style building, Leoda's Kitchen and Pie Shop is one of the first clues to drivers that they have arrived in Olowalu. The restaurant has been drawing crowds of residents and visitors alike for its homemade pies and sandwiches for more than a decade. During peak hours, there's often a line outside the charming building—but the wait is well worth it. The sweet and savory pies are made daily with signature pastries including key lime, banana cream, chocolate macadamia nut as well as chicken pot pie. While the homemade pastries are exceptionally tempting in the shop's beautiful display case, the sandwiches and breakfast dishes shouldn't be missed. The seared ʻahi sandwich is a must-try, with sashimi grade tuna, avocado, caramelized onion and watercress stuffed on grilled rye bread. It's a local-style tuna sandwich and like the restaurant's popular pies, the bread is baked in house. 820 Olowalu Village Rd., Lahaina, leodas.com.
Volunteer at Kipuka Olowalu
Nestled at the base of Mauna Kahālāwai, commonly referred to as the West Maui Mountains, lies Kipuka Olowalu. Here, a team of conservationists, cultural practitioners and field technicians are replanting native species, implementing traditional Hawaiian farming techniques and preserving cultural values. All are welcome to volunteer and learn about the significance of the area. On Wednesdays and Thursdays, the site hosts volunteer days where visitors help tackle the morning's task. Following a short workday, there is a talk-story tour through the property to explore the site's various projects including an ʻulu (breadfruit) grove and loʻi (irrigated terrace for taro.) kipukaolowalu.com.
Olowalu General Store
This family-run convenience store has been a pitstop on the road to Lahaina since it first opened in 1932 and feels like a step back in time. After a meal at Leoda's, wander next door to try one of the store's famous red hot dogs and grab a Spam musubi, bag of boiled peanuts or butter mochi. Fair warning, the butter mochi and boiled peanuts often sell out before noon, they are just that tasty. The general store also has a unique collection of locally made products including Grandpa Joe's cotton candy, in addition to souvenirs, snorkels, slippers and reef-safe sunscreen. 820 Olowalu Village Rd., Lahaina.
The Maui Butterfly Farm
View this post on Instagram
It's nearly impossible to miss the vibrant butterfly murals and the butterfly van leading to The Maui Butterfly Farm. The farm opened in 2020 and is one of the few places in the state to visit live butterflies and explore a breeding site. The farm offers educational tours about various butterfly species, including Hawaiʻi's two endemic butterflies, and the lifecycle of these beautiful insects. Guests also have the opportunity to hand-feed the butterflies. Equipped with flowers and nectar to attract the butterflies, the little critters gently land on a finger and flutter their wings. It's a magical experience that can be found in the tiny town of Olowalu. Tours run daily and reservations can be made online. 820 Olowalu Village Rd., Lahaina, themauibutterflyfarm.com.
Olowalu Juice Stand and Farmers Market
After a day snorkeling or kayaking, grab a juice at the Olowalu Juice Stand. The juice truck and farmers market can be found beside the butterfly farm. While you wait for a refreshing juice or smoothie made with local fruit, browse the other fresh produce currently in season at the Olowalu Farmers Market. And year round, browse locally harvested honey, candies and hot sauces. 820 Olowalu Village Rd., Lahaina.
Snorkel Olowalu Reef
It's hard to find a better place to snorkel in Hawaiʻi than Olowalu. Stretching more than 100 acres, Olowalu is Maui County's largest reef. Snorkelers float above crystal-clear waters and explore astounding coral formations, underwater canyons and spot marvelous marine life. It's truly a unique spot with coral that is dated to be hundreds of years old. The area is also home to one of the largest manta ray populations in the world. And with its shallow water and protection from strong trade winds, Olowalu is an ideal spot for snorkelers of all skill levels. However, it can also be a popular surf spot during southwest swells. It's always a wise idea to check the weather, surf conditions and be mindful of ocean currents when snorkeling.
Camp Olowalu
View this post on Instagram
After spending a few hours in this tiny town and you're still not ready to leave, you don't have to. Pitch a tent or book a tentalow at Camp Olowalu. Located across the street from Leoda's and the Olowalu General Store, the campground is along Maui's stunning Olowalu Beach. For tent campers, there are 35 sites on the campground, with restrooms, hot showers, fire pits and BBQ grills. For those looking for a more glamorous experience, spend the night on a raised platform with beds and a private, open-air shower. In addition to the tents and tentalows, cabins are available and car camping is allowed. No matter your style of camping, you'll be able to fall asleep to the sound of the ocean and wake up to a serene view of the Pacific. 800 Olowalu Village Rd., Lahaina, campolowalu.com.