Your guide to the amazing Kakaako street art from Pow! Wow! Hawaii 2017
Here are some of this year's best murals from Honolulu's annual street art festival.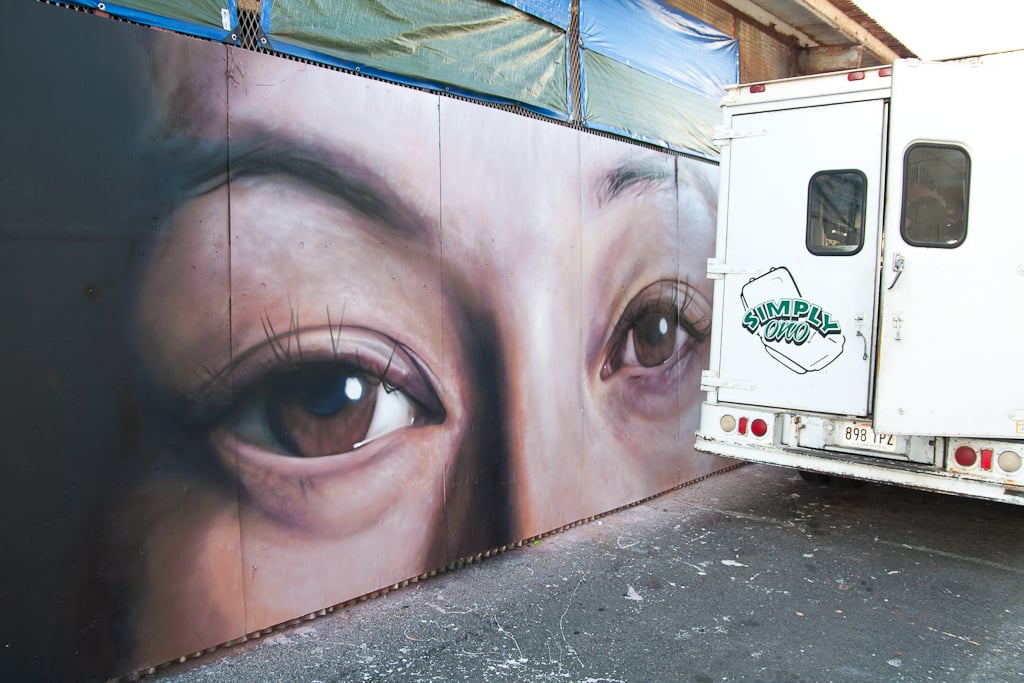 Each year, the urban art collective Pow! Wow! Hawaii brings artists from all over the globe to the streets of Honolulu's Kakaako district. The neighborhood lights up with artist workshops, film screenings, concerts and gallery shows, creative spaces, and the main attraction, dozens of artists working on giant, colorful murals throughout the neighborhood.
Over a week in mid-February, onlookers watch the artistic process in action. Through the rest of the year, visitors and residents tour the Kakaako district for amazing photo ops with their favorite murals. Be aware though, that at next year's event, many of these may be painted over.
Read on for where you can find some of these incredible, giant works of art that turn Kakaako (note the street names and cross-streets) into a constantly evolving museum of street art, and a few different ways to view them.
Cooke Street
This is known as the heart of Kakaako, and as you drive or walk down this street, you can't miss the striking murals and other community artwork.
The mural on the left was painted in 2013 by Pow! Wow! co-founder Kamea Hadar and visiting artist Rone, and she has since become known as the "face of Kakaako."
Mural by The Draculas on Cooke Street. Because everyone loves hanging out with a narwhal.
2017 mural by Hawaii artist Katch1 at the corner of Cooke and Pohukaina Streets.
Mother Waldron Park
Around this historic park, constructed in 1937 and recently renovated, you'll find striking works of art on nearly every wall.
A wall mural by Hawaii artist Gary Draws Fish.

Emmy-winning artist Kevin Lyons, who has worked for Nike, Converse, Umbro, Coca-Cola, American Express, and many others, posing next to a wall at Mother Waldron Park filled with his signature quirky faces.

Netherlands artist Careaux designed this fun floral wall.
Pohukaina Street
Here, you'll find BJ Penn's UFC Gym and striking artistic surprises around every corner.
Behind one of the buildings is this signature "angry panda" piece by Hawaii artist Aaron "Woes" Martin.

Pohukaina Street is lined with art.
Auahi Street and Lana Lane
The heart of it all is at the artist studios at Lana Lane, which functions as the home base for Pow! Wow! Hawaii. Here, you'll find the greatest concentration of murals in every style and topic imaginable.
A beautifully detailed piece by Detroit, Michigan artist Michelle Tanguay.
A collaboration piece between several of the 2017 Pow! Wow! artists.

A fun, eyecatching piece by New York City artist Tara McPherson.

An incredible mural with elements of realism by the artistic duo of muralists and imagemakers Telmo Pieper and Miel Krutzmann.

Behind the UFC Gym is this colorful wall by Ckaweeks and Melon.
An incredible piece of a hawk by self-taught Dominican Republic artist Evoca, on the wall just outside Lana Lane.
327 Lana Lane is Pow! Wow! Hawaii headquarters and known as the driving force behind Kakaako's art movement.
The "x-ray shaka" on the wall just outside Lana Lane Studios, done by aerosol x-ray art pioneer Shok-1 from London, UK.
How to explore the neighborhood
This is just a small sampling of the artistic treasures to be found in the Kakaako neighborhood. To see all the murals yourself, Pow! Wow! Hawaii has helpfully provided a map to many of the pieces.
All the murals are within walking distance of Kakaako's Salt complex and its parking garage.
If you want a guided tour of the artwork, try out Paradise Pedals' art tour, which utilizes a 15-passenger caravan driven by bike pedals to travel around the Kakaako district, stopping at some of the most popular murals. It's a great workout that'll take you straight to the best photo ops.
---
Pow! Wow! Hawaii happens every spring in Honolulu's Kakaako district on Oahu. For more information about the artists and the Pow! Wow! movement, visit powwowhawaii.com.