Zac Efron headlines this year's Maui Film Festival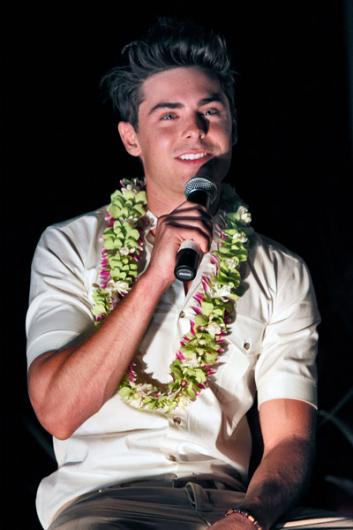 It's been a beautiful couple of days on Maui, with the promise of a splendid evening under the stars to come.
That's good because two of the Maui Film Festival's major events are outdoors this evening, both the Taste of Wailea (in which Maui restaurants show their stuff in a glittering gala) and Celestial Cinema, the film festival's premiere outdoor venue, with perfect screen and sound, all solar powered.
Tonight's films include happythankyoumoreplease a sophisticated romantic comedy which won the Audience Award at Sundance this year. Malin Akerman, who stars in the Josh Radnor film, looked radiant and Swedish at last night's party, with husband Italian drummer, Roberto Zincone, in tow.
That film is followed by Cherry, a serio-comic tale of sexual initiation. Sounds like a wild night under the stars on the Wailea Golf Course.
There's not the profusion of Hollywood hanging around the pool as in previous years, something to do with the recession and the festival's lack this year of an airline sponsor.
The most excitement was generated by Grey's Anatomy star Justin Chambers, Cougar Town's Dan Byrd, and director Taylor Steele, whose exceptional surf film, Castles in the Sky, was screened Thursday night at the Celestial Cinema.
Of course, there are always surf films in the festival. This is Maui, and the festival's biggest draw, High School Musical star Zac Efron was spending his free time taking surf lessons off Wailea. He was in town to accept the festival's Shining Star Award, given to actors whose future looks bright.
If you don't know the 22-year-old hearthrob, let's just say that for many of the young women at the festival his presence was swoon-worthy. "Oh my kids," said one mother. "For them he's such a huge deal."
Efron hit a number of the parties, though often sequestered into a private room. Parties there are, including a Opening Night Reception, a Starry Night Moondance at Tommy Bahamas, a VIP party at a restaurant called Mala, and, many people's favorite, the annual Taste of Chocolate at the Four Seasons Maui, where every possible chocolate dessert fills the tables across the resort's lawn.
"I love the Maui Film Festival," said one strikingly dressed young lady, dipping bite-sized cakes into the chocolate fountain. "Here we're all stars."