12 Tips on Spending the Day at Hanauma Bay on Oʻahu
Here's how to make the most of your day at this protected nature preserve in East Honolulu.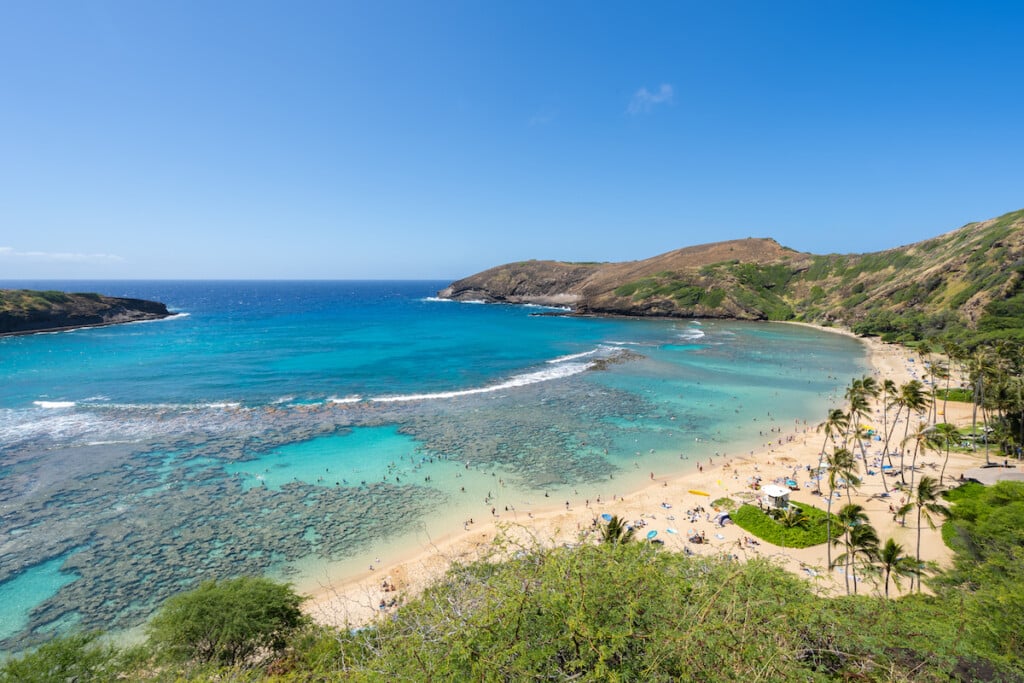 Hanauma Bay is one of the most popular visitor attractions on Oʻahu—and for good reason. The protected marine bay in East Honolulu is easily the premier snorkeling spot on the island, with its pristine waters teeming with a diverse array of marine life. Prior to COVID-19, the bay received nearly 3,000 visitors a day. Today, with mandatory online reservations—which limits the number of people entering the nature preserve—those numbers have significantly dropped to about half. Which is a good thing—fewer people mean more space to spread out on the beach and in the water, and less human impact on the bay itself.
So if you're planning to head to Hanauma Bay this summer—or beyond—here are our 12 tips on getting the most of your visit.
1. You have to make reservations online.
Unless you're a Hawaiʻi resident, you'll have to make reservations to visit the Hanauma Bay Nature Preserve. You can reserve your ticket two days ahead of your planned visit, starting at 7 a.m. Hawaiʻi Standard Time. Reservations will remain open until the spaces are filled or until midnight the day before, so reservations for Wednesday will close after 11:59 p.m. HST the preceding Tuesday. Reservations and payments can be made for up to 10 people at a time, consisting of no more than five children and/or five adults. Reservations are not transferable.
2. There's a fee to enter the bay.
Once you secure your time slot online, you need to pay. The cost for non-residents 13 years and older is $25 per person. (There's a 2.35% service accessed for online payments.) Admission is free for children 12 years and younger, regardless of resident status, and for active duty U.S. military members and their dependents.
3. There's also a fee for parking.
Even residents have to pay for parking. It costs $3 for non-residents—$1 for Hawaiʻi residents—to park in the lot. (Cash only.) Parking spaces here are limited and are available on a first come first serve basis. There are no in-and-out privileges. Some people opt to parking in the nearest neighborhood to the west of the bay and walk up Kalanianaʻole Highway to the park. We would not recommend parking at nearby Lānaʻi Lookout (which some do) and walking west on Kalanianaʻole Highway; there are no sidewalks—or even shoulder lanes—and it's very dangerous.
4. It's OK if you didn't snag a reservation.
The city keeps 25% of the non-resident entry reservations open for walk-ins, so if you don't get a reservation online, come early to the bay and see if you can walk in without one.
5. Know when the bay is open.
This is one of the biggest mistakes people planning visits to Hanauma Bay make. The nature preserve isn't open daily. It's open to the public Wednesdays through Sundays (meaning it's closed on Mondays and Tuesdays), with entry allowed from 6:45 a.m. to 1:30 p.m. That means you can't show up at 3 p.m. to go snorkeling. The park closes promptly at 4 p.m. and all visitors must leave the beach by 3:30 p.m. Take this into consideration when planning your visit.
6. Know where the bay is.
Hanauma Bay is located at 7455 Kalanianʻaole Highway in East Honolulu, about 10 miles east of Waikīkī. The entrance is at the top of the hill just past the neighborhood of Hawaiʻi Kai. Unless you're booking a scuba or snorkel tour, you'll likely need a car to get here. The city bus service into Hanauma Bay has been permanently discontinued.
Read More: Your Guide to Hawaii Kai on Oahu
7. Bring your confirmation ticket, ID and your patience.
You need to present your confirmation ticket and ID at the admission window. No photos of copies of your ID will be accepted. The lines can be long—and you're probably eager to hit the beach—but just be patient. You'll get there!
8. You'll need to watch an educational video before entering the park.
Once you're through the admission line, you'll get in another one—this time to watch an educational video about the nature preserve. It's not long—maybe 10 minutes—and it's actually very informative. You'll learn about the history of Hanauma Bay, its ecological and cultural significance and the fragility of the marine life in the bay. Plus, it will go over the rules of the park—like don't step on coral or venture into restricted areas.
9. It's along walk—but you can catch the free tram.
The video is over and now you can head down to the beach. But if you're lugging beach bags, chairs and coolers, don't worry—there's a free tram that takes visitors up and down the steep road that leads to the beach.
10. You can rent snorkel gear at the beach—but you can also bring your own.
The snorkel concession is open down at the beach—and you'll definitely wait to snorkel at the bay. It costs between $20 and $40 to rent a snorkel set. You can bring your own—or rent your gear elsewhere and bring it with you. Then you won't have to stand in another line or spend more money.
11. Bring sun protection, including reef-safe sunscreen.
View this post on Instagram
There are a few shady spots on the beach, so you'll want to bring some kind of sun protection: beach umbrellas, clothing with SPF protection, hats, sunglasses. And don't forget the reef-safe sunscreen—the only kind you can buy in the Islands. These sunscreens don't contain oxybenzone and octinoxate, two chemicals that have been scientifically proven to induce coral bleaching, harm and even kill young coral larvae. (Hawaiʻi was the first state to ban sunscreen with these chemicals.) There are several locally owned companies that make reef-safe sunscreen, including Ao Organics Hawaiʻi, Little Hands Hawaiʻi and Raw Love Sunscreen. Help protect Hawaiʻi's reefs—and support local!
12. There's a food concession, but you can bring your own, too.
The snack bar is open and sells beach-friendly fare like burgers, salads, hot dogs and beverages. Just note: The snack bar is located across from the admission window—back at the top—so if you get hungry, you'll have to catch the tram or walk back up the road to get food. You can also bring your own—small coolers are allowed, but big ones are not. You also can't bring alcohol. The bay is located close to lots of shops and restaurants. We suggest Repetti's Pizza and Provisions, which just opened seven months ago; it offers grab-and-go pizzas, subs and calzones. (Plus, the housemade pasta is incredible.) For your poke fix, head to Hanapaʻa Market for poke bowls and plate lunches. Or if you want something healthy, grab sandwiches at Māla Market.