Our 10 Essential Experiences on Oʻahu
From catching sunrise at Lanikai Beach to eating lunch at a shrimp truck, here are our must-dos for your next vacation to Oʻahu.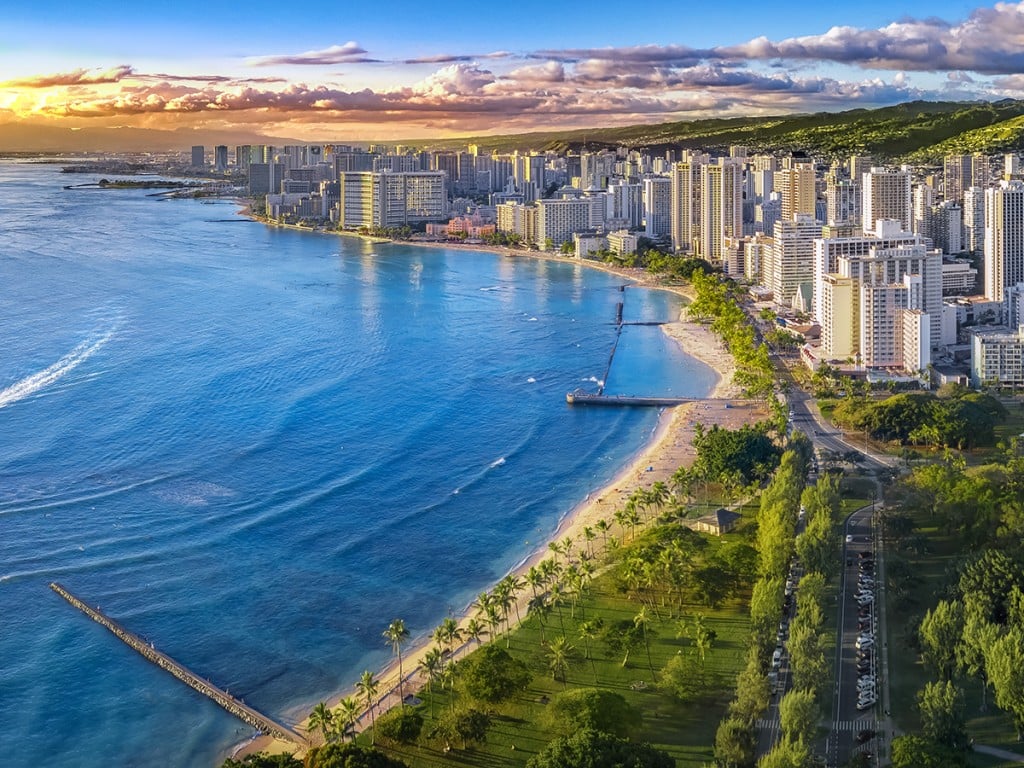 Oʻahu is the most popular island with visitors of all the Hawaiian Islands—and there's a reason why. OK, there are tons of reasons why.
Known as the Gathering Place, Oʻahu is the third-largest of the Hawaiian Islands and home to about 1 million people—that's over two-thirds of Hawaiʻi's total population. In pre-COVID 2019, 60% of visitors to the state came to Oʻahu, lured by its sandy beaches, vibrant dining scene, variety of hiking trails, museums, farmers markets, shopping and more. There's more to do here than on any other island, from riding horses on movie sets at Kualoa Ranch to diving with sharks off Oʻahu's North Shore. Oʻahu boasts more than 200 miles of state-run hiking trails, from tricky ridge treks to leisurely forest walks that end at waterfalls. You can visit the second-oldest still-operating public aquarium in the U.S. (Waikīkī Aquarium) or the largest museum in Hawaiʻi, which happens to have the world's largest collection of Polynesian cultural artifacts and natural history specimens (Bishop Museum). You can even catch the city bus around the entire island. (You can't do that on any other island.) Here are 10 essential experiences every traveler should have while on Oʻahu.
1. Hike Lēʻahi (aka Diamond Head)
One of the most popular hikes on Oʻahu is the trek to the top of Lēʻahi, also known as Diamond Head.
More than 3,000 hikers visit the volcanic cone every day to climb the 1-mile trail to its summit, where you can gawk at sweeping views of the island's sunny south shore. Out-of-state visitors are now required to make advanced reservations to visit the state monument; reservations can be made up to 14 days in advance.
2. Catch Sunrise at Lanikai
Arguably one of the most beautiful beaches in Hawaiʻi, Lanikai Beach is a jewel on the Windward Side. There are no restrooms, no concessions, no lifeguards—just a half-mile stretch of glittery sand, palm trees and crystal-clear water. From here you'll have a gorgeous view of the sun rising over the twin Mokulua Islands. Parking is tricky (see link below), but trust us, you won't be disappointed.
3. See Monster Surf on the North Shore
Winter brings monster-size surf to Oʻahu's North Shore—and hundreds of people make the trek to see them. From November to February, waves on north-facing shores are an average height of 16 feet; during the peak of the season, waves can reach dangerous heights exceeding 40 feet. Surfing these waves are best left for the professionals. But being a spectator—from a safe spot along the shoreline—is fine! Waimea Bay is one of the best spots to view extra-large surf, though you can drive along Kamehameha Highway and see huge waves from your car.
4. Snorkel at Hanauma Bay
You won't find a better spot to snorkel on Oʻahu than Hanauma Bay. This protected bay boasts calm, shallow waters that are teeming with marine life, from colorful reef fish to endangered
honu
(Hawaiian green sea turtles). During the pandemic, the state decided to cap the number of visitors to the bay at 720 by implementing an
online reservation system
—and that's actually a good thing. There are far fewer people on the beach—at its peak, the bay could receive 3,000 visitors a day—and the fish seem happier and healthier with less human interaction. There are lifeguards and restrooms. FYI: The bay is closed every Monday and Tuesday.
5. Go Shopping
Oʻahu has everything a shopper could want: big malls with hundreds of stores and quaint stand-alone boutiques in beachy towns. You can find high-end designers and locally made products, unique souvenirs and one-of-a-kind gifts to bring back home. Anchored by Bloomingdale's, Neiman Marcus, Nordstom and Target,
Ala Moana Center
in Honolulu is one of the largest shopping malls in the U.S. and the largest open-air shopping center in the world. It boasts more than 350 stores and restaurants, and it's a favorite shopping destination for locals. Other malls include Kāhala Mall, Pearlridge Center, Windward Mall, Royal Hawaiian Center and Ka Makana Aliʻi—all of which have a great mix of local and chain retailers and restaurants. For a more curated experience, consider browsing the shops that line main streets in Kaimukī, Kailua, Haleʻiwa and Ward.
6. Visit Pearl Harbor
There are five historic sites at
Pearl Harbor,
all of which have important significance and are worth visiting. The Pearl Harbor National Memorial is home to the USS
Arizona
Memorial, USS
Oklahoma
Memorial and the USS
Utah
Memorial. The USS
Arizona
Memorial is one of the most visited attractions on Oʻahu; built in 1962, it marks the resting place of 1,102 sailors and Marines killed onboard during the Japanese attack of Pearl Harbor on Dec. 7, 1941, the "date which will live in infamy." (This attack led to the U.S.'s involvement in World War II.) The memorial alone is visited by more than 2 million people every year. You can also visit the Battleship Missouri Memorial, the Pacific Fleet Submarine Museum and the Pearl Harbor Aviation Museum.
7. Eat Oʻahu Specialties
Every island has its food specialities—Oʻahu just has them all. Whatever you want to eat—sushi, Thai, saimin, Vietnamese street food, Detroit-style pizza, Burmese—you can find on Oʻahu. The best place to find malasadas in the state, though, is Oʻahu;
Leonard's Bakery
is the most popular, but
Agnes' Portuguese Bake Shop
in Kailua (it's a food truck, not a brick-and-mortar bakery) is the most authentic. Find some of the state's best Hawaiian food here, too, including
Helena's Hawaiian Food
in Kalihi, which earned a James Beard Regional Classic Award in 2000. Oʻahu has family-run
okazuya
(Fukuya Delicatessen), hole-in-the-wall
poke
takeout (
Off the Hook Poke Market
),
manapua
shops (Royal Kitchen), old-school saimin stands (Shige's Saimin Stand), elevated Vietnamese street food (
Pig & the Lady
) and restaurants run by James Beard Award–winning chefs (
Fête
). Plus, Oʻahu is famous for its shrimp trucks, which dot the highway along the island's eastern coastline to the North Shore.
8. Surf in Waikīkī (or At Least Ride in an Outrigger Canoe)
Catch a wave—or learn to surf—where the legendary Duke Kahanamoku surfed in Waikīkī. There are still a fair number of Waikīkī beach boys giving surf lessons in the friendly waves of Waikīkī, or you can hook up with a surf school like
Faith Surf School
or
Pro Surf School by Kai Sallas
and get pointers from Waikīkī surfing icons.
9. Tour ʻIolani Palace
ʻIolani Palace
in Downtown Honolulu is a national historic landmark and the only official state residence of royalty in the U.S. It housed the Hawaiian Kingdom's last two monarchs: King Kalākaua and his sister and successor, Queen Liliʻuokalani. After the overthrow of the monarchy in 1893, the building was used as the capitol building for the Provisional Government, Republic, Territory and State of Hawaiʻi until 1969. The palace was then restored and opened to the public as a museum in 1978. It's heavily influenced by European architectural styles, and it has the distinction of having Hawaiʻi's first electric light system, flush toilets and intra-house telephones. Guided and self-guided tours are available.
10. Sip a Mai Tai at Sunset
One of the most well-known Hawaiʻi cocktails of all time is the mai tai—a tasty combination of rum, lime, orgeat and Curaçao or triple sec. It was purportedly invented in 1944 at the Trader Vic's restaurant in Oakland, California—and it has become the signature drink of beach vacations everywhere. There's no better place to sip this tropical cocktail than near a beach (a pool is an acceptable alternative) while watching sunset. We recommend the oceanfront restaurant
House Without a Key
at the Halekūlani in Waikīkī or the poolside
Sunset at Turtle Bay
on the island's North Shore. You'll probably book a return trip by the time you're done with your drink.