13th annual Waikiki Spam Jam celebrates the state's favorite canned meat this weekend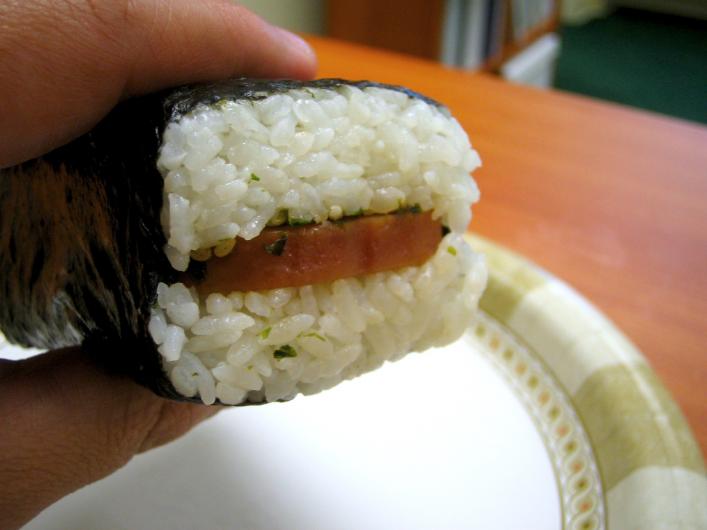 What's pink and tinned and salty all over? Hawaii's favorite luncheon meat, Spam! This Sat., May 2, Hawaii Spam fans and curious residents and visitors will celebrate the state's adoration for the pink brick with a huge afternoon block party.
Waikiki Spam Jam runs from 4 p.m. til 10 p.m. along Waikiki's main drag.
This is the 13th year for the popular and free annual festival that typically draws thousands of revelers. And, there's even more to celebrate this year: The unveiling of a new Spam flavor. Launching at the festival is Hormel Food Corporation's Portuguese Sausage-flavored Spam—try the new flavor plain or cooked into several creative festival concotions. Portuguese Sausage Spam will be available only in Hawaii stores beginning next month.
So what is it about Hawaii and Spam?
The cooked-in-its-tin meat was first introduced by the Hormel Foods Corporation in 1937 and embraced by Hawaii residents as a tasty, affordable and no-refrigeration-needed option during the food shortages and war rationing of WWII. The salty meat's presence in the packed lunches of plantation laborers and eventual inclusion in uniquely Hawaii recipes—think Spam musubi—endeared Spam to residents who have since embraced it as an Island staple. Today you can find the meat in every McDonalds and 7-11 in Hawaii. Nearly seven million cans are consumed annually here, more than any other state in the country, according to Hormel.
Two entertainment stages will pump out the jams while attendees peruse a variety of area food and vendor booths lining Kalakaua Ave. between Kaiulani Ave. and Lewers St. The stretch will be closed to car traffic for the event.
If you go, you'll find kitchy and cool Spam-branded crafts, merchandise and apparel such as t-shirts, shorts, slippers (flip-flops), plush toys, sunglasses, wine charms, mugs, coasters and even computer tablet sleeves.
But of course the festival's biggest draw is always the slabs of sizzling, slathered and sandwiched Spam served every which way. Try Spam in musubi, ramen, fried rice, salads and tacos, atop cheesecakes and cupcakes or even sliced and served like fries. Area restaurants will be incorporating the meat into some of their classic favorites and serving them at street-side booths: Look out for PF Chang's Spam lettuce wraps, Mahalo Burger's Teriyaki Spam burger, Spam wontons by Gordon-Biersch Honolulu and Hard Rock Café's Spam mac and cheese balls.
Volunteers will be collecting Spam donations for the Hawaii Foodbank. A one-can donation also scores you a free one-category accommodation upgrade through the six Waikiki hotels owned by the festival's sponsors: Outrigger Resorts and OHANA Hotels (visit outrigger.com for more details). According to festival organizers, more than 10,000 pounds of Spam have been donated to feed Hawaii's needy through the festival since 2004.
For additional information about this year's Waikiki Spam Jam, click here.