23rd annual World Fireknife Championships begin on Oahu tomorrow. Watch them live online.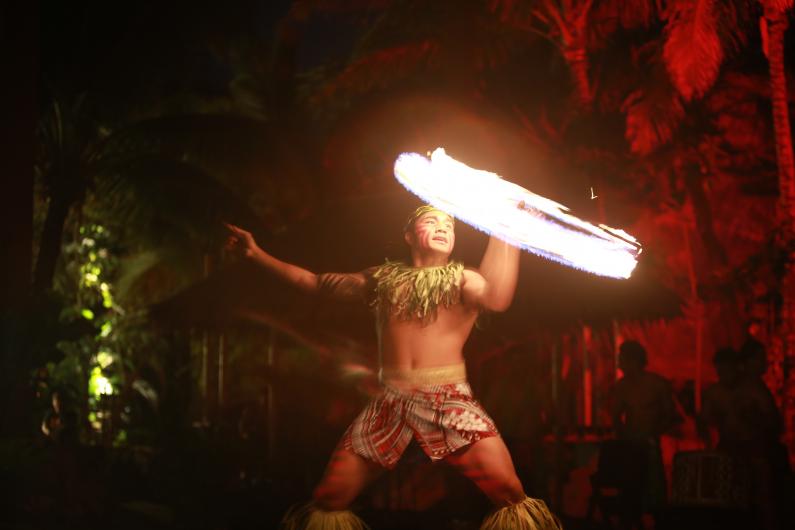 Imagine this: It's nighttime. A man dressed in a traditional Samoan lavalava skirt and grasses rapidly twirls a flaming, sharp-edged blade with focused skill and precision—his body is illuminated by its glow. He grabs another flaming knife and begins to twirl it while sending the first sailing five feet above his head. It peaks and heads back down towards his awaiting hand. He bends backwards and catches it without missing a beat (or getting scorched). Sound awesome?
You can catch a similar scene tomorrow (May 7) starting at 7:45 p.m. Hawaii Time at Hale Aloha on the Polynesian Cultural Center's (PCC) grounds in Laie on Oahu's eastern North Shore. That's when the world's most skilled practitioners in the traditional Samoan art of fireknife dancing will compete in the three-day World Fireknife Championships.
Can't be on Oahu to see it in person? No worries! You can watch all of the competition's events as they are streamed live online.
The Hawaii-based competition, now in its 23rd year, stems from the Samoan ailao, a warrior's knife dance performed before and after battle with the flaming nifo oti, or tooth of death, to scare enemies and celebrate victory.
Modern fireknife performances involve acrobatics and high-speed spinning of one, two or even three sharp knives, both ends set ablaze. "Fireknife dancing is the ultimate test of skill and athleticism in the Samoan culture. To be truly great at it, a competitor needs to master a combination of power, talent, bravery, and artistic flair in a performance that is both amazing and incredibly difficult," said Logo Apelu, the Pacific Cultural Center's Chief Operating Officer in an event press release. "The World Fireknife Championships brings out the very best in a unique contest found nowhere else."
Thursday evening's event includes preliminary competition in each of three divisions. This year there are 13 Junior (ages 6-11), 15 Intermediate (ages 12-17) and 22 Senior (ages 18+) competitors including the defending World Fireknife Champion Via Tiumalu, Jr. of Orlando, FL.
On Friday (also beginning at 7:45 p.m.), the Junior and Intermediate Divisions will have their final rounds and this year's Senior Division will be whittled down in semi-final rounds.
The final evening (Sat. May 9) begins at 7:30 p.m. and is staged in PCC's Pacific Theater. The top three Senior competitors will perform in the championship round, held during the intermission of the Center's evening show "Ha Breath of Life." The title of 2015 World Fireknife Champion will be announced at the show's conclusion.
Click on the video below to see highlights of last year's event (courtesy of the Polynesian Cultural Center).
The World Fireknife Championships are part of PCC's We Are Samoa Festival, a showcase of Samoan's traditions, arts and heritage. Also part of the weeklong event is the Samoan Cultural Arts Festival in which hundreds of Hawaii high school students will compete in traditional Samoan customs and skills events such as lauga or speech making, costuming, dance, coconut-leaf basket weaving, fire making and coconut husking.
The nonprofit Polynesian Cultural Center endeavors to entertain visitors while preserving and portraying the culture, arts and crafts of Polynesia.