26th annual Eo e Emalani i Alakai Festival honors Hawaii's Queen Emma, Oct. 11 on Kauai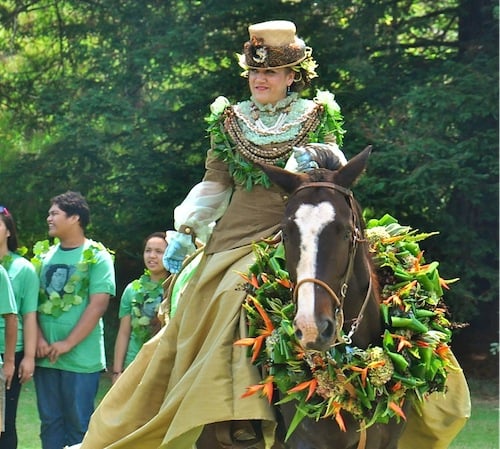 Emma Kalanikaumakaamano Kaleleonalani Naea Rooke of Hawaii was a beloved Hawaiian monarch and humanitarian who reigned with her husband King Kamehameha IV from 1856 to 1863. This weekend's annual Eo e Emalani i Alakai Festival (Emalani Festival) in Kauai's Kokee State Park celebrates Queen Emma's spirit and history with a commemorative day of hula.
In 1871 the Queen paid a visit to Kanaloahuluhulu Meadow in Kokee—now a state park in northwestern Kauai, not far from Waimea Canyon. There, it was said she told stories and watched her friends dance while taking in the upland forest meadow's views. The festival—always held the second Saturday in October and now in its 26th year—is held in that same spot.
The fest is expected to draw 1,700 to 2,000 people. More than 300 of them will participate as hula dancers. Kauai resident Helen Leilani "Lahapa" Santiago will represent Queen Emma. As the queen, Santiago will enter the ceremonies on horseback, escorted by Emma's guide Kaluahi (represented by a local cowboy). Hula dancers from throughout the state, as well as visiting European and Japanese kumu hula (hula masters), and their halau (troupes) will offer dance and song to the Queen to celebrate her life.
One of Queen Emma's most enduring endowments to Hawaii is in downtown Honolulu. Established by Queen Emma and King Kamehameha IV in 1860 to combat the influx of disease brought to the Islands by foreign visitors, Queen's Hospital was Hawaii's first large-scale public hospital. Today the hospital continues operations as the Queen's Medical Center and is the largest private hospital in the state.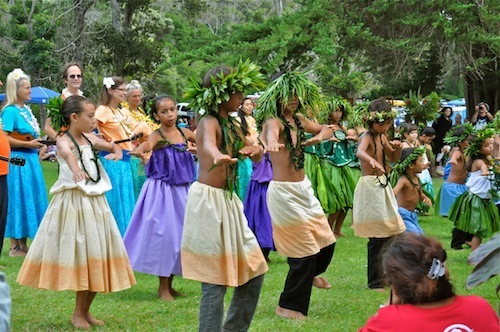 The children of Kanuikapono Charter School dance for Queen Emma. Photo by Danny Hashimoto.
Festivities begin at 10 a.m. at Kanaloahuluhulu Meadow in Kokee State Park. Event coordinators advise that because of the large volume of attendees expected it's best to arrive well before 11 a.m. to ensure adequate parking. In addition to the cultural performances and historical displays, visitors can also expect outdoor exhibits as well as crafts and treats. The festival will conclude around 4 p.m. The park will remain open for normal operation throughout the festival, though park officials caution that no animals will be allowed in the meadow because of the horses used in the ceremonies.
For details and more information about the Emalani Festival, visit the event's website, Facebook page, or call the park's event line at (808) 335-9975 ext. 0. You can also view this year's informational video here.
26th Annual Eo e Emalani i Alakai Festival
10 a.m.-4 p.m. Kokee State Park, Waimea, Kauai.
(808) 335-9975 • http://www.kokee.org/festivals/the-emalani-festival/