30,000-plus to lace up for 42nd Honolulu Marathon, Sun., Dec. 14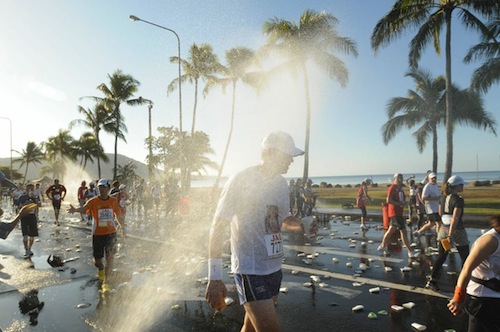 In most parts of the U.S., December and running don't go all that well together. Not so in Hawaii, where the
42nd Honolulu Marathon
is expecting record runner counts—as many as 33,000—from all 50 states and more than 40 countries when it kicks off this
Sun., Dec. 14
.
The Honolulu Marathon is regularly ranked among the top ten largest marathons in the world by number of finishers, according to Running USA.
The event is unique in that there is no cap on the number of participants and there are no qualifying or cut off times. Visitors from Japan, where few marathons are open to all entrants, regularly make up as much as half of the total participants.
Fireworks over Honolulu Harbor will send off this year's pack at 5 a.m. A 6.2-mile (10K) Race Day Walk will follow the runners' start at 5:25 a.m.
While elite runners will finish the 26.2-mile-long marathon course by 8 a.m., the route will take some runners and walkers into the afternoon to complete—last year the median finishing time was just over six hours.
Free shuttles will run between 2 and 4 a.m. on Sunday morning to transport runners and walkers from the race finish near the Honolulu Zoo to the starting line at Ala Moana Beach Park. The marathon route winds through Waikiki, past Diamond Head State Monument and to the Hawaii Kai Mall near the base of Koko Head. The mall marks mile 17, and the point where participants will head back west towards town, finishing their final 9.2 miles at Kapiolani Park. Because the course is looped, both the marathon and the shorter Race Day Walk will finish near Kapiolani Park.
This year's event has attracted its fastest elite runners to date. They will compete for a $125,000 prize purse, with additional winnings up for grabs if a course record is broken. These speedy runners will receive their awards at a 1 p.m. race day ceremony near the finish line.
The Marathon Expo, held at the Hawaii Convention Center, is the Honolulu Marathon's downtown headquarters. Race merchandise and running gear will be on sale to the public through Saturday. There is a free shuttle from several points in Waikiki to the Expo.
Have family or friends in the race? Download the Honolulu Marathon app for iOS or Android to stay up to date. You can also see the results as they're published live online here. Social media users can follow the race on the event's official Twitter and Facebook pages.
Heading into Honolulu Sunday morning and wondering about road closures? Expect significant lane, and in some cases, whole road closures along the entire marathon route—including Ala Moana Blvd and parts of the H-1 freeway—beginning at 12:30 a.m. and lasting through 5 p.m. Sunday. Click here for the official event traffic advisory.
For additional information on the Honolulu Marathon, visit their website.