5 Trailblazing Wāhine in Hawaiʻi
These exceptional women in Hawaiʻi inspire us today on International Women's Day—and will for many years.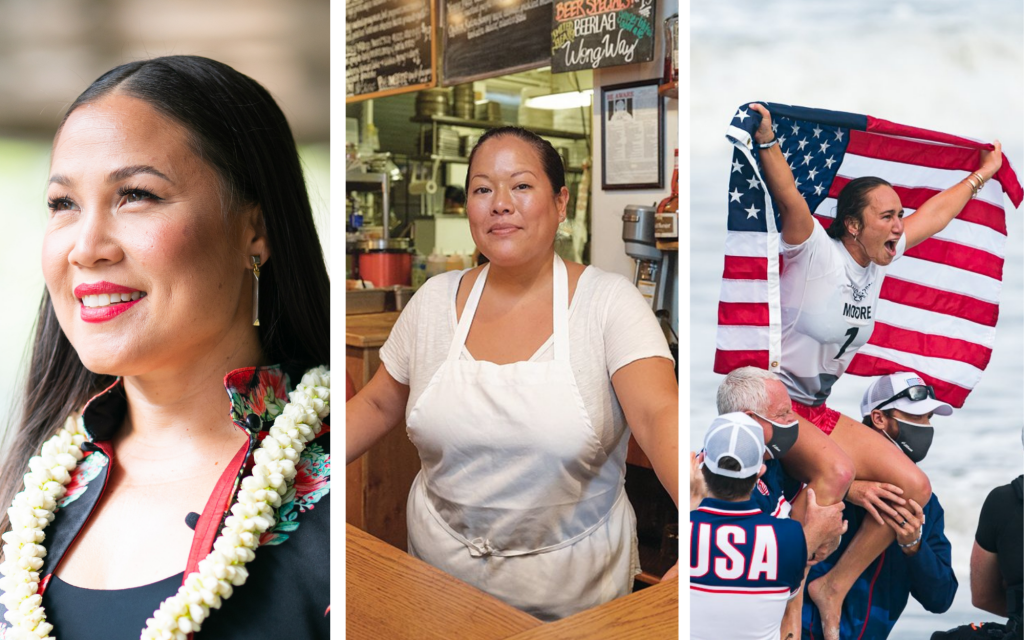 From ushering in progressive steps for women's rights in local politics, to influencing national change and winning historic athletic competitions on a global stage, courageous wāhine (women) throughout Hawaiʻi's history have shaped and inspired us all. Today, brave athletes, driven entrepreneurs and remarkable artists continue to leave us in awe as they write history. While there are many influential women across the Islands today, these are five to follow.
1. Carissa Moore
Olympic gold medalist and holder of five World Surf League titles, Carissa Moore is a pioneer for female athletes around the world. In the 2020 Summer Olympics, the Oʻahu native became the first women to take home gold in surfing, a sport making its Olympic debut at the time. Quickly following her historic accomplishment, she went on to win her fifth WSL title. Back in the Islands, Moore empowers young females through Moore Aloha, a nonprofit encouraging young women to be strong and confident through the sport of surfing.
2. Meli James
While working in Silicon Valley, Meli James launched her first business, Nirvino. James' wine app went on to become an Apple Platform Top 100 App and Top Ten Lifestyles App. Now, she is sharing her entrepreneurial expertise with local businesses. James co-founded Mana Up, a statewide initiative dedicated to supporting Hawaiʻi's entrepreneurs. The organization provides education and resources for entrepreneurs to grow their businesses on a global scale. And as these companies grow, they also help the local community by creating high-quality jobs and economic diversification.
3. Kaʻiulani Murphy
Born and raised on Hawaiʻi Island, Kaʻiulani Murphy is a part of the next generation working to preserve traditional Polynesian deep-sea voyaging. She was a member of the Mālama Honua Worldwide Voyage in 2017. During the global voyage, Murphy sailed and navigated the Hōkūleʻa employing traditional wayfinding techniques on legs from Hawaiʻi to Tahiti, Tonga to Aotearora (North Island, New Zealand), and Massachusetts to Maine. She then led the final leg of the voyage, a journey from Tahiti back to Hawaiʻi. While Murphy is charting unfamiliar territory to current sailors, she is at the helm of rediscovering Hawaiʻi's history in the deep-sea navigation.
4. JT Ojerio
Following a hip injury that required reconstructive surgery in 2017, JT Ojerio discovered her passion for drawing. Ojerio has since turned her hobby into the flourishing art business known as Aloha de Mele. Born and raised on Oʻahu, the self-taught artist creates colorful pieces that are little windows into life in the Islands. Ojerio's work also reflects her bright and hopeful personality. While overcoming a severe injury, Ojerio found solace in art and is now sharing her passion with the world.
5.
Lee Anne Wong
After competing on Bravo's "Top Chef," Lee Anne Wong moved to Oʻahu and opened the award-winning Koko Head Café in Kaimukī. Originally from New York, Wong's most recent venture has taken her to Maui to lead the restaurant at Lahaina's historic Best Western Pioneer Inn. During the pandemic, she transformed the restaurant, revamping the space to match her new menu. The space also pays respect to the history of the hotel and restaurant. Wong is an inspiring restaurateur and also a strong supporter of Hawaiʻi's local agriculture, sourcing ingredients from across the island.