62nd annual Molokai Hoe outrigger canoe race from Molokai to Oahu set for Oct. 12. Watch it all live online.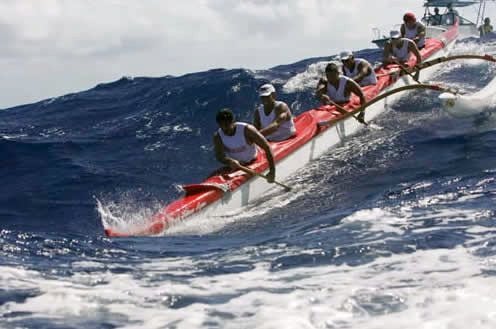 It's an unpredictable and often-treacherous 41-mile journey from Molokai to Oahu across the Kaiwi Channel. And this Sun., Oct. 12, more than 1,000 paddlers will again take on the crossing in traditional Hawaiian outrigger canoes for the 62nd annual Molokai Hoe. The event is considered by many competitive paddlers to be their sport's ultimate challenge. A bonus for everyone else? The entire event will be streamed live so you can watch it from wherever you are in the world.
Hoe, pronounced "ho-eh," without a glottal stop, is the Hawaiian word for "paddle," or "the act of paddling." The Molokai Hoe continues one of Hawaii's most important cultural traditions—similar canoes facilitated the Islands' colonization and were an integral part of early Hawaiian life.
During the crossing, Molokai Hoe participants will battle the Kaiwi Channel's ever-changing elements in single-hulled, six-man canoes. Variation in the strength of area trade winds, the pull of strong currents and swells reaching 10 to 30 feet have come into play in previous competitions. Still, the battle is a big part of the Hoe's appeal, and arguably what keeps participants from across the state and around the world returning for more annually.
Following a traditional race day blessing at 7:15 a.m., the canoes will launch from Hale o Lono Harbor off Molokai's west side around 8 a.m. By late morning, spectators on Oahu's south shore will begin to spot the first canoes rounding Hanauma Bay, Diamond Head and Waikiki before landing at Ft. DeRussy Beach. Last year's top finishers completed the crossing in 4 hours, 53 minutes and 35 seconds, arriving less than a minute before their closest competition.

Molokai Hoe competitors as they pass Diamond Head crater and Waikiki Beach on Oahu en route to the finish line. Photo: David Croxford for HAWAII Magazine.
Hundreds of spectators are expected at the finish line, but if you can't be among them, no worries. You'll likely see more of the action online. Footage shot on the water and by helicopter will be broadcast live on the event's website beginning at 7:45 a.m. (Hawaii time).
The Molokai Hoe has become one of the longest-running annual team sporting events in Hawaii. The first-ever contest, held in October 1952, happened with just three competing koa wood outrigger canoes of six men each. The course at that time was 38-miles long and its starting point in Molokai's northwestern Kawakiu Bay. The first canoe reached the Waikiki finish line—on the beach fronting what is now the Moana Surfrider—8 hours and 55 minutes later.
The Oahu Hawaiian Canoe Racing Association organizes the annual event, and this year's title sponsor is Hawaiian Airlines. For more information about the Molokai Hoe, click here.
62nd Annual Molokai Hoe
Sun., Oct. 12 • Race begins at 8 a.m. from Molokai's Hale o Lono Harbor to Ft. DeRussy Beach, Waikiki, Oahu • molokaihoe.com