7 Awe-Inspiring Natural Wonders That Can Only Be Found on Maui
Maui is, without a doubt, a natural wonder in its own right—but here are seven points of interest that are worth highlighting.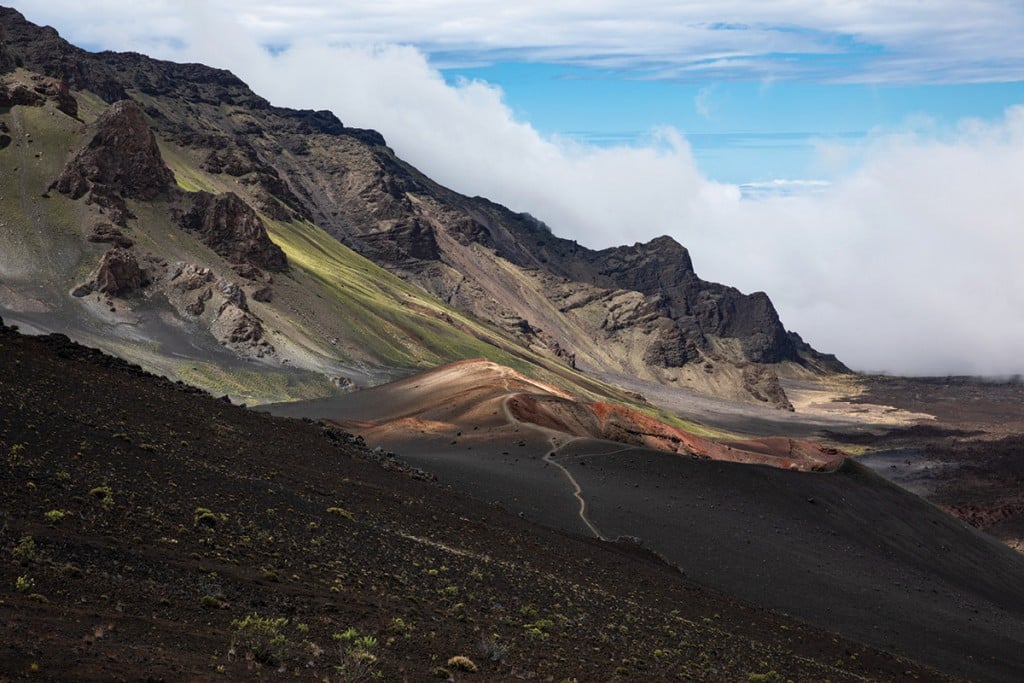 While many incoming visitors to Maui may only have one thing on their minds—the beach!—it's important to know that The Valley Isle has so much more to offer. From emerald-green tidepools to a flora-infused stone needle that towers 1,200 feet into the sky, adventurous visitors will find countless attractions that are worth a day away from the beach. To make your life easier, we've compiled seven natural wonders that are unlike anything you've seen before.
1. ʻĪao Valley
Just up the road from Wailuku lies ʻĪao Valley, a cradle of primordial bliss. The valley was once used by Native Hawaiians to bury their ruling class, the aliʻi, and now the verdant landscape is used by visitors and locals as a place to soothe the soul and escape from civilization. The main attraction is the 1,200-foot Kūkaemoku, a green-mantled rock outcropping that overlooks the entire valley. For a better view of the needle, walk along the short and paved 'Iao Needle Lookout Trail and Ethnobotanical Loop, which ends at a scenic observation platform.
READ MORE: Get a Closer Look in the Heart of 'Īao Valley, Maui
2. Peʻahi (Jaws)
The mecca of big wave surfing on Maui, Peʻahi puts the cataclysmic forces of the ocean on full display. The biggest waves pound Peʻahi, also known as Jaws, just a handful of times per year, but when they come, they are massive. We're talking about 40-to-60-foot breakers being ridden by some of the best big-wave surfers in the world. And, if you're up for the hike or have a four-wheel drive vehicle, you can see the action for yourself by heading down Hahana Road.
READ MORE: 8 Jaw-Dropping Maui Hikes
3. Haleakalā
With a name like Haleakalā, which translates to the house of the sun, you'd expect Maui's tallest volcano to "wow" visitors. And it does, every morning: Just ask those who've planned ahead and made reservations to see the sun rise majestically above the clouds. Of course, the sunset is almost as good as the sunrise, and Haleakalā National Park has enough trails and activities to fill an entire day. Just remember to bring a sweater! Not only is Haleakalā one of Maui's coolest natural wonders, it's also one of its coldest.
READ MORE: Top Things To Do on Haleakalā
4. Olivine Pools
Best appreciated from a distance because of the jagged shoreline of lava rock are the serene emerald-green Olivine Pools of Kahakuloa. However, there's no easy access to the tide pools, and no lifeguards or water safety personnel within miles. That said, we highly recommend that those wanting to view the pools do so from the safety of the rocky ledges above. Remember, if the ground you're standing on is wet, it likely means waves can reach you, which means the risk of being swept out to sea is high.
5. ʻOheʻo Gulch
There are many—and we mean a whole lot of—waterfalls along the Road to Hāna, one of Maui's most scenic, and nerve-wracking, drives. But most pale in comparison to the series of cascading falls at ʻOheʻo Gulch, often the final stop for visitors traveling down Hāna Highway. Also known as the Seven Sacred Pools, there are actually dozens of individual bodies of water and accompanying waterfalls along this immaculately crafted stream, all of which can be seen from the maintained, state-run overlook.
6. Honokalani Beach and Kaihalulu Beach
Here's a two-for-one special. Both Honokalani Beach and Kaihalulu Beach are known for their unusual shades of sand. One of Maui's only black sand beaches, Honokalani Beach is a must-see for those making their way down the Road to Hāna, and if you can get a permit, visitors can even camp at the nearby Waiʻānapanapa State Park. Kaihalulu Beach, on the other hand, is off-limits since it's on private property, but how could we not mention one of the only red sand beaches in the entire state?
7. Molokini Crater
OK, so this one isn't technically on Maui, but it's just off the coast. A partially submerged volcanic crater and Marine Life Conservation District situated between Kahoʻolawe and Maui, the uninhabited islet is a snorkeler's paradise, often packed with snorkeling boats and tour groups. It's still undoubtedly one of Maui's finest natural wonders, and you can expect to see a wide variety of sea life, from vibrant red pencil urchin to humuhumunukunukuāpuaʻa (reef triggerfish), Hawaiʻi's state fish. If your tour lets you dive off the backside of the crater, where the water is much, much deeper, you could even catch glimpses of manta ray and whale sharks.
READ MORE: Explore Maui's Top Snorkeling Destinations with Redline Rafting