7 Pretty Places Where You Can Enjoy Sunset Views and Order a Cocktail
Here's a toast to Oʻahu's picturesque pau hana spots.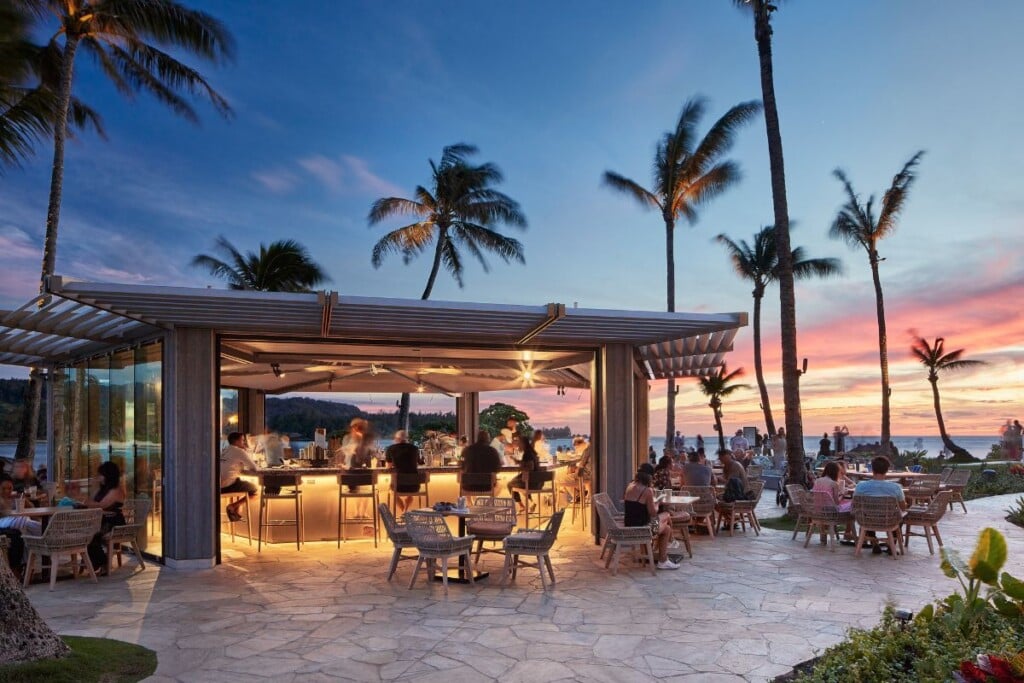 Hawaiʻi's golden hour is spellbinding. As the sun sets beyond the Pacific, it casts an enchanting glow over the Islands. Pair a brilliant sunset with warm ambiance and a refreshing cocktail or cold draft beer and life's worries seem to just drift away. Even for residents, watching the sun set over the ocean from a laid-back bar never gets old. So, check out these favorite pau hana spots on Oʻahu, home to exquisite cocktails and stellar sunsets.
1. Mai Tai Bar
Living up to its namesake, the Mai Tai Bar at the historic Royal Hawaiian Resort Waikīkī serves top-notch mai tais. From the aliʻi topped with coconut foam to a clean and sophisticated Vic's 44, you'll want to try one (or two) of these mai tai variations. Relax just steps from the golden sands of Waikīkī Beach, mai tai in hand, as the sun sets and the surf rolls in. 2259 Kalākaua Ave., Waikīkī, royal-hawaiian.com/dining/maitaibar.
2. Hau Tree
This oceanfront restaurant in the boutique Kaimana Hotel has become a favorite spot for sipping creative cocktails by the sea. At Hau Tree, the drinks are exciting, with some paying homage to classics while others have twists, like the tequila mule and the highball made with hibiscus infused Pau Vodka. This same innovation and attention to detail go into the food, like the burrata toast with black garlic and truffle honey and the Hamachi crudo with tomato ponzu. Head to Hau Tree to order a couple of plates of pūpū to share, and as you enjoy the delicious food and delightful drinks, don't forget to gaze up at the stunning ocean view. 2863 Kalākaua Ave., Waikīkī, kaimana.com/dining.
3. A House Without a Key
A House Without A Key at the Halekūlani is a Waikīkī institution, having welcomed guests for decades. And in September, following an extensive revitalization and expansion, Halekūlani unveiled its new poolside bar, Earl's. Both Earl's and A House Without A Key come with postcard worthy views of Lēʻahi and the Pacific. Sip on a signature mai tai and listen to live music at Halekūlani—and be transported back in time to Waikīkī's golden era. 2199 Kālia Road, Waikīkī, halekulani.com/dining/house-without-a-key.
4. Deck
View this post on Instagram
At Deck, the aptly named open-air bar on the third floor of the Queen Kapiʻolani Hotel, it's all about the views. And the cocktails. Nestled on the hotel's pool deck, guests can enjoy sweeping views of iconic Lēʻahi, also known as Diamond Head. The only thing that makes the Instagram-worthy scene better is pairing it with one of Deck's exquisite cocktails. Along with the bar's signature drinks, there's usually a list of fun, specialty beverages for holidays. 150 Kapahulu
Ave., Waikīkī, deckwaikiki.com.
5. Sky Waikīkī Raw & Bar
Perched on the 19th floor of the Waikīkī Business Plaza, Sky Waikīkī is well-known for its breathtaking views—which are even more incredible at sunset. The former nightclub reinvented itself during the height of the Covid-19 pandemic, expanding its menu to include a raw bar and poke. Order a round of poke nachos, fried calamari or oyster shooters. And score $2 oysters and $9 slushy cocktails during happy hour, which runs daily from 4-5 p.m. 2270 Kalākaua Ave., Waikīkī, skywaikiki.com.
6. Swell Restaurant and Pool Bar
There's never a bad time to hang out at Swell Restaurant and Pool Bar at the ʻAlohilani Resort Waikīkī Beach. It's located on the hotel's fifth floor and features impressive views of Waikīki Beach all day, both from the stunning infinity pool and the deck. But the real showstopping hours are at sunset, when the sky comes alive with streaks of vibrant orange and cotton candy pink. Be sure to check out the restaurant's Earth to Cup menu, which features cocktails and dishes made with locally sourced ingredients. 2490 Kalākaua Ave., Waikīkī, alohilaniresort.com/dining/swell-bar.
7. Sunset at Turtle Bay Resort
With a name like Sunset, golden hour is sure to be magical. Pull up a seat at Turtle Bay Resort's pool bar to see the day's final rays of sunlight and watch as surfers ride their last waves of the day. Order an icy cocktail, enjoy the live entertainment and just soak it all in. 57-091 Kamehameha Highway, Kahuku, turtlebayresort.com/dining/sunset.