Halekūlani's House Without A Key Fully Reopens with a New Poolside Bar
This Waikīkī poolside bar pays tribute to Hawaiʻi's golden era of travel.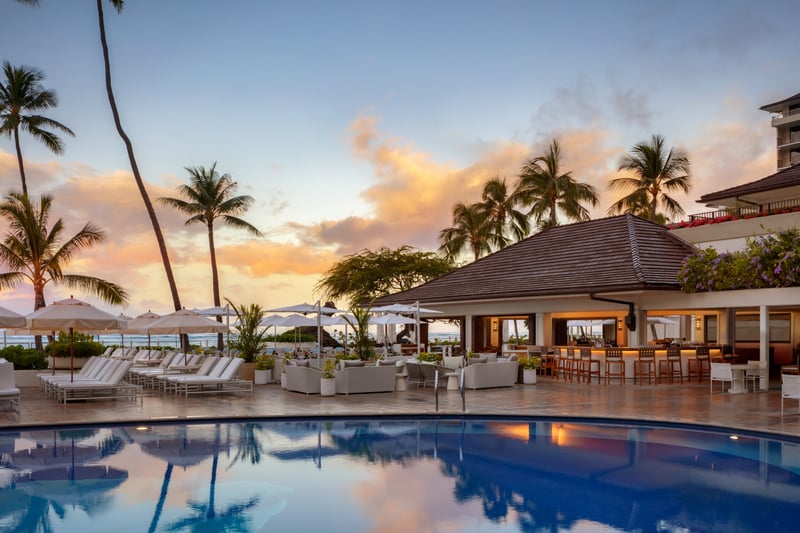 A pool, and a bar. The perfect pair. Like mai tais and sunsets, they go hand-in-hand—a match made in paradise.
So it's a joyous occasion when a new poolside bar is born here in the Islands, especially at the timelessly enchanting Halekūlani in Waikīkī. The sparkling resort has recently reopened its entire restaurant, A House Without A Key, following an extensive revitalization and expansion project—which includes EARL'S, its newest poolside bar. "House Without A Key's meticulous renovations will ensure and preserve our iconic traditions and relevance as we embark upon our second century of providing gracious hospitality, continuing to deliver legendary experiences for all who walk through our doors," said Mr. Shaindlin, chief operating officer of Halekūlani Corporation.
For anyone who hasn't stepped foot in the breezy, oceanside restaurant, you'll be immediately greeted with a refreshing seabreeze and an indoor, outdoor seating area. Halekūani's Executive Chef Christian Testa and House Without A Key's Chef Jarrin Otake have revitalized House Without A Key's menu that calls back to classic local plates visitors love while including modern culinary twists. For example, the laulau is a deconstructed version of traditional laulau with the flavors of pork and butterfish, served on a bed of coconut-stewed lūʻau leaves and a side of fresh local poi.
Many of these plates and dishes are a direct result of having an entirely new kitchen made for chef Testa and Otake, and you can see them cooking in real-time through the state-of-the-art exhibition-style glass wall separating the seating area from the cooking area. You can also check out the custom Marra Forni brick oven created in Italy and shipped to Hawaiʻi for the Halekūlani, which can produce some seriously ʻono flatbread Margherita pizzas.
Named in honor of acclaimed 20th-century novelist, Earl Derr Biggers, author of "House Without A Key," EARL'S is one of the most exciting aspects of this reopening. Out of the sun but mere steps away from the pool, this newly opened bar features mixed drinks that'll keep you cool on even the hottest Hawaiian days. Newly conceived cocktails, such as the Yellow Umbrella— with fresh lilikoʻi (passion fruit) juice, coconut matcha syrup, tequila and mezcal—and the Coconut Cake Martini—an ode to Halekulani's world-famous coconut cake—refresh pool-goers with a chilled buzz. And their looks and design all feature tropical colors, from forest green to ocean blue and sunset yellow.
The concept of EARL'S was to bring back the golden age of Hawaiʻi travel—when Elvis ruled the radio and smartphones were decades away—through not only the aesthetic of the bar but the drinks themselves. And much of that is made possible by the talented bartending team at EARL'S, led by lead mixologist Tuda Grehan, who got her start bartending in New York before returning to her roots here on Oʻahu.
If you haven't been to House Without A Key, there has never been a better time to enjoy the restaurant and the property itself, which gives diners an unparalleled view of the ocean and Waikīkī. And if you're staying at the resort, be sure to provide yourself ample time to enjoy everything EARL'S, and the pool, has to offer.
For more information about the Halekūlani, House Without A Key or EARL'S, visit halekulani.com.