9 Hot Dining Spots in Waikiki and What to Order
These Hawaii restaurants and popular dishes on the Waikiki strip should be at the top of your list.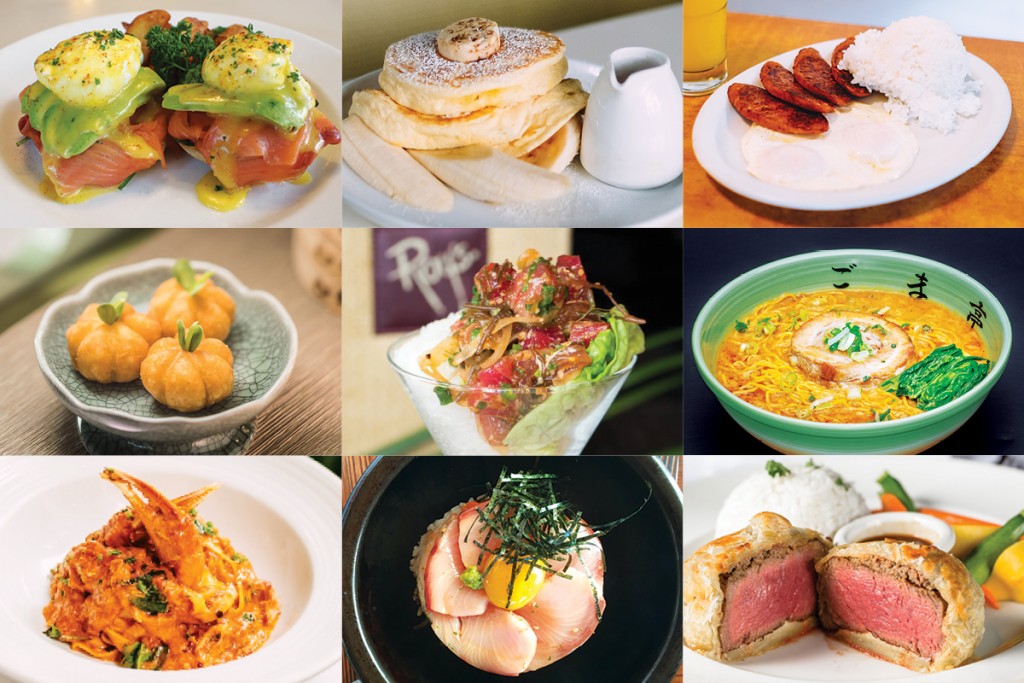 In a city where the dining options are so plentiful and varied, these nine restaurants and popular dishes should be at the top of your list—and you don't even have to leave Waikiki to find them.
M.A.C. 24/7
Almost anything goes good with hollandaise sauce, but M.A.C. 24/7's salmon eggs Benedict, with smoked salmon on fresh, island baked English muffins, is especially delicious. $19, mac247waikiki.com.
Bills Sydney
Served all day, the three, stacked ricotta hotcakes topped with honeycomb butter are fluffy and thick, and served with a sliced banana on the side, so you'd better come hungry. $21, billshawaii.com.
Eggs 'n' Things
When in Hawaii, do as the locals do and order the tasty Portuguese sausage with two eggs and a side of steamed rice. $9.95, eggsnthings.com.
Yauatcha
The roasted duck pumpkin puff is filled with three different types of mushrooms, carrots, turnip and kabocha, covered in mochi flour and deep fried. $8, yauatcha.com.
Roy's Waikiki
The traditional big eye ahi poke-tini on the menu at Roy's is a martini glass filled with rice, then topped with poke dressed with Maui onion, inamona, chili, ogo, Hawaiian sea salt and green onion. $25, royshawaii.com.
Goma Tei 
The Tan Tan Ramen from Goma Tei has a rich, sesame infused broth with a thick cut piece of Japanese-style char siu and vegetable garnishes. $12.
Taormina Sicilian Cuisine
Served only during lunch hours, Taormina's granchio pasta, made with snow crab meat, fresh fettuccine and creamy tomato sauce, is as good as it sounds. $17, taorminarestaurant.com.
Morimoto Asia Waikiki
Hamachi seared tableside over white rice, topped with royal ferns, pickled daikon and an over-easy egg, the Ishiyaki Buri Bop is a Japanese twist on traditional Korean bi bim bap. $32, morimotoasiawaikiki.com.
Hy's Steakhouse 
The beef Wellington is a 7-ounce piece of prime filet mignon, covered in pâté maison and mushroom duxelles, all wrapped inside a puff pastry and served with a cabernet truffle sauce. $55, hyswaikiki.com.