The History of Five Local Grinds
We traced the history of five Hawaii comfort food favorites back to their earliest origins to decipher the roots of their modern-day multicultural appeal.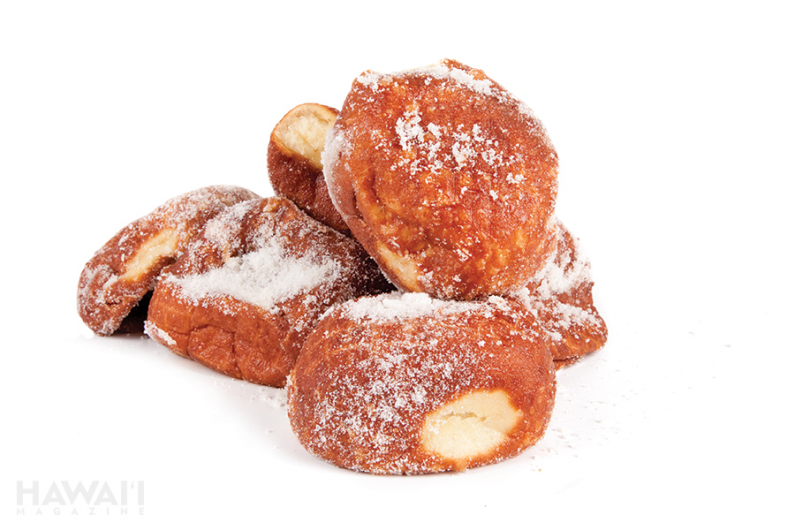 Where did the Spam musubi originate? What does "manapua" mean? We traced the history of five Hawaii comfort food favorites all the way back to their earliest origins to decipher the roots of their modern-day multicultural appeal.
MALASADAS (pictured above)
The deep-fried, sugar-dusted fried-dough treat was brought to Hawaii with the 1878 arrival of Portuguese plantation laborers from the Madeira and Azores islands. But until Leonard Rego opened Leonard's Bakery on Oahu in 1953, the crispy-on-the-outside, fluffy-on-the-inside pastry was rarely offered in local bakeries. The grandson of Portuguese immigrants, Rego began selling malasadas on Shrove Tuesday, the day before the start of Lent. Following his grandmother's recipe, he whipped up a batch of the traditional Portuguese dessert. "The bakers didn't think it was a good idea," says Lenny Rego Jr., the founder's son who now runs the bakery. "No one had heard of this malasada thing. But we did it anyway. And we've been selling them from that day on." A lot of them, actually. While Leonard's Bakery is one of the most well-known bakeries in Hawaii crafting fresh, warm malasadas all day, these days you can procure them everywhere—from the square malasadas of Tex Drive In in the Hawaii Island town of Honokaa to Lahaina's Star Noodle on Maui where customers dip them in chocolate and caramel sauces. They're also staples at many Hawaii fairs and carnivals.

MANAPUA
These chewy, steamed or baked buns, filled with meat (most often sweet char siu pork) or vegetables are found everywhere in the Islands, from dedicated manapua and dim sum shops to Chinese restaurants and Hawaii 7-Eleven stores. A take on the traditional Chinese bao, "manapua" is the born-in-Hawaii name for the popular snack. There are two known antecedents of the word: a shortened form of the Hawaiian phrase mea ono puaa, which translates as "pork pastry," or mauna puaa, which translates to "mountain of pork." The Chinese are believed to have brought bao to Hawaii in the mid- to late-19th century during their largest wave of immigration. After finishing contracted terms as sugar plantation laborers, many Chinese opened businesses and restaurants. Food peddlers would walk neighborhoods selling snacks, including manapua, from large aluminum cans hung with cord at the ends of poles hoisted on their shoulders. Affectionately dubbed manapua men by locals, they eventually took to selling the popular filled buns and other Chinese dim sum goodies in populated areas such as beaches and business districts, too, using vans and food trucks. While char siu pork is still, arguably, the most popular filling, modern manapua also include curry chicken, kalua pig, hot dog, sweet potato and more.

BOILED PEANUTS
Boiled peanuts are a traditional snack food in South Carolina, Georgia and other pockets of the American South, sold at football games and roadside stands. How in the world did they wind up a popular Hawaii go-to snack, too? Brothers Matt and Ted Lee, co-founders of The Lee Bros., a Mainland-based mail-order business offering Southern pantry staples, including boiled peanuts, are not sure, but they have a theory. Though Island families as far back as the 1830s grew peanuts non-commercially, the Lees say it's possible boiled peanuts, as a Hawaii snack, likely came from the eastern world, not western. In China, peanuts are often boiled with star anise and a bit of salt. You'll also find the damp, salty snack in Thailand, Indonesia and the Philippines. There are others, however, who speculate that U.S. soldiers from the South may have brought the snack with them to Hawaii during World War II. Many Oahu old-timers reminisce about the boiled peanuts sold outside old Honolulu Stadium, built in 1926 and demolished in 1976. The recipe is simple: raw peanuts boiled, unshelled, in very salty water. In Hawaii, there's even a technique to eating them—suck the salty water from the shell, then split it open and eat the wet peanuts within. You'll find boiled peanuts—and their empty shells—at sporting events, snack shops and get-togethers statewide.

SPAM MUSUBI
When Hawaii food historian Arnold Hiura traveled to California to talk about his book, Kau Kau: Cuisine & Culture in the Hawaiian Islands (Watermark Publishing, 2009), he was surprised to find many Japanese-Americans staking ethnicity claims on the quintessential Island snack favorite: the Spam musubi. "They feel they invented the Spam musubi," he says. "They actually trace it to the internment camps." Following the December 1941 Japanese attack on Oahu's Pearl Harbor, more than 120,000 people of Japanese ancestry living on the U.S. mainland West Coast were imprisoned in remote internment camps in multiple states for the duration of World War II. With the pink canned meat prevalent, they crafted a sort-of Spam sushi, placing seasoned slices of it on white rice in a baking pan. Says Hiura, "They'd cut it, serve it and that was the forerunner to what we know as the Spam musubi." Served to soldiers stationed here, Spam was omnipresent in World War II-era Hawaii, too. Today, Island residents consume almost 7 million cans of Spam annually—the nation's highest per capita consumption—much of it in musubi. The modern Spam musubi, however, is typically crafted individually, sans baking pan, its slice of salty meat further seasoned with a shoyu-sugar sauce and placed on a block of white rice with the same surface area as the Spam slice, then wrapped in nori (dry seaweed). Offered pretty much everywhere prepared foods are sold in Hawaii, they're our perfect portable, eat-anywhere snack.

SAIMIN
This comfort-food staple—a contraction of the Chinese words "sai" meaning "thin" and "mein" meaning "noodle"—dates back to the early days of Hawaii's sugar- and pineapple-plantation era, when immigrant laborers cooked noodles with whatever they had on hand. Neighborhood stands specializing in saimin began opening throughout the Islands in the 1930s, with the basic recipe for a great bowl of the noodle dish remaining largely the same today. Curly, slightly chewy egg noodles are served in a hot dashi broth, usually made from shrimp, kombu (dried kelp), mushroom and ginger. Garnishes include kamaboko (fish cake), char siu pork, green onions and slivers of Spam. Though dedicated stands are less prevalent these days, saimin remains so much a staple of local cuisine you'll find it on Hawaii McDonald's menus. In 2006, the James Beard Foundation recognized Hamura Saimin Stand in Lihue, Kauai—one of the most venerable and beloved of stands, known for its housemade noodles and secret-recipe broth—as an American classic. Take-offs on the dish such as fried saimin and dry mein are also popular statewide. "You can guess the origins [of saimin] because of the ingredients," says Hiura. "But how it all comes together and becomes something other than purely Chinese? That's the beauty of saimin and these local foods.