A Little Fungus Goes a Long Way
Lawai Valley Mushrooms on Kauai finds that starting over and scaling down is the way to grow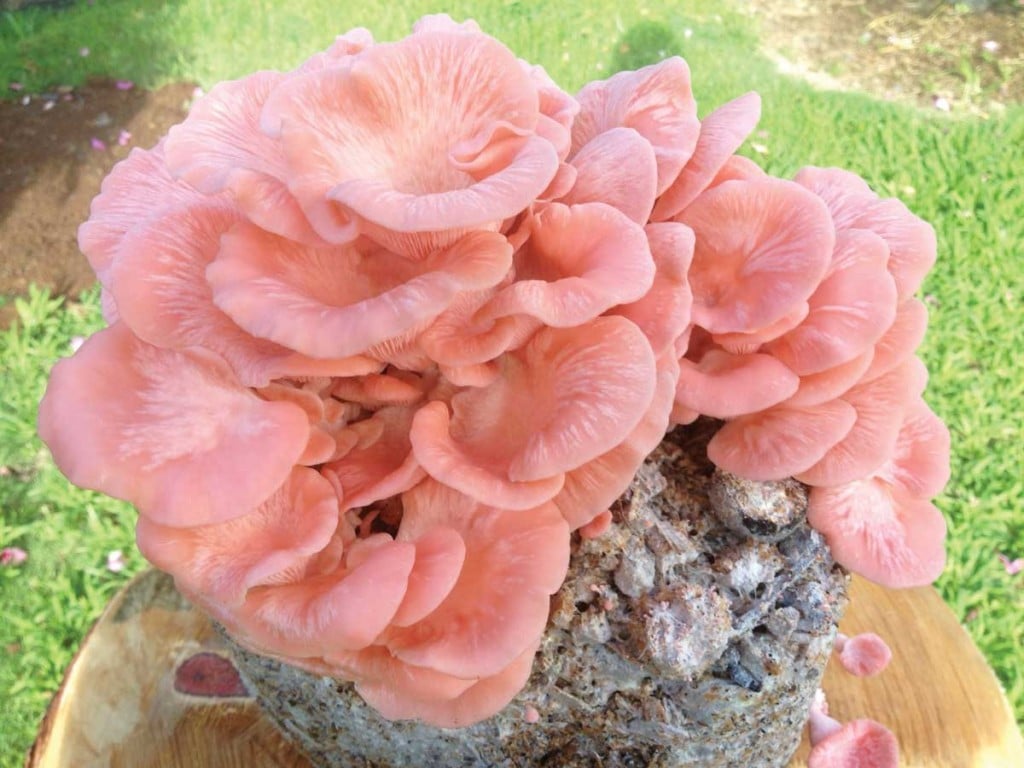 "The mushrooms were controlling me," says Keith Silva of Lawai Valley Mushrooms, nestled in the cool valley of south Kaua'i. "Mushrooms don't take days off."
Silva is resetting his mushroom farm, which he began researching in 2012 after attending a mushroom growing workshop by Philly White, a mycologist and owner of Kaua'i Fungus. White was looking to sell the farm, and Silva, a former executive chef who had worked for 30 years at hotels in California and Kaua'i, decided to buy it. "You always want to try something new in life—growing mushrooms was something I always wanted to do and I took the risk while still young enough," he says. Ever since he first foraged for wild mushrooms in northern California, he'd been researching how to grow his own in Kaua'i, where the selection of mushrooms, imported or otherwise, is slim. Silva moved the farm from Kilauea to Lawai Valley, where streams help provide the cool microclimate that mushrooms need. He developed his own growing medium, made of wood and corn, testing 20 to 30 different kinds of woods before he landed on the ideal one (it's a secret, he says). He grows the mushrooms in a hoop house draped in black to create darkness, which, along with misters, helps keep the temperature down.
By 2017, he was supplying about 50 restaurants across Kaua'i with 400 pounds of mushrooms a week. Restaurants at the Grand Hyatt, Sheraton, and Koa Kea Resort, among others, bought the fungi for $14 a pound. He grew mostly oyster mushrooms, grey ones with soft silvery caps, and pink ones, like clusters of pale rose petals. "Because I was a chef and I was so particular [about my ingredients], I'm so particular about the consistency of the product I sell," Silva says. "I always handle the product personally. I never gave something I wouldn't sell to myself."
But this year, that meant shutting down and starting over. The sciarid fly, a common pest of mushrooms, devastated his crop. The parasite is likely one of the reasons there aren't many mushroom farms in Hawai'i—Lawai Valley is one of three. (Another reason is the barrier to entry. Mushroom farming requires two buildings—a lab to culture fungi and sterilize the growing medium so that only the desired fungus grows in it, and a building to grow and harvest the crop.) In May, Silva slashed his production and began transitioning Lawai Valley Mushrooms into a seasonal shiitake farm, offering mushrooms from October to May.
Growing seasonally will help cut down the fly populations, which increase in the summer, and shiitake are more resistant to the pest. Shiitake also grow more slowly, taking about four months from inoculation to harvest, twice as long as oyster mushrooms, something that Silva sees as a plus. He'll be less of a slave to the mushroom's schedules: "With shiitake, you can control them," he says. "You can make them grow when you want them to grow, and you can make them sit." Switching to shiitake will also help him breathe easier, literally. After years of working with mushrooms, Silva had developed "mushroom lung" from inhaling all the spores that his crops release. When he was growing 400 pounds a week, "you could see clouds of spores in the room," says Silva. The shiitake emit about half the spores than oysters.
In scaling back, he's also discovered that "it's not always bigger is better," he says. "Before, I was working twice as hard, but wasn't making as much money [as now]. Stopping and starting over is the best thing I did."