A look inside the new Hyatt Centric Waikiki Beach
The Hyatt Centric hotel in Waikiki is an oasis in the middle of the bustling city.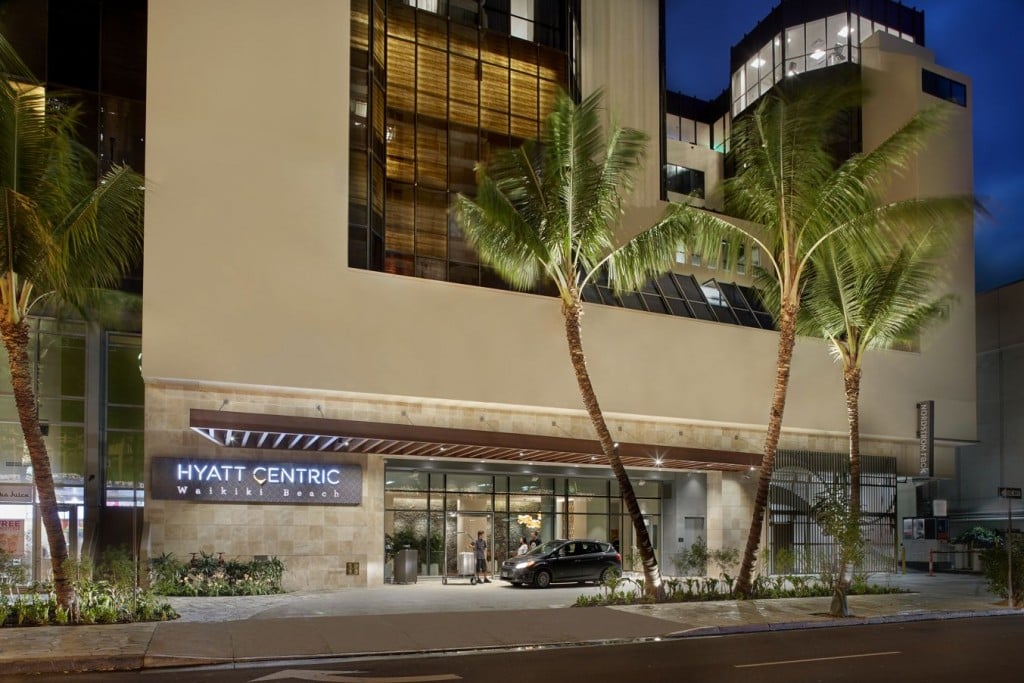 Take a break in the middle of everything at the new Hyatt Centric Waikiki Beach, officially opening Thursday, January 19.
Since it's truly in the heart of Waikiki, guests will be staying within easy walking distance of shopping, restaurants and the beach. The design of the hotel is inspired by the Hawaiian concept of kipuka, or a protected island surrounded by moving lava yet able to flourish.
Aimed at the urban explorer or business traveler, the hotel features floor-to-ceiling window views, clean and simple contemporary décor and amenities like an outdoor wading and lounge pool and entertainment deck on the roof, free Wi-Fi, fitness and business centers and The Lanai, a lobby restaurant with Island-inspired entrees and a full bar. Downstairs in the same building, you'll find a Starbucks, Jamba Juice, American Savings Bank and Nordstrom Rack.
The Hyatt Centric Waikiki is Hyatt's sixth hotel in Hawaii, and the latest in a line of Hyatt Centric branded boutique hotels marketed to millennial travelers that launched worldwide in summer 2015. This newest property, located in the Waikiki Trade Center, includes 230 upscale guestrooms and suites starting at 320 square feet, and is an impressive conversion of the former block of office buildings that previously inhabited the space.
For those of you who always have difficulty finding pet-friendly accommodations, the Hyatt Centric is a fresh option for a reasonable fee–your pet must weigh under 50 lbs, though.
With a remodeling cost of over 30 million, the new hotel is the latest in a series of large-scale improvements and redevelopment projects on Kuhio Avenue that included the redone International Marketplace and the Ritz-Carlton Residences at Waikiki Beach.
The hotel hasn't neglected to add features unique to Hawaii, present in the décor splashed with contemporary Hawaiian designs, organic art installations and lush Hawaiian plants. There's a daily Hawaiian Cultural Hour five days a week, which gives guests the chance to learn about Hawaiian traditions and make some arts and crafts. Discounted beach activities will also be available to hotel guests. Other offerings include bike and paddleboard rentals and outdoor relaxation areas like a poolside fire pit.
​Hyatt Centric Waikiki Beach is now available for booking, with rooms starting at $225 a night.
---
2255 Kuhio Ave., Honolulu, Oahu, (808) 237-1234, waikikibeach.centric.hyatt.com or reservationsHNLCT@hyatt.com