Aloha Festivals bring annual hoolaulea block party and floral parade to Waikiki, Sept. 20 & 27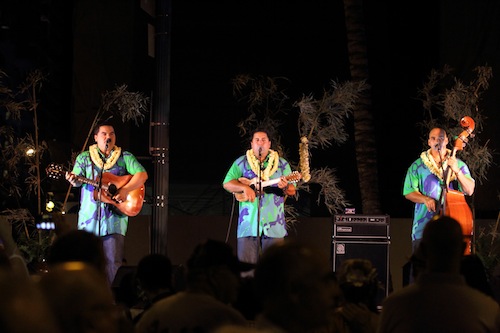 Think of it as a block party, Waikiki style!
If you're in town this Sat., Sept. 20, we recommend heading down to Waikiki for the 62nd annual Aloha Festivals Waikiki Hoolaulea. The Hawaiian word hoolaulea means "celebration." And this year's street-closing, seven-block hoolaulea promises 25 Island food booths as well as 32 artisan and specialty vendors selling Hawaiian crafts and lei. There will also be lots of great live music on multiple stages.
Part of the annual Aloha Festivals, Hawaii's oldest and largest cultural celebration, this year's hoolaulea entertainment lineup will again bring together multiple hula halau (hula troupes) and music acts. Entertainment will be spread across four platforms along Kalakaua Avenue, Waikiki's beachfront main drag. Stages include the FISH 95.5 FM stage at Lewers Street, the Royal Hawaiian Center stage at Royal Hawaiian Avenue, the Starwood Hotels & Resorts stage at Moana Surfrider, and the Hawaiian Airlines stage at Uluniu Avenue. The hoolaulea begins at 7 p.m. and ends at 10 p.m. Click here for the full lineup.
Na Hoa performs on the Royal Hawaiian Center Stage during last year's Aloha Festivals Hoolaulea. Photo: Aloha Festivals.
Love a good parade? Aloha Festivals hosts one of the best in the state a week after the hoolaulea on Sat., Sept. 27 at 9 a.m. The 68th annual Aloha Festivals Floral Parade begins at Ala Moana Beach park and heads east to Waikiki on Ala Moana Boulevard and Kalakaua Avenue before ending at Kapiolani Park at the base of Diamond Head. The parade will round out this year's Aloha Festivals celebration with flower bedecked everything: floats, marching bands, hula halau and pau (Hawaiian-style horseback) riders.
If you can't be curbside, watch the floral parade online via live-streamed webcast. Channel808 crews will be broadcasting footage of the parade beginning at 9 a.m. (Hawaii time).
For the second year in a row, the Aloha Festivals theme honors the Polynesian Voyaging Society and the current around-the-world expedition of its Hawaiian voyaging canoe Hokulea. A song composed and translated by two important Aloha Festival supporters inspired this year's theme—Maluhia Honua ("World Peace with Aloha").
Aloha Festivals Hoolaulea and Floral Parade
Hoolaulea: 7-10 p.m., Sat., Sept. 20, Kalakaua Avenue, Waikiki, Oahu • Parade: 9 a.m., Sat., Sept. 27, Ala Moana Boulevard and Kalakaua Avenue, Waikiki, Oahu • For more information, visit the Aloha Festivals website.