Aloha Festivals kicks off annual statewide celebration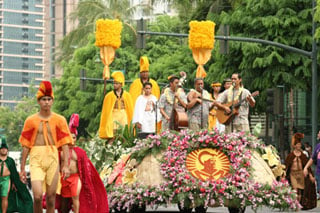 The word "aloha" has many meanings. Hello. Goodbye. Love.
But each September the word also becomes synonymous with a six-week festival honoring Hawaiian culture, history and all meanings of "aloha."
The 62nd annual Aloha Festivals kick off today. Hawaii's oldest and largest statewide celebration honors the traditions and customs of the Islands through music, dance and food. It's also one heck of a party. One we're always down for.
At its 1940s inception, the festival was called Aloha Week. It was a volunteer observation of Hawaiian culture—a floral parade through the streets of Honolulu and down into Waikiki was the highlight. As more events were added to its schedule, seven days of Aloha Week proved to few to contain all the "aloha" being produced. It was renamed the Aloha Festivals in 1991—a name more fitting for a two-month, six-island celebration with more than a hundred events.
Events began today with the selection of a royal court—a coterie of kings and queens representing the state and each island—honoring the monarchy that once ruled Hawaii.
Festival opening ceremonies this afternoon at Iolani Palace in Honolulu—beginning at 4:30 p.m.—will feature hula performances, live music and numerous food and craft booths.
The Aloha Festivals Hoolaulea (celebration) takes over Waikiki main drag Kalakaua Avenue on Friday evening with hula performances, live music stages and food and lei booths. The Aloha Festivals' floral parade still exists, too. And if you're staying in Waikiki, it'll come straight to you on Saturday morning, starting at 9 a.m.—down along main thoroughfares of Ala Moana Boulevard and Kalakaua Avenue.
For a complete schedule of Aloha Festivals events happening throughout the state, click here or call (808) 391-8714. Neighbor island events aren't posted yet. Expect these to be posted on the Aloha Festivals Web site in the days ahead, as Oahu events continue.