An unforgettable journey to Kalapana on the Big Island of Hawaii to see the lava
The land is always changing here, but the Kalapana Cultural Tours' ohana and the community's dedication to this sacred place has remained the same for generations.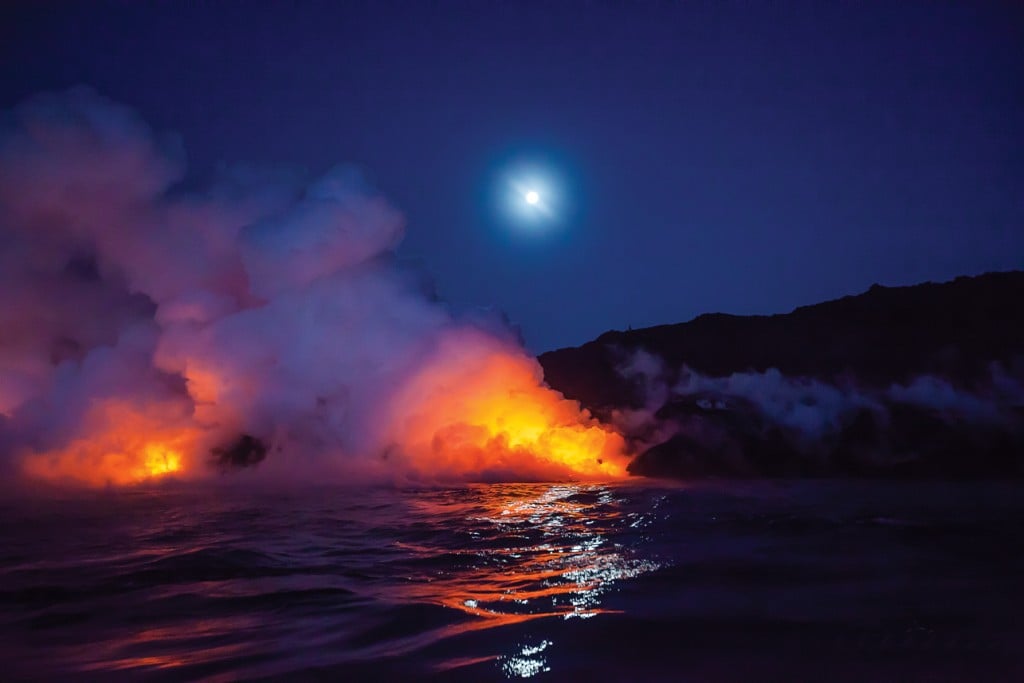 The light from the low-hanging full moon can't penetrate the dark depths of the ocean, instead leaving a shimmery glow on what looks to be an endless abyss. In the predawn hours, the 23-foot fishing boat I'm sitting aboard is being launched down a ramp and into the waters off Pohoiki on the Big Island of Hawaii. We're surrounded by rainforests and the Pacific Ocean, in a land where darkness envelops light, beneath stars fiercely piercing the black sky.
Our destination is approximately 13 miles away—and it's one my Native Hawaiian captains, 32-year-old Ikaika Marzo and 29-year-old Andrew Dunn, who co-own Kalapana Cultural Tours, recommended I experience by sea. Marzo maneuvers Kawehilani, named after their grandmother, over the offshore surf break with ease, and the brisk wind picks up as he motors us on a course that will take nearly 30 minutes. I zip up my jacket and hang on tight as the boat picks up speed.
They're taking me to the very front of Kilauea Volcano's lava flow, which is pouring into the ocean at Kamokuna. After crawling down the coastal plain of the East Rift Zone, the lava reached the ocean last July for the first time since 2013, and people have been arriving in droves to get a glimpse of the raw power of creation that materializes when lava hits the salt water. I'm one of them.
Hopping across the swells, I keep my eyes on the horizon, happy that the Meclizine tablets I picked up the day before seem to be working. "It's a calm day!" Dunn yells over the sound of the boat, ocean and wind, his face completely covered in shadows. "Some days, the swells can be five feet high."
A few miles inland, I spot a white line of smoke on a mountain. "What is that?" I ask. "It's Puu Oo," Dunn says. I immediately recognize the name of the vent, which began erupting in 1983, and catch faint flickers of red at the top. The puffs of smoke mark the lava flow's path in underground tubes.
The boat slows, but I can't see what's ahead of us. I grip the chair to stand and peek past the captain's window. What I see is unimaginable and extraordinarily jolting. Marzo swings the boat around so I can meet Pele, the goddess of fire, for the first time.
Fiery lava jets out of the earth into the sea and lights up the coastline in deep, dark and alluring shades of red, its colors projecting upward into the enormous plume of gas rising from its core and stretching over the ocean for miles. She's glorious, set against the deep, dark sky, a shining full moon directly above and a shooting star streaking by. This spectacle of Mother Nature is beyond any measure, or fallacy, I thought I knew about such an experience. I'm dumbfounded at how something so destructive can be equally so beautiful at the same time.
This is Pele, creation and destruction, and there are no better people to introduce me to her than my captains, whose families have lived with her for generations.
Gravel crunches beneath my car and a cloud of dirt forms behind me, as I drive to the end of Chain of Craters Road in Kalapana. The road was closed in 1987 after it was covered by lava from Puu Oo. It's here that a number of tour operators, including Kalapana Cultural Tours, have set up shop under tents, renting bikes and hiking essentials, such as first aid kits and headlamps. This is the starting point for visitors to begin the 7.4-mile roundtrip journey to see the lava by land.
The mood is anticipation. People from all over the world rush by me in the direction of that large plume of volcanic gas, clearly visible from here: 30-year-old couples walking in sync, groups of families with teenagers on bikes, a solo man in his 40s wearing a hat, a large backpack and a determined look in his eyes. Marzo, in his red "lava boat" shirt and Kalapana Cultural Tours branded hat, is talking to three men in their 20s who just rented bikes from them, eager and excited about the adventure. All four jump into a group picture together, then Marzo and his staff cheer them on as the men pedal up the road.
"You ready?" Marzo turns to ask me. He's taking me on a private tour of the land he and his family once lived. I jump into his Polaris Ranger, a four-passenger off-road vehicle, decked out with a Christmas wreath on the front. A security guard unlocks the gate for him, then he drives the road through the hardened lava-covered land that most people are only able to walk. Marzo yells "Aloha!" and throws a shaka and big smile to every hiker and bicyclist he drives by, with many waving back or commenting on his "sweet ride."
The only people who have access rights to this land are national park security, state government personnel and residents (people who had once owned land here prior to the destructive lava flows, and technically still do). Marzo's family is one of them.
Most visitors only know this side of the island as Kalapana. It's the last town listed on Google Maps before you reach the gate, but, for Marzo and Dunn, it's so much more. Lava flowed down from the Puu Oo and Kupaianaha vents (1.5 miles away from each other) in the '80s and '90s, covering entire communities with, in some places, depths of 50 to 60 feet of lava. What I find most endearing is, despite the heavy loss and erasure of this land's past existence, Marzo and Dunn still use the place names in the same way they have always done, for every single location, where their families have lived lifetimes, laughed, played music and passed down cherished traditions.
"Royal Gardens [subdivision] was right there on the side of the hill, which is called Pulama Pali. This is all [the town of] Kapaahu," Marzo waves his hands around, pointing to the places he once knew. "Right over here would be Queen's Bath. This would be the place where we used to swim. It was a spring, and it had one cave all the way to the ocean." He pauses, and I watch his face turn melancholy as memories flood into his mind. "It was gorgeous."
I gaze out over the land—all hardened, flat lava—with no trace of what was there before. More than 200 homes were lost, a church, stores, the 13th-century Wahaula Heiau (the Hawaiian Islands' first sacrificial temple), and the stunning coconut-palmed, black-sand beach of Kaimu Bay were all completely taken and utterly destroyed, including a popular surf break. It's incredibly heartbreaking.
"We have our own culture because we live with this. There's Hawaiian culture and there's Kalapana culture, 'cause we live with her," says Marzo. "We seen her take our homes. We seen her destruction. Some people would be frustrated, but, for us, it's more of respect. We accept her."
The difference between this and other natural disasters, such as a hurricane or tsunami, is how significantly it alters the land. Not only does it strip away everything from the surface, but it changes the earth completely. The devastation that is caused be these events results in a bond between the people who live through it. "That's why Kalapana is so special … Even if we're not related, it's like a family kind of feel," Marzo says. "That's the difference in the culture down here. Because we experienced the destruction, everybody's tight."
The aloha spirit isn't just a tired cliché in these towns, it's real. And, there's no clearer example of this than at Uncle Robert's Awa Bar and Farmers Market. It's a family's home that turns into a gathering place for people from all over the island, located at the end of the Kalapana-Kapoho Red Road (Highway 137) just a few minutes away. Once just a tiny bar, selling shave ice and awa, it hit a peak in its popularity a few years ago after the addition of the Wednesday night farmers market.
Uncle Robert Keliihoomalu, who passed away in 2015, was Dunn's grandfather and Marzo's hanai (adopted) grandfather. He was Kalapana's revered patriarch and kupuna (respected elder), a U.S. Army veteran and a proponent of Hawaiian sovereignty rights as a noble with the Lawful Hawaiian Government. His house was one of the few spared by Pele in 1990, evidenced by the hard lava that stopped at his driveway before it turned away—right where his wife, Kawehilani, had cried and prayed.
"Strong. A spiritually strong man," Marzo, who was raised by the family, describes him. "He used to share the aloha spirit to pretty much everybody. The Keliihoomalu family has a lot of aloha. They used to feed everybody, take care of everybody and their home was open to everybody, as you will see tonight."
"He had a good message: treating people right, no matter their color, where they're from, their race. Aloha kekahi i kekahi, to love one another," says Dunn of his grandfather. "He was a servant leader with lots of aloha." Keliihoomalu's values clearly passed down to his grandkids, who continue to welcome people from all over the world to their home and share with guests the history and culture of this land.
Marzo and Dunn were the first lava tour guides here, and it all began back in 2006 after visitors chanced upon them. Self-described surf bums, they were hanging out at Uncle Robert's after surfing at Pohoiki. "It was a tiny, little awa bar [back then], where we used to go every day and hang out after we surfed," says Marzo. Following road closures because of the flow, visitors approached them at the bar and asked if they would take them to see the lava. They reluctantly agreed, then word of mouth spread, and soon 20 to 40 people were showing up daily asking the same thing.
"So we had to hire guys," says Marzo. "That's how we got our business. We made it a business … and our main focus wasn't about lava. We wanted to talk about our story."
Dunn was only 3 years old when the lava came down and took the town of Kaimū, but he remembers the day his dad's house was taken. "What we try to share is what's beneath the lava—a lot of our homes, a lot of our histories and culture. Particularly to this area, that's pretty special, especially to us. But I know a lot of people can feel that," he says.
We make one more stop in Marzo's utility vehicle, where he points to the only bit of asphalt that's left of a road that once connected the people living here.
"Do you still feel any connection to this land?" I ask Marzo.
"No," he answers. It wasn't the answer I was expecting him to give.
All the cultural traditions passed down and way of life that he and his family once had on this land is lost, he explains. "The only thing left is the memories."
​
"It's the Hilo Farmers Market on steroids," my friend says, after we arrive at Uncle Robert's later that night. It's just past sunset and cars are parked up and down the road and lined up in a makeshift parking lot on a small piece of the 500 acres of new land across the street that was once Kaimu Bay.
Starving from a long day of activities, we make a beeline to the Island Wood Fired pizza truck and place orders for two pizzas, red and white, then follow the crowds into the pavilion under a large sign with painted letters, "Uncle Robert's Awa Club," hanging over the entrance. It's flanked by two green, yellow and red kanaka maoli (Native Hawaiian) flags, while Hawaii's state flag flies upside down on a flagpole nearby—all symbols, simultaneously, of the pride and distress of the Native Hawaiian people.
Inside, hundreds of visitors, transplants, hippies, locals and Native Hawaiians, an eclectic mix of people, unlike any other in the archipelago, from all walks of life, sit side by side at dozens of picnic tables. Nailed to a support beam above the bar, there's a photo of Uncle Robert wearing a pink shirt and brown hat, smiling down on everyone in attendance. There must be more than 100 vendors here, selling everything imaginable, from farm-fresh fruits to creole plate lunches and Nicoco gelato to tie-dyed shirts, books, art, jewelry, honey and there's a fortune teller. This isn't even a busy night for them, I'm told.
On a stage in the middle of it all, sit four local musicians, dressed like they casually showed up to a friend's backyard party, in T-shirts, shorts, baseball hats and tennis shoes. Their fingers strum their guitars and ukulele like second nature and voices boom loudly into the mics like they've been doing this forever. The music is cranked up and can be heard everywhere you wander through the maze of tables, tents and people in a seemingly endless bazaar. They're playing Hawaiian songs about Kalapana, country songs from America's south and a pakalōlō song. "For those of you who don't know what that is … " one of the singers says, referring to the Hawaiian slang word for marijuana, "That's all right." Everyone laughs.
Marzo pulls up a seat on stage with a guitar, smiling just as big as he had been all day. The love for music runs in his family. "This [place] was the stepping stone of Hawaiian music," he had told me earlier, and I realize now that Hawaiian music audibly was the soundtrack for my entire day—on the boat, on the Polaris and now here. "Ledward Kaapana, Dennis Pavao … all of them were from here."
What started as a six-person band when I arrived has about 15 musicians now, and it looks like some of them invited themselves to join the jam session, standing off to the sides with instruments I've never seen. No one minds, everyone is having fun and no one bats an eye at the 60-year-old woman dancing in silver tap shoes twirling a ribboned baton. People of every age, from 5 to 75, pack the floor, turning this market into a dance hall.
"That was fun," I overhear one visitor telling another, as I make my way back to my car. "That was memorable fun," his friend says. Both indisputably enjoyed themselves. "Live Hawaiian music by Hawaiian guys in a Hawaiian casual setting."
I agree with them, and about Marzo's description of Kalapana. It is a very special wahi pana (sacred place)—not only in the Hawaiian Islands but, I would also argue, in the world. The aloha spirit and Hawaiian way of life are very alive here, made even stronger through adversity, in a remote part of the world, where, just 3 miles away, Pele continues lighting up the sky as she erupts into the deep, dark sea.