Andaz Maui's Kaana Kitchen offers top-notch, creative Island cuisine
The breakfast buffet at this resort restaurant has fun family favorites with a surprising twist.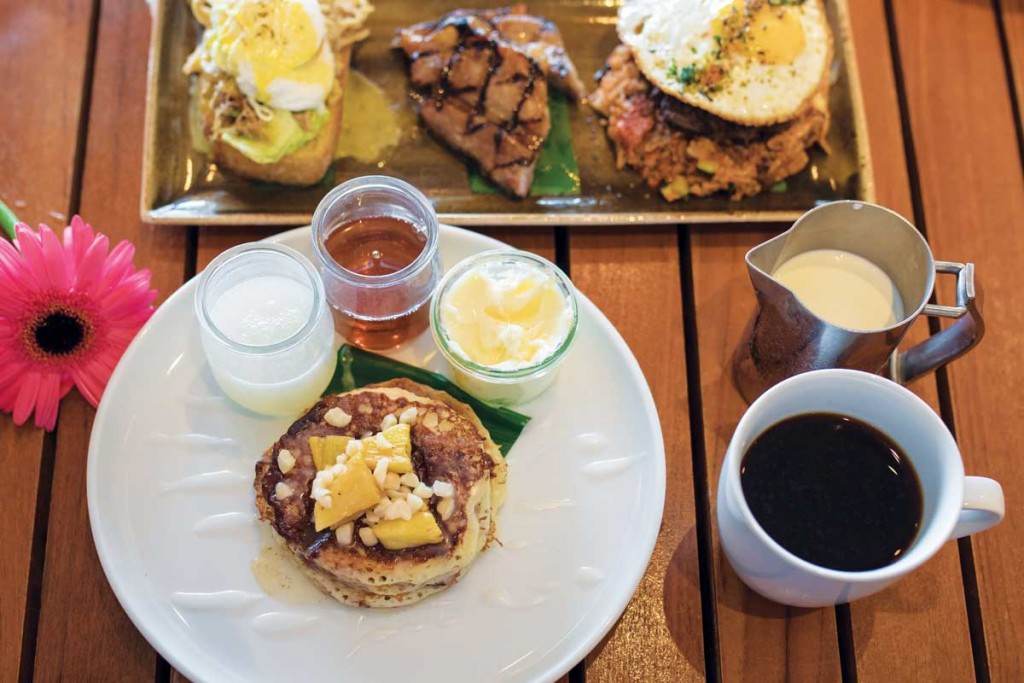 "All right, family, are we set up for success?" That's the question our server, Luke, asks while filling our coffee mugs at Kaana Kitchen on Maui.
Judging by the half-dozen plates on our table that are piled with creative island cuisine, Luke probably already knows this breakfast is going to be successful.
Located inside of the Andaz Maui, the "breakfast experience" at Kaana Kitchen is truly a morning dining session that borders on culinary carnival.
Sure, there are the usual buffet options, such as sausage and egg frittata, but there are also malasadas topped with a lilikoi (passion fruit) curd, and chewy mochi waffles that are so sweet they don't even need syrup. Made with mochiko (a sweet rice flour), they're the type of waffles that, after nibbling them in line, you'll turn around for three more. Tasting all the different flavors from the buffet, I begin to understand why the restaurant has won awards for its innovative menu.
Looking at the à la carte menu, I'm also greeted with options, such as kalua pork Benedict served with ponzu on sourdough, and a Wagyu beef loco moco on a bed of kimchi fried rice. I want to sit back and simply say, "One of everything"—which is actually what I'd suggest if I were here with a large group.
I, however, am here with my wife, who, after sipping a freshly squeezed juice of kale, cucumber, avocado, lemon, pineapple and banana, agrees that we've earned the right to dive in to the plate of cinnamon-roll pancakes.
No, that isn't a typo; they're literally pancakes made from the ingredients you'd find in a gooey cinnamon roll.
Topped with chunks of caramelized pineapple and drizzled in coconut syrup, it isn't exactly a common pancake batter recipe. Rather, it's the brainchild of chef Robert Andrade, who not only suddenly appears at our table with a succulent plate of cured pork belly, but who's also brought farm-to-table freshness to the most important meal of the day.
Much of the produce, meat and cheese is sourced here on Maui, which means that the chef at the omelet bar is cooking with local eggs, and everything from strawberries to mangoes and onions is grown right here on the island. The pork is sourced from Malama Farm, located on Maui's north shore, and a couple of dishes feature goat cheese that comes from Surfing Goat Dairy in Kula. If you want to kick things up a notch, you can even choose from a fiery collection of island-made, tropical hot sauces, whose flavors include pineapple, mango-banana and guava-papaya.
It isn't just the freshness, however, that makes this meal stand out, but also the many cultures represented by the food.
Take, for example, the kimchi pancakes I've stacked three high on my plate, or the vegetable bao buns I've placed next to a slice of homemade lilikoi bread. Part of Kaana Kitchen's mission is to introduce guests to Hawaii's famously multiethnic cuisine, which was born out of the co-mingling of cultures during the early plantation days.
"Our breakfast offers a lot of the different flavors you'll find in Hawaii," says Andrade, and, apparently, from the stack of plates on my table, I'm on a mission to try all of them.
"It's all about breathing and stretching," says Luke as he circles around with more coffee. "You need to pace yourself—it's a mind game—especially when you get the buffet."
I decide my pacing is a little fast, so I take a break from the morning feast to stretch my legs (and stomach). On an exploratory lap around the kitchen, I pass by large refrigerators that look more suited to a country villa than an oceanfront, island resort. Rather than being stainless steel, all industrial and uninviting, the doors are glass and brightly lit so you can see exactly what you'll be eating. Above the toaster and cutting boards, wooden shelves feature stacks of cookbooks and framed photos of the staff. The entire atmosphere has the feel of dining in the warmth of your family's dream home.
I'm so comfortable in the kitchen, in fact, I halfway expect a family member to ask me to grab them a beer.
While there isn't any beer in the fridge, there is a bar with bottomless rounds of mimosas and bloody marys. Dubbed the Hoolaulea Experience (hoolaulea is the Hawaiian word for "celebration"), the bar is a $20 add-on to the breakfast buffet "experience."
That word is more than a marketing term. It's actually a very apt description for what can easily be a multi-hour activity.
I ask Luke what time they open and he tells me breakfast runs each day from 6:30 to 11 a.m. I joke that next time I'll be here when they open and plan to stay until they close.
"Some people do," he says with a laugh. "You'd be surprised."
But I'm not.
Kaana Kitchen
Open daily 6:30 to 11 a.m. Andaz Maui at Wailea Resort, 3550 Wailea Dr., Wailea, (808) 573-1234, maui.andaz.hyatt.com.