Anthony Bourdain explores Hawaii and Hawaiian culture in June 2015 "Parts Unknown" episode
The renowned foodie, former chef and adventuring world traveler dove into local Hawaii culture.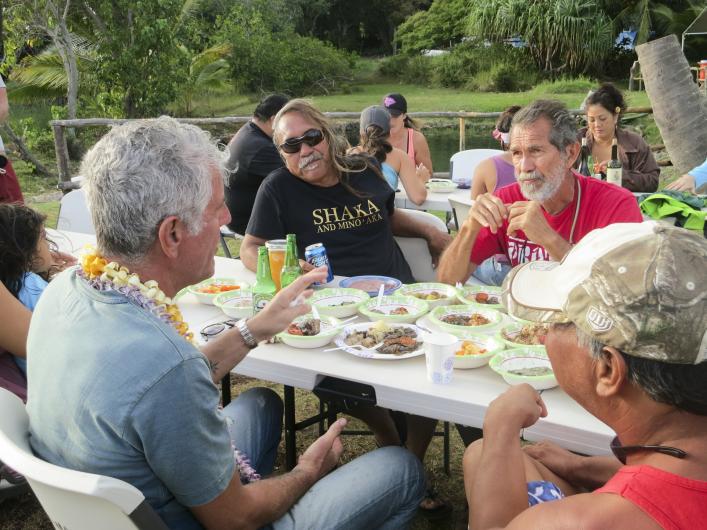 Anthony Bourdain—renowned foodie, former chef and adventuring world traveler—recently dove into local Hawaii culture on Oahu, Molokai and Maui for the latest episode of his eponymous CNN series "Parts Unknown."
The new episode—the eighth installment of the Emmy Award winning show's fifth season—will air on CNN this Sunday, June 14 2015 at 9 p.m. EDT and PDT and at 3 p.m. in Hawaii (the episode will re-air at 6 p.m. here if you miss it the first time around).
The episode is a marked departure from Bourdain's most recent taped visit to the Islands for the Travel Channel's "No Reservations" in 2008. For that show, he shopped for an aloha shirt, sipped fruity drinks out of tiki cups, tasted Spam, took a North Shore surf lesson and—with the exception of some local dining experiences—largely skimmed the topic of true local culture.
Not so for Sunday's episode of "Parts Unknown," which eschews touristy Hawaii for a glance at the state through the eyes of residents. The opening scene, a montage of Hawaii landscapes above and below the water set to a reflection on Hawaiian identity by famed waterman and navigator Nainoa Thompson, marks the more serious tone of this episode.
The show continues as Bourdain sits down with famed author and long-time Hawaii resident Paul Theroux at town in Kaimuki to talk about the complexities of "paradise" and island culture. Throughout the episode Bourdain returns to the theme of local culture and explores what it means to be Hawaiian with notable residents such as chefs Andrew Le of The Pig and the Lady and Mark "Gooch" Noguchi of Mission, Molokai resident activists Walter Ritte and Hanohano Naehu, and Maui paddler and waterman Ross Kaaa.
HAWAII Magazine's new digital media manager Daniel Ikaika Ito also makes a starring appearance. Ito shows Bourdain around the menu of Maui restaurant Tasty Crust while telling him about Hawaii's culture, aloha and what it means to be a modern day Hawaiian.
It's not all heavy discussion, though. Bourdain also goes spearfishing for octopus on Molokai killing one "the traditional way," and visits a hopping backyard luau on Maui—with performances by Hawaiian music legend Willie K. and his daughter—hosted by Hollywood and chef talent manger Shep Gordon.
Appropriately, there is no resounding summary of Bourdain's experience in Hawaii to round out the episode. Instead he slips into the clear waters off Maui just in time to catch a glimpse of two majestic migratory humpback whales—a mother and calf—before fading to blue.
We hope you'll tune in to CNN to see beautiful, complex Hawaii, our own Ito, and, of course, Anthony Bourdain on Sunday's episode.